It's Super Bowl weekend and every food blog on the internet has a post on football snacks and party food. So, what am I doing? Roasting baby Vidalia onions. Of course. Because, yeah, I'm a rebel like that. Actually BeeBop and I never watch the Super Bowl. Just not our thing. We're college football fans and never have gotten into pro ball. Super Bowl Sunday is usually pretty quiet around our house. We might watch a movie or go antiquing, but we most likely won't be watching the game. But to all of you out there pulling for your favorite team — have a great time! Eat some of those fabulous snacks for us!
As you probably know, the state of Georgia has a proud agricultural heritage. We started out as an agrarian society and outside of the major metro areas remain so today. Some of the products Georgia is best known for include peaches, pecans, peanuts, poultry and Vidalia onions. Now, I won't even start to get into that debate about whose onions are sweeter, Walla Walla or Vidalia, but with me being a through-and-through Southerner and all, you can probably guess where my preference lies. Vidalias are grown in a specific geographic area where the soil, temperature and environment all come together in a perfect mix to create these lovely sweet onions. The backstory of Vidalia onions, according to the Vidalia Onion web site, goes like this:
What is now a deeply-entrenched summer tradition started out as a fluke. During the tough days of the Great Depression, farmers had high hopes of a new cash crop. These hard-working men had grown everything from corn to cotton in Georgia's sandy soil, and onions seemed to hold some promise of better profits. Imagine their surprise and concern when what grew was not an instant money-maker but a strange onion that wasn't hot! Soon, word of "those sweet onions from Vidalia" began to spread throughout the state, and a name was born. As fortune would have it, Piggly Wiggly grocery store happened to be headquartered in Vidalia. Recognizing the potential of the peculiar produce, the gentlemen who ran "The Pig" gladly helped farmers from all over the Vidalia area get their newfound sweeties on store shelves. As their onion began its ascent to national fame, local support soared. Vidalia onions had their own annual festival in Glenville, Georgia by 1977 and in Vidalia, Georgia by 1978, traditions that continues today. In 1990, Vidalia onions became the Official State Vegetable of Georgia. From the local market in the 1940s to the national super stores of today, the popularity of Vidalia Onions continues to escalate. No longer just a "southern thing," Vidalias are available in 50 states and most of Canada. So, next time you're on the way to a spring barbeque or summer picnic, pick up a 40-pound bag. They're as synonymous with these warm seasons as iced tea and watermelon slices!
Mature Vidalia onions are only available fresh from April through mid-September, but for a couple of months during the winter these delicious baby Vidalias come to the market. If you can get your hands on some, grab them and make this little side dish. It's great along with baked chicken or even served bruschetta style on a slice of toasted baguette.
1 bunch baby Vidalia onions
1 pint cherry tomatoes
2 tblsp. olive oil
10-12 fresh thyme stems
salt
pepper
Preheat the oven to 400 degrees.
Prepare the onions by removing a small slice from the root end and any limp or brown stems.
Cut each in half lengthwise.
Prepare the cherry tomatoes by slicing in half.
Place the onions and tomato halves on a large baking sheet. Sprinkle lightly with salt and pepper. Scatter the thyme over the baking sheet.
Drizzle the olive oil over the vegetables. I used a garlic-infused olive oil, but the good plain stuff is fine.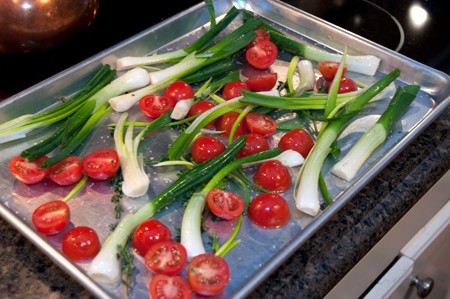 With your impeccably clean hands, toss everything until all the ingredients are coated with olive oil.
Cook for 30-35 minutes or until the onions and tomatoes are wilted and lightly browned.
Enjoy!
Download a printable copy of Roasted Baby Vidalia Onions with Cherry Tomatoes.
Other recipes using Vidalia onions you might enjoy: