I've told y'all before how much of a meat and potatoes guy BeeBop is. I do believe that man would be happy if I just put a slab of protein and a big serving of starch in front of him three times a day. Not that there's anything wrong with that. Not at all. I enjoy the meat and potatoes, too. And sometimes it's just what you need to get you through a long day.
Take last Saturday for instance. We're having an old wooden retaining wall at the front of our house replaced. It was a railway tie wall that had been there for over fifteen years. That's about the useful life of those kinds of walls. Over the years it had also been the breakfast, lunch and dinner of a colony of carpenter ants. Needless to say, the wall was past due for replacement. In its place we're going to get a beautiful stone wall. But in the estimate for the work there was an expensive charge for demolition and removal of the old wall. Well, of course, BeeBop saw no reason that he couldn't handle the demolition and save that money! So, last Saturday, along with a huge assist from his brother, Uncle J, the old wall came down. They worked on that project all day long. In the rain. And the mud. It was nasty, hard, physical labor. The least I could do was cook for them! That's where this casserole comes in. I made a big breakfast for the two of them before they got to work and this casserole was the hit of the menu.
If you have a long day of hard work coming up, or if you just feel like having a hearty breakfast, serve this hashbrown casserole. It'll keep you going well into the lunch hour.
I prefer fresh shredded potatoes for this recipe rather than the frozen hash browns. You could shred your own with a box grater or food processor, or you can buy the packages of ready-to-cook shredded potatoes in the dairy case.  I always use the ready-to-cook ones. Whichever you choose, combine the potatoes, scallions, sour cream, cream of chicken soup, melted butter, salt, pepper, and cheese in a very large mixing bowl. Use your hands to combine everything being careful not to break the potatoes any more than necessary. (Note: Since this post was originally published, I have determined that it really is best to use the ready-to-cook shredded potatoes rather than fresh grated potatoes. It just doesn't turn out the same with freshly shredded potatoes.)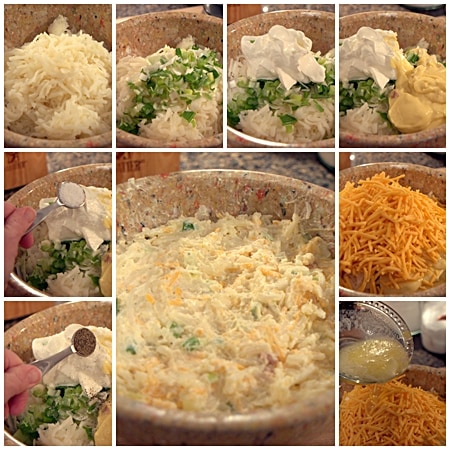 Coat a 9×13 casserole dish or baking pan with cooking spray. Transfer the mixture to the pan, spreading it in evenly. Cook at 350 degrees for about 45 minutes or until the cheese is melted and the top is golden brown.
Makes about 10 servings.
Enjoy!
Hashbrown Casserole
A fabulous, hearty hashbrown potato casserole. Perfect for a weekend breakfast!
15 minPrep Time
45 minCook Time
1 hrTotal Time
Ingredients
2 lbs. ready-to-cook, shredded potatoes (recommended brand: Simply Potatoes)
1 cup chopped scallions
8 oz. sour cream
1 can cream of chicken soup
1/2 tsp. salt
1/2 tsp. ground black pepper
1/2 cup butter, melted
8 oz. (2 cups) grated sharp cheddar cheese
Instructions
Preheat the oven to 350 degrees.
Mix all ingredients together in a large mixing bowl.
Spray a 9x13 glass baking dish with cooking spray.
Transfer the potato mixture to the baking dish spreading it evenly.
Bake for approximately 45 minutes or until cheese is melted and the top of the casserole is nicely browned.
Notes
All text and photographs on Never Enough Thyme are copyright protected. Please do not use any material from this site without obtaining prior permission. If you'd like to post this recipe on your site, please create your own original photographs and either re-write the recipe in your own words or link to this post.
6.8
http://www.lanascooking.com/hashbrown-casserole/
Lana Stuart | Never Enough Thyme
— Inspiration for this recipe came from Copykat Recipes
http://www.copykat.com/2009/02/07/cracker-barrel-old-country-store-hash-brown-casserole/