Your 2020 Holiday Gift Guide for Foodies
From the best chocolates to sumptuous charcuterie to delectable cheeses, this holiday gift guide for foodies has something for everyone on your list!
Who doesn't love a great gift of food for the holidays? After all, the best thing about this time of year is getting to enjoy all our favorite treats!
If you're looking for the perfect gift to show a loved one how much you care, you can't go wrong with an old favorite treat or something brand new to try. Whether you're looking for a great gift for the neighbors, or a family member who enjoys the latest food fad, you'll find just the perfect thing in this Holiday Gift Guide for Foodies.
I've chosen a selection of gifts perfect for a wide range of food lovers from sweet and indulgent to salty and spicy! You might just find one or two to add to your own wish list as well.
Here are the best food gift ideas to buy this holiday season.
Any links on this page that lead to products on Amazon are affiliate links and I earn a small commission if you make a purchase. Thanks in advance for your support!
Ferrero Rocher Collection

Wrapped in glittery gold paper, this box of chocolates and candies will be appreciated by anyone who receives them.
Gift that special person on your list the perfect wine by starting them off with a subscription box from Winc.
Jasper Hill Farm Cheese Tasting Box
You'll find the perfect cheese for your taste buds and your next wine and cheese night with the help of this cheese tasting box from Jasper Hill Farm.
Barnetts Biscotti Cookies Gift Basket

Indulge in a box of delicious biscotti cookies without having to clean up or make a mess in your own kitchen!
Popcornopolis Gourmet Popcorn 5 Cone Gift Basket

Popped with Non-GMO and American-grown kernels, these popcorn cones are the perfect gift for any popcorn lover!
Seedlip Distilled Non-Alcoholic Spirits Sampler

Not a fan of alcohol but still want to enjoy some spirits this holiday season? Then give this sampler box a try!
Godiva 2020 Holiday Luxury Chocolate Advent Calendar

Countdown to Christmas or even the new year with these decadent chocolates from Godiva.
Barnett's Chocolate Cookies Favors Gift Box Sampler

These gourmet cookies are all wrapped in ribbon and ready to send without having to preheat your own oven.
TRUFF White Truffle Hot Sauce

Add a little spice to your dishes with this elegant yet flavorful white truffle hot sauce.
Chai Tea Private Reserve Trio

This beautiful tea set has three amazing teas that are perfect for any tea lover.
Holiday Nut and Dried Fruit Gift Basket

If you know someone trying to eat healthier this year, or who is on a special diet, this nut and fruit basket is the perfect gift for them!
Lindt Holiday Deluxe Assorted Truffles Gift Box

Treat yourself or someone on your list to a box of truffles right to their door!
Laumiere Gourmet Fruits

These gourmet fruits are the perfect indulgence, and each gift comes with a complimentary gift card option too!
Wissotzky Tea Magic Tea Chest

This tea set has the perfect assortment of flavored teas that are perfect for whatever mood you might be in.

Hickory Farms Meat and Cheese Gift Basket

If you're looking for a great budget-friendly way to gift meat and cheese this holiday season, this gift basket from Hickory Farms is perfect!
Mancave Ultimate Men's Cheese & Sausage Gift Basket

Treat your special guy to the perfect sausage and cheese gift basket that he can eat right out of the box!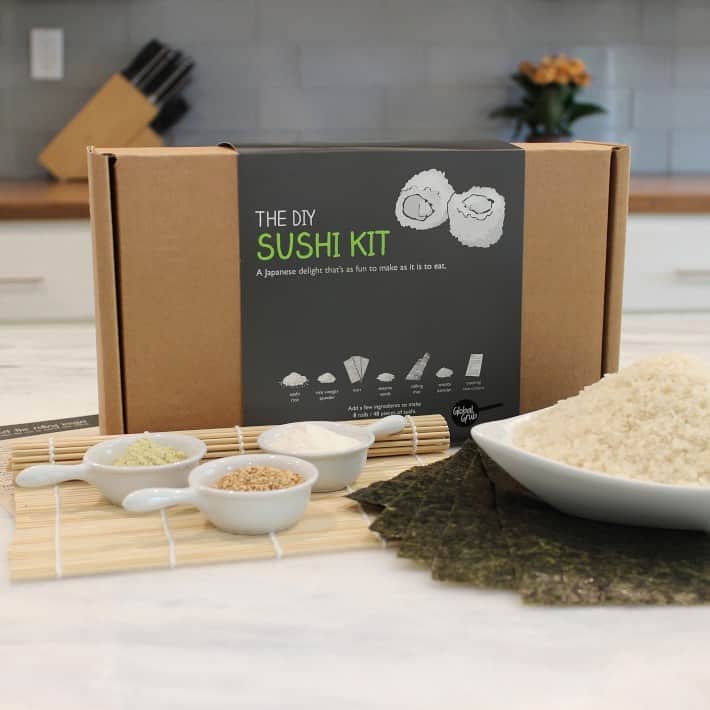 DIY Sushi Kit

If you're looking for a great date night in a box, or a fun new food experience, this DIY sushi kit has everything you need to make your own homemade sushi at home!
ALSO — check out our Holiday Gift Guide for Cooks!
Happy Holidays!