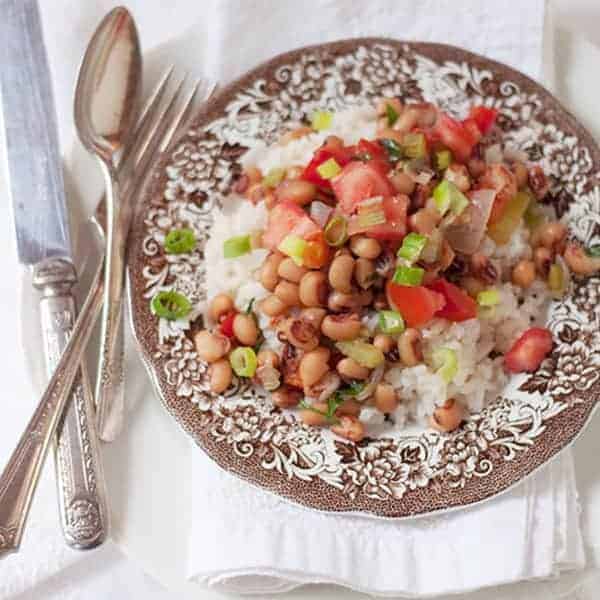 Hoppin' John is a traditional dish of rice and peas enjoyed throughout the Southern states every New Year's Day.
Years and years ago, when I first started blogging, I belonged to a group called the Secret Recipe Club. It was a group of bloggers who received a "secret" assignment once a month to make and post a recipe from another member's blog.
Well, one month my assigned blog for Secret Recipe Club was called We Heart Vegan and I have to admit that my first thought was, "Oh, my gosh. What in the world am I going to do with this? " As y'all know I'm about as opposite from a vegan as night is from day!
It's no secret to anyone that I believe bacon is what they greet you with when you arrive in Heaven and if I had to choose one thing for my last meal it would be a perfectly cooked ribeye steak. But I was trying to keep an open mind and thought surely I could find something in common with a vegan blog. Surely.
I read about the blog owners, two precious young ladies named Brittany and Julie, and I started going through the recipes. I have to tell you I was getting discouraged for a while. There were ingredients that I'd either never heard of or knew I'd have to make a one-hour round trip to the nearest Whole Foods to find. It wasn't looking good.
And then I found something familiar! Hoppin' John!
Why, there's not a Southerner alive who hasn't been eating Hoppin' John since they came into the world! I was all set for the Secret Recipe Club challenge. And although an authentic Hoppin' John would have smoked ham hocks in it and I did use chicken broth where Brittany and Julie used vegetable broth, I stuck pretty closely to their recipe.
Hoppin' John is a old, traditional New Year's Day dish eaten throughout the South. Served alongside greens of some sort, it represents good luck and prosperity for the new year.
I can honestly say that I have eaten black eyed peas every New Year's Day for my entire life. We take our traditions seriously in the South :-)
There are lots of theories about how the combination of peas and rice came to be known as Hoppin' John. I don't know which, if any, of them are true. I just know that this is honest, simple food that connects me to my roots.
I also learned from Gwen at Pratesi Living that the original components of Hoppin' John were Carolina Gold Rice and Sea Island Red Peas. Not black-eyed peas.
Sea Island Red Peas are pretty hard to find these days, but I did happen to have some Carolina Gold Rice from our recent trip to Charleston and I used it for this recipe. It was delicious!
How to Make Hoppin' John
Start your rice by bringing water, salt and butter to a boil. Add the rice, lower the heat and cook for about 20 minutes or until the rice is tender. Keep warm until the peas are ready.
In a large skillet over medium-high heat, cook the onion, bell pepper, celery and garlic in olive oil until the vegetables are very tender.
Add the peas, broth, salt and pepper. Reduce the heat to low and cook for about 10 minutes or until the peas are completely heated through. Stir in the parsley.
Serve the peas over a bed of rice. Top with green onions and chopped tomato.
Enjoy!
Hoppin John
Hoppin' John is a traditional recipe of peas and rice enjoyed throughout the Southern states on New Year's Day.
Ingredients
2 cups water
1 tblsp. butter
1/2 tsp. salt
1 cup rice
1 tblsp. olive oil
1 medium onion, chopped
1 red or green bell pepper, chopped
2 stalks celery, chopped
2-3 garlic cloves, chopped
2 15-oz. cans black eyed peas, rinsed and drained
1/4 cup chicken stock
Salt and pepper
2 tblsp. chopped parsley
2 green onions, chopped
1 large tomato, seeded and diced
Instructions
Bring the water, butter and salt to a boil in a medium saucepan.
Stir in the rice.
Cover, reduce heat to low and cook approximately 20 minutes or until the rice is tender.
Heat the olive oil in a large skillet over medium-high heat.
Add the onion, bell pepper, celery and garlic.
Cook until the vegetables are tender and the onion is translucent.
Add the black eyed peas, stock, salt and pepper. Cook for approximately 10 minutes.
Stir in the parsley.
Serve the peas over a bed of rice.
Garnish with chopped green onions and tomato.
Notes
All text and photographs on Never Enough Thyme are copyright protected. Please do not use any material from this site without obtaining prior permission. If you'd like to post this recipe on your site, please create your own original photographs and either re-write the recipe in your own words or link to this post.
Nutrition Information:
Serving Size:

1
Amount Per Serving:
Calories:

683
Total Fat:

26g
Saturated Fat:

9g
Cholesterol:

31mg
Sodium:

1498mg
Carbohydrates:

93g
Sugar:

4g
Protein:

20g
Nutrition information is calculated by Nutritonix and may not always be perfectly accurate. Use your own judgment.
This recipe was featured in CheapThriftyLiving's collection of 25 Cheap Rice Recipes for Low-Stress Suppers!
Other recipes for Hoppin' John you might enjoy: