Jezebel Sauce is a sweet and spicy accompaniment for meats and vegetables. It also makes a great hors d'oeuvre with cream cheese and crackers.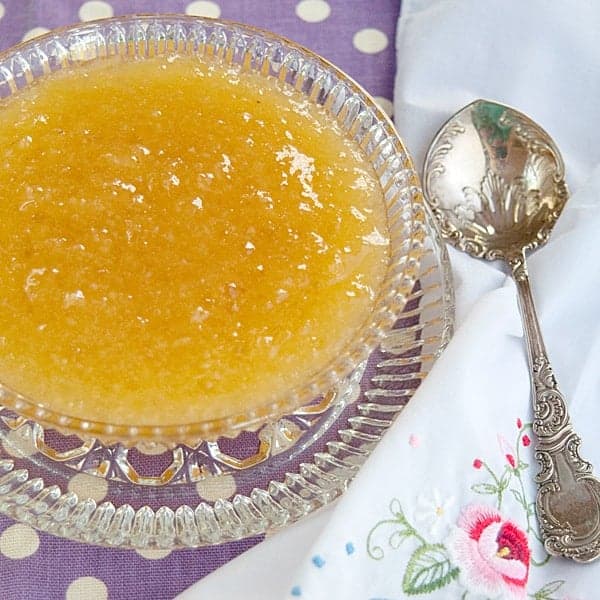 Do you have your Easter menu ready? Ours varies from year to year but there are always two constants - deviled eggs and ham. Deviled eggs are one of BeeBop's favorites and I don't think we've ever gone an Easter without having them on the menu.
And for some reason, I always associate ham with Easter dinner. Or lamb. But, my goodness, have you seen the price of lamb lately?! Unless we just happen to win the lottery between now and the weekend, we'll be having ham.
One of the things that makes a holiday meal memorable for me, is the little accompaniments. The side dishes, the relishes, the condiments.
We'll have a beautiful ham, deviled eggs, potato salad, and roasted asparagus, but alongside all that, there will be a little dish of Jezebel Sauce. Never heard of Jezebel Sauce? Well, let me introduce you!
Never Heard of Jezebel Sauce?
This hot, sweet, spicy condiment is named after that bad girl of the Bible, the original Hot Mama herself, Jezebel. That Jezebel was something else. Causing havoc and stirring things up wherever she went.
And you could say the same about the sauce that is her namesake. Sweet and spicy with a pungent kick of heat but really quite lovely.
Back during the cocktail parties of the '80s, this was everyone's favorite hors d'oeuvre. Arrange a platter with lots of crackers, a block of room temperature cream cheese and pour over the Jezebel Sauce. It gave us Southerners that sweet-salty-savory combination that we love so much.
I still enjoy it as an appetizer, but even more as an accompaniment for ham. It's also fantastic with chicken, or butter beans, or blackeyed peas. You understand?
Why don't you mix up a little Jezebel Sauce to serve with your Easter dinner? It just might be the hit of the meal.
How to Make Jezebel Sauce
I didn't include the step-by-step photos for this recipe because honestly you just don't need them. It's simply dumping everything into a bowl and stirring it together until it's well mixed. You can handle that!
Jezebel Sauce is a sweet and spicy accompaniment for meats and vegetables. It also makes a great hors d'oeuvre with cream cheese and crackers.Click to Tweet
More Easter Recipes on Never Enough Thyme:
Easter side dish recipes from Other Bloggers:
Like This Recipe? Pin It!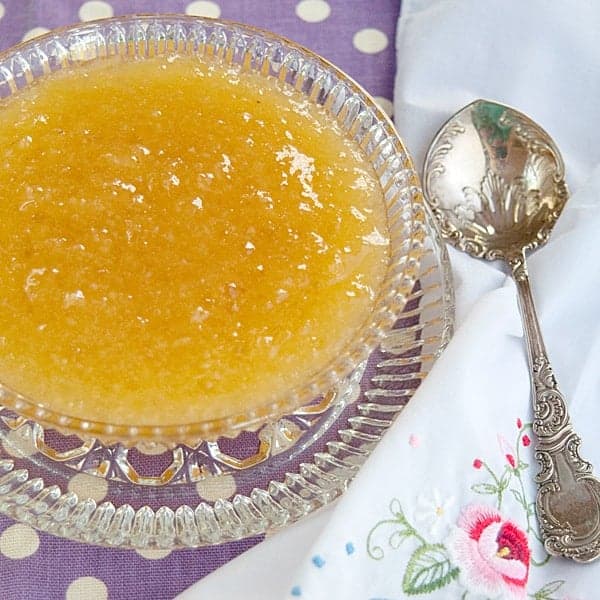 Jezebel Sauce
A sweet-spicy-savory accompaniment for meats and vegetables. Or serve as an hors d'oeuvre with cream cheese and crackers.
Ingredients
1/2 cup apple jelly
1/2 cup pineapple preserves
3 tablespoons prepared horseradish
1 1/2 teaspoon dry mustard (recommend Coleman's)
Instructions
Combine all ingredients in a small mixing bowl. Stir vigorously until well blended. Refrigerate for a few hours to allow flavors to blend.
Notes
All text and photographs on Never Enough Thyme are copyright protected. Please do not use any material from this site without obtaining prior permission. If you'd like to post this recipe on your site, please create your own original photographs and either re-write the recipe in your own words or link to this post.
Nutrition Information:
Yield:

16
Serving Size:

1
Amount Per Serving:
Calories:

35
Total Fat:

0g
Saturated Fat:

0g
Trans Fat:

0g
Unsaturated Fat:

0g
Cholesterol:

0mg
Sodium:

8mg
Carbohydrates:

9g
Fiber:

0g
Sugar:

6g
Protein:

0g
Nutrition information is calculated by Nutritonix and may not always be perfectly accurate. Use your own judgment.
Be sure to follow me on instagram and hashtag #nevrenoughthyme or tag @nevrenoughthyme so I can see and share what you make! if you like this recipe, be sure to follow me on social media so you never miss a post:
| facebook | instagram | pinterest | twitter |