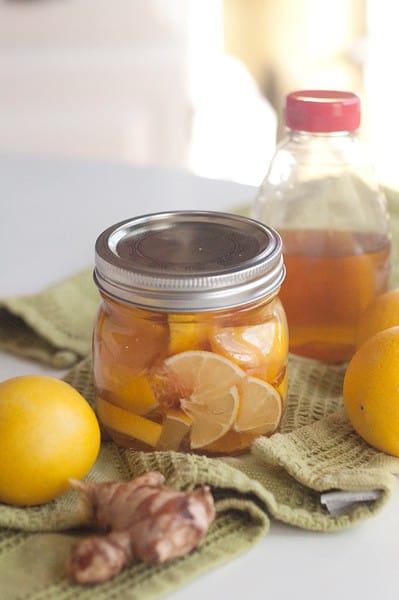 I'm doing a little bonus post this week! Yes, I normally post on Tuesdays and Fridays, but just for this week I'm throwing in one extra. Because who couldn't use a little help like this during cold and flu season. And, besides…this mixture just tastes good!
I've known about this little sore throat soother and cough remedy for years. I think my Mama even gave us something similar when we were children. You can keep a jar of this in your pantry or refrigerator and use it any time you start to feel that little tickle in your throat. You know that little tickle? The one that says "Get ready. I'm a nasty cold and here I come?" Yuck.
I know people who swear that taking a spoonful of this Lemon, Honey, and Ginger Soother for Colds and Sore Throats every day will keep colds away. I don't know about that, but some of them are pretty adamant about it.
Now, I am NOT giving anyone medical advice here. I'm just sharing a little something that might make you feel better if you're under the weather. And, by the way…don't give this to infants. Honey is not safe for them.
Guess what else? If you completely forget that this is in your pantry, after a while it turns into the most delicious marmalade! Yep.
An old-fashioned homemade lemon, honey, and ginger throat soother for colds and sore throats. Click To Tweet
All you do is take a clean pint jar and cut up a couple of lemons and pack them into the jar. I take out the seeds, but whatever. About halfway through filling the jar with lemons, grate in about a 1-inch piece of fresh ginger. Finish filling with the lemons. Now, slowly pour the honey in giving it a little time to settle between all the lemon pieces. Put the cap on and let it sit for about 24 hours before you start using it. If you can get some local honey all the better.
Most people stir a spoonful of the mixture into a cup of boiling water, let it steep a few minutes, then strain it and sip it. I actually prefer it in hot tea. And, if you're really feeling under the weather, adding a little spoonful of whiskey won't hurt a thing.
Enjoy and feel better!

Lemon, Honey, and Ginger Soother for Colds and Sore Throats
Prep Time: 5 minutes

Total Time: 5 minutes

A lemon, honey, and ginger soother for colds and sore throats.
Ingredients
2-3 lemons
1" piece fresh ginger root
1/2 to 1 cup honey
Instructions
Wash the lemon and cut into slices or wedges. Pack the wedges in a clean, dry jar.
Grate the ginger root into the jar with the lemon wedges.
Fill the jar with honey.
Close the jar and let stand for at least 24 hours before using.
Store in refrigerator or dark, cool pantry.
Notes
Note: honey is not safe for infants. This recipe is not be construed in any way as medical advice.

All text and photographs on Never Enough Thyme are copyright protected. Please do not use any material from this site without obtaining prior permission. If you'd like to post this recipe on your site, please create your own original photographs and either re-write the recipe in your own words or link to this post.




Other posts that praise the lemon-ginger-honey remedy:
What I was up to…