This post is sponsored by AeroGarden via the Kitchen PLAY network. All opinions are my own.
I've been a gardener for as long as I can remember. Even when I was a tiny tot, my parents planted a big garden each spring. We lived on a farm so we had all the room we needed to plant everything from peas to beans and squash to corn. You name it and we grew it. I spent many hot summer afternoons picking whatever was ripe from the garden and enjoying it on the supper table in the evening.
These days, however, I have very limited space on my little half-acre suburban lot but we always find room for my annual herb garden along with a few tomatoes and peppers. Besides limited space, there's also the problem of the local deer who think I grow plants for their own personal smorgasbord. Still, no matter the challenges I'm always sad when gardening season ends. Having fresh vegetables and herbs right outside my back door is such a pleasure. That's why I was so pleased to be offered an opportunity recently to try the Miracle-Gro AeroGarden UTLTRA LED by AeroGrow. The AeroGarden makes having fresh produce year round very easy.
Setting up the AeroGarden was literally a "snap." It comes in three large pieces that simply snap together. Attach the cords, plug it in and you're ready to go. From opening the box to plugging the unit into the wall took no more than 15 minutes.
There are many types of Seed Pot Kits  to choose from for your AeroGarden. I received an assortment of herbs and heirloom lettuces. I planted some of both in my garden. I probably wasn't supposed to do that, but I've never been known for strictly following rules, so…  It's working out great anyway :-)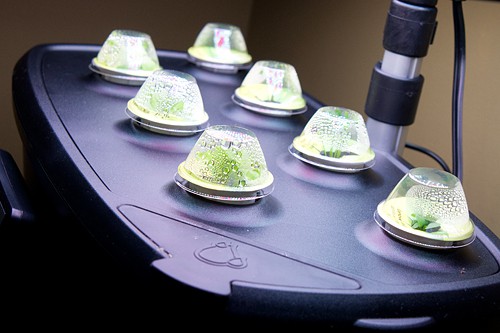 You just insert your pre-seeded pods into the AeroGarden, fill it with water and give it a measured amount of the specially formulated Liquid Nutrients which are also included. Switch the unit on and follow the instructions on the digital display. The AeroGarden tells you when to add more nutrients and even gives you growing hints on its display.
Our seeds germinated in just a couple of days and within a week or so they were large enough to remove the protective domes. I would say that within the next 3 or 4 weeks, we'll be enjoying lots of fresh salads and I'll be using fresh herbs in my recipes.
The AeroGarden would be a terrific gift for any gardener whether they're a beginner or experienced. The AeroGarden 3SL will be available at Walmart.com beginning around November 1 and at select Walmart stores beginning around November 14. The AeroGarden ULTRA LED is currently available at Costco.com and will be available in select Costco Warehouses beginning about November 1. You can also see the entire line of AeroGardens by clicking here.