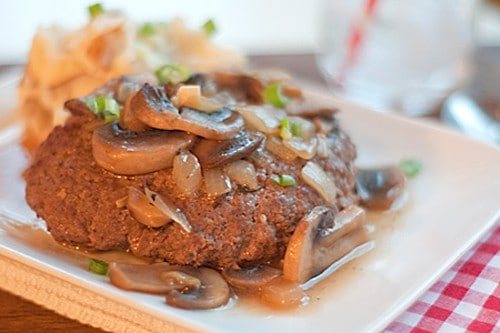 For most of my sisters' and my childhood our mother stayed at home and took care of us. For years and years she did mountains of laundry, kept a neat and organized home for us, and cooked three meals a day. Three full meals. With a family of five that was a lot of laundry, housework, and cooking!
I think it was around the time that my youngest sister started to school that Mama decided to go into business for herself. She's very artistic and has always had a real flair for working with flowers, so she opened up her own floral shop. Her florist was our enclosed garage which was about 10 steps from the back door. So now, in addition to all the cooking, cleaning, and laundry, she had a full-time business. A business practically in the house with her. A very successful business which didn't even give her a chance to get away from the house for a few hours a day. I can remember many days waking up to find Mama had already been at work for several hours in the florist and was coming in to prepare everyone's breakfast. I can also remember many days when Mama cooked supper, got us all bathed and tucked into bed and went back out to the florist to work some more. Nights when she never put her head on a pillow but worked right through until daybreak. Thankfully those were rare occasions – large weddings and the like.
Every once in a while, on those busiest days, Mama would accept a little help with meals. We'd order hamburgers from one of the local restaurants or Daddy would take us out to "Nick and Jean's," one of the few sit-down restaurants in our little town. And then sometimes, but just rarely, Mama would let us have "TV dinners." Oh, what a treat we thought that was. Now, this was the 1960's and TV dinners were the height of space age convenience. A complete meal frozen in a little aluminum tray. No prep work. No cooking. No clean up. Pop the whole thing in the oven for about 30 minutes and out came dinner. What a very modern family we were with our TV dinners! And, of course, you had to enjoy your TV dinner on a TV tray while watching TV. Who remembers those folding metal TV trays?
Mama would let us choose which ever kind of TV dinner we wanted. Not that the choices were very wide ranging. Best I remember there were fried chicken dinners, turkey and dressing dinners and, my favorite, Salisbury steak. Oh yeah, that little seasoned ground beef patty floating in gravy accompanied by mashed potatoes, peas and carrots. Yum. Well we thought so back then anyway.
In a fit of nostalgia a few days ago, I began to wonder if I could create an updated Salisbury steak. One that would fit more with today's tastes and diet, and I think I've come up with a pretty good one here. If you were a child in the 60's growing up with all the new space age inventions and conveniences, I think you'll appreciate this recipe. Be sure to let me know what you think!
Salisbury Steaks and Mashed Potatoes
An updated version of the classic Salisbury steak with chunky mashed potatoes.
Ingredients
For the steaks:
1 lb. lean ground beef
1/4 tsp. garlic powder
1/2 tsp. salt
1/4 tsp. black pepper
Cooking spray
8 oz. mushrooms, sliced
1 small onion, chopped
1 tblsp. fresh thyme (or 1 tsp. dried thyme)
1 tblsp. flour
1 cup beef broth
1 or 2 green onions, chopped (optional)
For the potatoes:
2 lbs. russet or Yukon gold potatoes, scrubbed
1 tsp. salt
2 tblsp. butter
1/3 cup sour cream
1/4 to 1/2 cup milk
Salt and pepper to taste
Instructions
For the steaks:
Spray a large skillet with cooking spray and place over medium heat.
In a large bowl, combine the ground beef, garlic powder, salt, and black pepper. Mix lightly until well combined. Divide in half and form two patties.
Add the patties to the heated skillet and cook until nicely browned on both sides.
Remove patties to the skillet and set aside.
Remove excess fat from the skillet, leaving only about 2-3 tablespoons.
Add the sliced mushrooms, chopped onion, and thyme. Cook until the mushrooms are browned and the onions are translucent.
Sprinkle the flour over the mushrooms and onions in the pan. Stir and cook for two or three minutes.
Add the beef broth. Cook, stirring, until the mixture begins to thicken.
Return the steaks to the pan, reduce the heat to medium-low, and cook until the gravy is thick and the steaks are cooked through.
For the potatoes:
Cut the cleaned potatoes into large chunks. Place them in a pot with enough water to cover by 1/2 inch.
Add the salt.
Cover and bring to a boil over high heat.
Reduce the heat to medium and continue cooking until potatoes are done.
Drain the potatoes and return them to the pot off the heat.
Add the butter, sour cream, salt, and pepper.
Mash with a potato masher or beat with a handheld mixer.
Add enough milk to bring the potato mixture to desired consistency.
Serve the steaks over a mound of mashed potatoes drizzled with the gravy and garnished with chopped green onions.
Notes
All text and photographs on Never Enough Thyme are copyright protected. Please do not use any material from this site without obtaining prior permission. If you'd like to post this recipe on your site, please create your own original photographs and either re-write the recipe in your own words or link to this post.
Other Salisbury steak recipes you might enjoy from around the internet:
What I was cooking…