Well, it's Spring in the South, y'all. 82 degrees Saturday afternoon. 40 this morning. Yep, it's March when it's summer in the sunshine and winter in the shade. We don't know whether to light the grill or start a fire in the fireplace. We're running the heat in the morning and air conditioning in the afternoon. Then back to heat at night. It's enough to make you dizzy. And on top of all that, things are starting to bloom and you know what that means – allergies! Yikes.
I shouldn't complain about the weather, though. I saw one of my blogging friends, Amanda from Amanda's Cookin', on Facebook this morning talking about it being below 20 degrees with blowing snow and icy roads where she lives. So for Amanda and all of y'all who are still dealing with winter, I'm posting this recipe today. And I won't even mention how well my lettuces are growing or that I saw the first Iris blooming in the front yard this morning :-)
Now, before somebody starts in about how this is not "real" chili, I just want to go ahead and say that I know that. I understand that "real" chili does not contain any beans or tomatoes. However, there's a whole big world of cooks out here and we all have different ideas about recipes. That why I've called this recipe Not Texas Chili. Just so we're clear. This is my own version of chili and it bears no resemblance whatsoever to chili cooked by authentic cowboys, trail bosses, or others associated in any way with Texas. Whew!
Okay, if you're ready to try my family's favorite chili recipe, inauthentic though it may be, let's get started. You'll need a large deep pot like a Dutch oven for making the chili. Start by browning the beef over medium-high heat. Remove the browned beef from the pan and set it aside to drain.
In the same pan, add the olive oil, green pepper, onion, and garlic. Cook, stirring frequently, until just tender. Return the drained beef to the pan.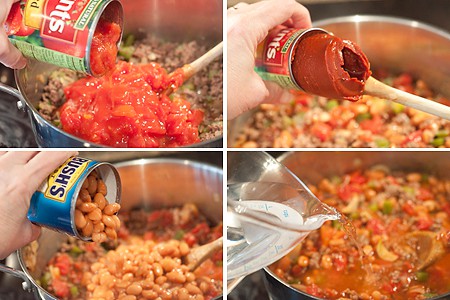 Add the tomatoes, beans, tomato paste, and water. Stir well.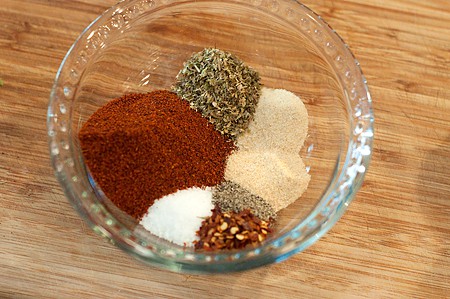 Add the seasonings. Stir well.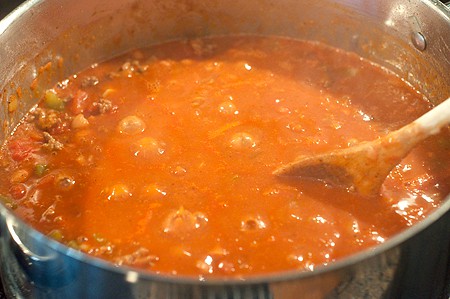 Bring to the boil, then reduce the heat to maintain a slow simmer. Cover and cook for 1 1/2 to 2 hours or more.
Serve with garnishes of sour cream, cheese, cilantro, and Tabasco.
Enjoy!
My favorite chili recipe. Although it's not "authentic" it's the one our family enjoys best!
Ingredients
1 1/4 lb. ground beef
1 large green pepper, chopped
1 large onion, chopped
2-3 cloves garlic, minced
1 tblsp. olive oil
2 can diced tomatoes with their juice
2 cans pinto beans, drained and rinsed
2 tblsp. tomato paste
1 1/2 tsp. salt
1/2 tsp. ground black pepper
2 tblsp. chili powder
1/4 tsp. red pepper flakes
1/2 tsp. garlic powder
1/2 tsp. onion powder
1 tsp. oregano
1 1/2 tsp. cumin

Garnishes:

Sour cream
Grated cheese
Chopped cilantro
Tabasco
Instructions
In a large deep pot or Dutch oven, brown the beef over medium-high heat. Remove the browned beef from the pan and set it aside to drain.
In the same pan, add the olive oil, green pepper, onion, and garlic. Cook, stirring frequently, until just tender.
Return the drained beef to the pan.
Add the tomatoes, beans, tomato paste, and water. Stir well.
Add the seasonings. Stir well.
Bring to the boil, then reduce the heat to maintain a slow simmer. Cover and cook for 1 1/2 to 2 hours or more.
Serve with garnishes of sour cream, cheese, cilantro, and Tabasco
http://www.lanascooking.com/2013/03/19/not-texas-chili/
Other chili recipes you might enjoy from around the internet:
What I was up to…