This recipe is the first in a new monthly series started by a group of food bloggers who are also members of a food blogging discussion group on Yahoo. It was the idea of the very creative Amanda at Amanda's Cookin' and we call it The Secret Recipe Club. The idea is that each blogger is assigned to make and post a recipe from one of the other participating blogs, kinda like a Secret Santa. You visit your assigned blog, choose a recipe and make it. No one tells whose blog they have until the day of posting.
Lucky me – I was assigned to make something from Katrina at Baking and Boys! What a wealth of recipes to choose from. Picking the one to make was much harder than actually making the recipe. But after a little browsing over there, I knew exactly what I wanted to make. This Caramel Pecan Brownie recipe. For one thing, I can't resist anything chocolate. Or caramel. Or with pecans. And secondly, I don't think I have a brownie recipe on my blog at all. I could hardly believe it, either.
If you like brownies, you're gonna be crazy about this recipe. It has a brownie layer on the bottom and top with a layer of creamy caramel and toasted pecans in between. Yum. Yum.
Start by preheating your oven and preparing the pan.
Line an 8×8 pan with either foil or parchment paper and spray it lightly with cooking spray.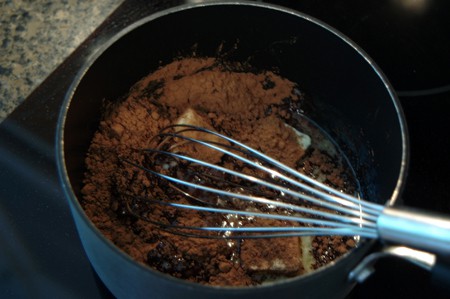 Next, melt the butter and cocoa powder over medium heat. Whisk it together well then remove it from the heat and let it cool slightly for about 5 minutes.
Whisk in the eggs, then the sugar and vanilla stirring it just until combined. Add the flour and salt and stir that just until combined.
Spread half of your batter evenly over the bottom of the prepared pan. Set that aside for now.
Place the caramels and cream in a microwave safe bowl. Melt in 30 second intervals, stirring between each.
When melted and stirred together until smooth, pour the caramel over the bottom brownie layer. Sprinkle the caramel layer evenly with toasted pecans. Pour the remaining batter evenly over the caramel and pecans.
Bake for 25-35 minutes or until a toothpick inserted in the center comes out clean. Start checking before the end of the baking time to make sure you don't overcook.
Cool completely on a wire rack. Katrina says that for a fudgier texture, you should refrigerate the cooled brownies for several hours before cutting into serving pieces.
Enjoy!
[amd-zlrecipe-recipe:45]
–Recipe from Baking and Boys (www.bakingandboys.com) and adapted from Dorie Greenspan's book, Baking from My Kitchen to Yours