'Tis the season for holiday baking and candy making! And though I do enjoy a leisurely day in the kitchen making Christmas candies, I also appreciate recipes that can be whipped up in a quick few minutes. These vintage Haystacks are one of those quick-few-minute recipes. For sure. I made this batch in less than 15 minutes from getting the ingredients out of the pantry to dropping them onto the paper to cool.
This is also another of those back-in-the-day recipes that I've had in my files forever. They're a delightful combination of sweet, salty, and crunchy and make a lovely addition to your assortment of more traditional Christmas candies.
I remember making these with my friend Sandra back in high school. Yes indeed, this recipe has stood the test of time.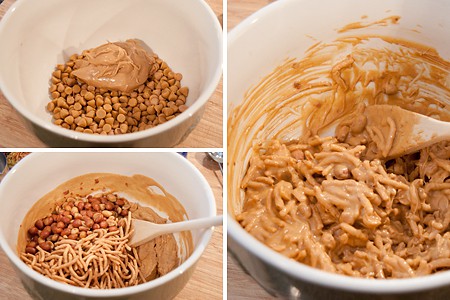 Start by dropping some butterscotch chips and peanut butter into a large bowl and microwave those until the chips have melted. It only takes 3 or 4 minutes, but be sure to set the microwave to 50% power or you'll wind up with butterscotch chips that have "seized." Trust me on that. Stir the mixture every minute.
Remove the bowl from the microwave and stir in the peanuts and chow mein noodles. I like to use the red-skinned Spanish peanuts for this, but the dry roasted are fine, too. Stir until everything is coated very well.
Then drop the mixture by teaspoonfuls onto waxed or parchment paper. Let it sit until completely cooled and firm. It may take several hours for the candy to become firm depending on the humidity that day.
Enjoy!
Haystacks

An easy candy recipe from "back in the day." Perfect combination of sweet, salty, and crunchy!

Ingredients

1 cup butterscotch chips
1/2 cup peanut butter
1/2 cup salted peanuts
2 cups chow mein noodles

Instructions

In a large bowl, microwave the butterscotch chips and peanut butter on 50% power for 3 to 5 minutes or until the chips have melted, stirring after each one minute increment. Remove from the microwave and stir in the peanuts and chow mein noodles.
Drop by teaspoonfuls onto waxed or parchment paper. Let sit until completely cooled and firm. It may take several hours for the candy to become firm.

Notes

All text and photographs on Never Enough Thyme are copyright protected. Please do not use any material from this site without obtaining prior permission. If you'd like to post this recipe on your site, please create your own original photographs and either re-write the recipe in your own words or link to this post.


Other easy candy recipes you might enjoy: