Turnip Greens and Corn Pone
This Southern Turnip Greens recipe is about as country as can be! It's a traditional recipe that uses a slightly healthier cooking method.
Turnip Greens and Corn Pone is about as Southern as a recipe can be! Smoky flavored, tender greens served with crispy, golden brown skillet fried cornbread is an old-fashioned delight.
Okay, everybody. This really is about as Southern as it gets. Turnip Greens and Corn Pone. Just thinking about it makes my mouth water.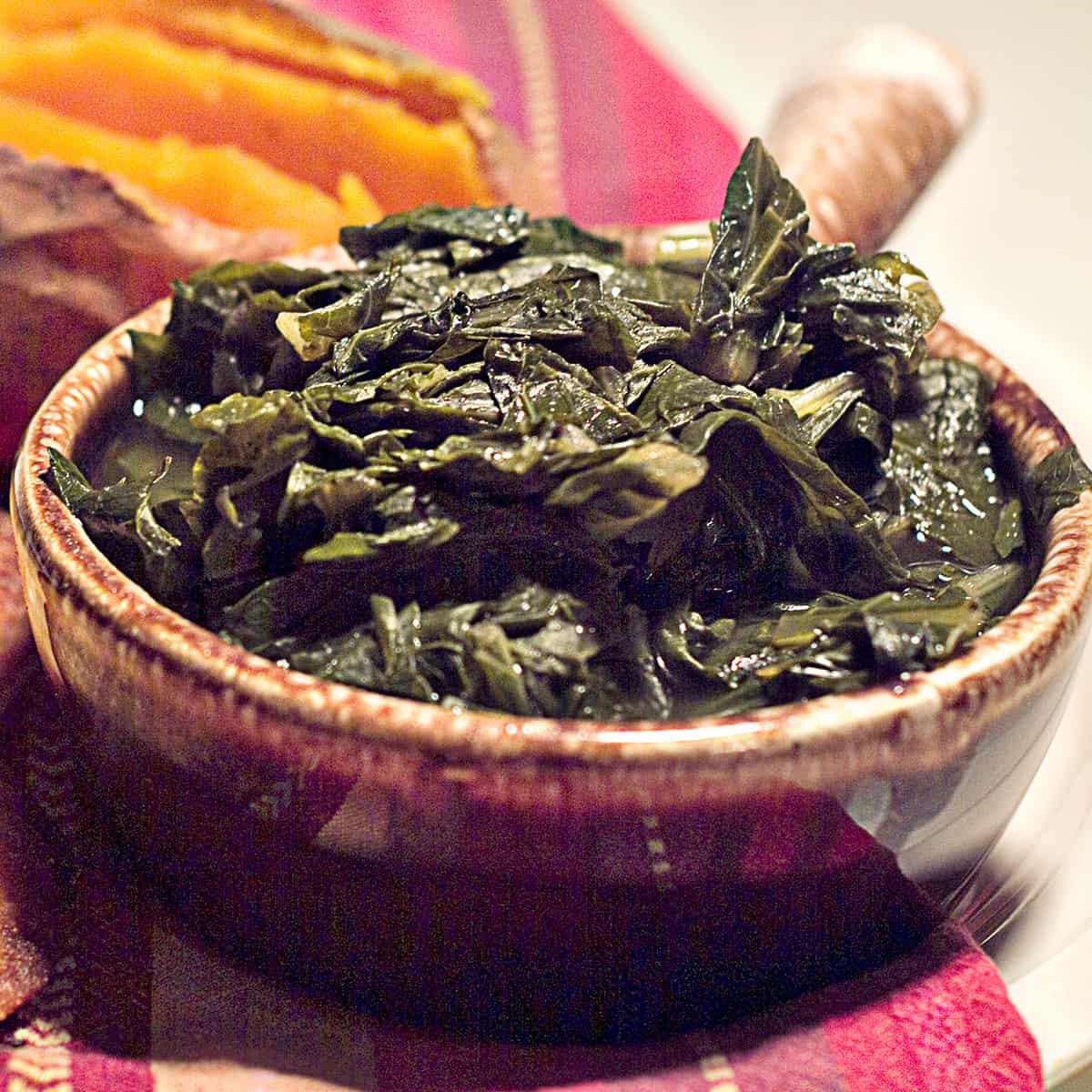 Whenever the weather starts to turn the least bit cooler I always start thinking about turnip greens. With cornbread on the side. And a baked sweet potato. And maybe a crispy, fried pork chop. Oh, my.
Southern Girl Needs Her Greens
When BeeBop and I were newly married and exiled to New Hampshire by the U.S. Navy, we really missed our familiar southern foods, especially fresh produce. Luckily for us we found a little place called Tuttle's Red Barn. It was a farm near Portsmouth owned and operated by the same family for generations. And they had a produce store open to the public.
Well, one fall afternoon we went out to Tuttle's to get some farm-fresh produce and I noticed their very large display of turnip roots. However, no greens! Being the naive young southern girl that I was then, I went up to one of the workers and asked where the turnip greens were. She directed me to the lovely display of roots.
I very sweetly explained to her that what I was looking for was the greens, you know the part that grows above the ground out of the tops of the roots. Well, that girl looked at me like I had three heads and each of them had sprouted horns. She said, "the tops!?!? We feed those to the pigs!" Whereupon I very sweetly informed her that in the south we cook and eat the greens and if she had never had any then she didn't have a clue what she was missing.
Needless to say, I went home without any turnip greens that day, but it did cross my mind to sneak around back of the store and see if the pigs had any to share.
Washing Greens is a Pain in the Behind
Now you have to really want turnip greens badly to go to the trouble of washing them. It's a painstaking, time-consuming process. They always seem to have a lot of grit clinging to the leaves and you certainly don't want that in your pot! I have heard tell of folks cleaning their greens in the washing machine. In a pillowcase. Really.
Fortunately for all of us, they now come washed and ready to cook in lovely cellophane bags in the produce section of the grocery store! Oh, happy day when those pre-washed greens became available!
I used to do the traditional recipe where you cook some sort of smoked meat in water for a while to make a seasoned broth, then add the turnips plus a load of bacon grease and cook for hours. However, these days I do try to lighten things up. Sometimes. So, here's how I make turnip greens now.
How to Make Turnip Greens
Place the greens into a large pot with enough water to cover. Turnips are like any other leafy green in that they will cook down to a much smaller volume. If the pot is overflowing with greens, that's okay. It'll only be that way for a few minutes.
Add the bacon drippings and chicken bouillon.
My Way of Lightening up the Seasoning
Now, see that one little bity tablespoon of bacon grease up there? That little bit is not going to hurt anybody but it will add a wonderful smoky bacon taste to the greens.
The chicken bouillon gives it a second depth of flavor. The combination of the two substitutes for the big piece of smoked meat we traditionally use in this recipe.
I use that combination with lots of vegetables. Bring to a boil and then reduce the heat to a simmer. Cook for 45 minutes to an hour or until greens are tender.
Check for seasoning. Add salt to taste if needed.
Some people add a pod of red pepper to the pot. If that's your thing, go right ahead! Also, most people eat their greens with a vinegary pepper sauce or red chili pepper flakes. There's no wrong way to eat turnip greens!
Now, what's the point in having turnip greens if you don't have some corn pone to go along with them. After all, you've got all that wonderful pot likker (for those of you not from the South, pot likker is the juice in the pot from the cooking of the turnip greens) and there's not much better with that than some old-fashioned corn pone.
How to Make Corn Pone
Corn pone is simply another variation of cornbread. It's my favorite cornbread, actually, and here's how I make it.
First, a note about the cornmeal. You really need some finely ground white cornmeal to make good corn pone. It's not very easy to find outside of the South and in some of the more "metro" areas of the South, it's hard to find now. I can't find it at all here in north Georgia, so I just make sure to get a couple of bags whenever I go back down to south Georgia. It's very different from the standard yellow cornmeal.
If you really want to try some, I do know that it can be purchased online from Amazon.
Preheat the oven to 475. Pour the vegetable or canola oil into a 9 or 10 inch cast iron skillet and place it into the oven while preheating.
When the oven is nearly up to temperature, mix the cornmeal, salt, and water. The batter should be slightly thicker than a pancake batter, but thin enough to pour.
Carefully remove the now hot pan from the oven and, working quickly, pour the batter into small rounds (3 or 4 inches across) in the hot oil. Spoon some of the hot fat on top of the batter.
Return the pan to the oven and bake for about 15 minutes or until golden brown. Broil for the last 2 to 3 minutes, if needed, to make the corn pone extra golden and crispy around the edges.
🧾 More Recipes You'll Like
---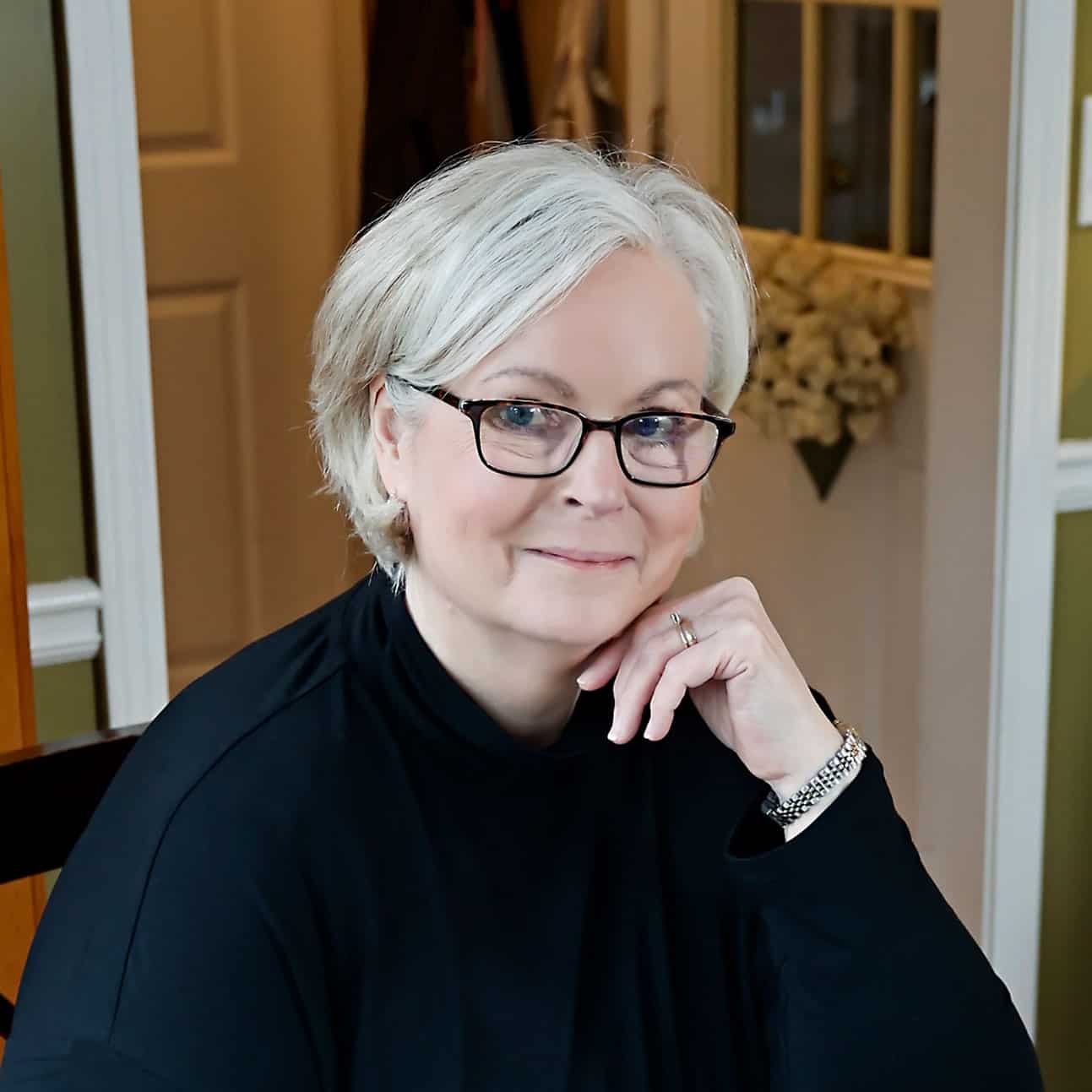 More Questions? I'm happy to help!
If you have more questions about the recipe, or if you've made it and would like to leave a comment, scroll down to leave your thoughts, questions, and/or rating!
Thanks so much for stopping by!
Recipe
Southern Turnip Greens
This Southern Turnip Greens recipe is about as country as can be! It's a traditional recipe that uses a slightly healthier cooking method.
Print It
Rate It
Save
Saved!
Text It
Ingredients
2

pounds

fresh turnip greens

cleaned, cut, and washed

Water

(see notes)

1

tablespoon

bacon fat

1

teaspoon

chicken bouillon

or 1 cube

1

teaspoon

salt
Instructions
In a large pot, combine the greens, bacon fat, chicken bouillon, salt, and water (see notes)

Bring to a boil and then reduce to a simmer.

Cover and cook for 45 minutes or until the greens are tender. Check the water level during cooking and add more if needed.

Taste and add additional salt if needed.
Notes
You'll need enough water to cover the turnips by about an inch once they've wilted down into the pot. I usually start with about 2 quarts and adjust as needed.

Cool the greens completely and store them in an airtight container in the refrigerator. They'll keep well for up to 3 days.

May also be frozen in an airtight container for up to three months. Allow them to thaw overnight in the refrigerator and reheat on the stovetop over low heat or in the microwave.
Nutrition Information
Serving
1
|
Calories
69
kcal
|
Carbohydrates
11
g
|
Protein
2
g
|
Fat
3
g
|
Saturated Fat
1
g
|
Polyunsaturated Fat
0.4
g
|
Monounsaturated Fat
1
g
|
Cholesterol
2
mg
|
Sodium
455
mg
|
Potassium
448
mg
|
Fiber
5
g
|
Sugar
1
g
|
Vitamin A
17519
IU
|
Vitamin C
91
mg
|
Calcium
288
mg
|
Iron
2
mg
Nutrition information is calculated by software based on the ingredients in each recipe. It is an estimate only and is provided for informational purposes. You should consult your healthcare provider or a registered dietitian if precise nutrition calculations are needed for health reasons.
Share on Facebook
Pin Recipe