A not too sweet, light as air cake that makes the perfect Springtime dessert.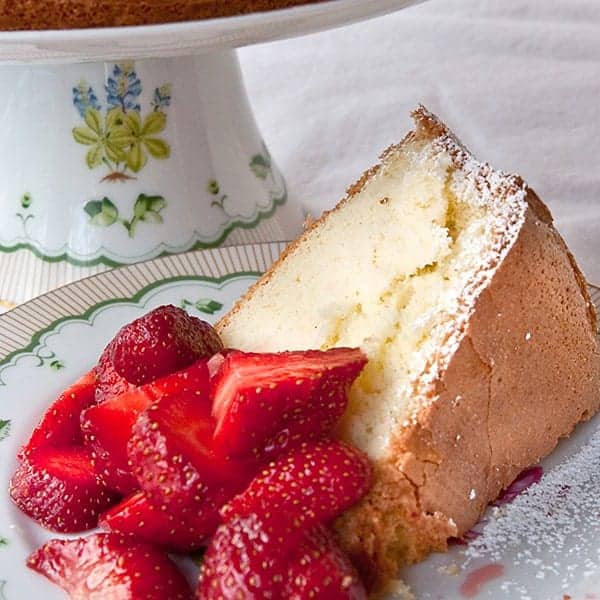 Angel Cake is a not too sweet, light as air cake that makes the perfect springtime dessert. Serve with fresh berries and whipped cream.
I really enjoy watching cooking shows. No matter who the host or what the cuisine, I always get ideas that I want to try out in my kitchen.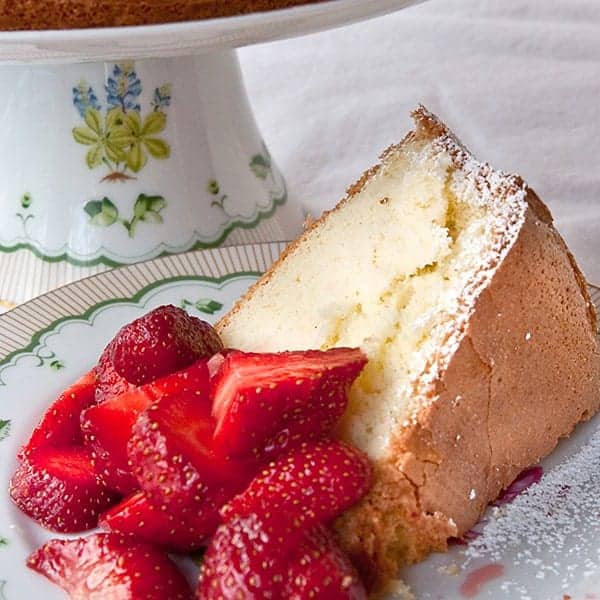 One of the shows I've been watching recently is French Food at Home on The Cooking Channel. The host is Laura Calder, a French-trained chef. Almost every recipe she presents is something that makes me want to take a trip to France to study cooking. Ah, if I had only realized that when I was thirty years younger! Oh, well, I can still watch the shows and appreciate the cuisine and techniques.
One recent episode of French Food at Home featured this lovely cake for dessert. She called it an Angel Cake, or gateau ange, though it's not like our American-style angel food cakes. It is very light and airy, but it uses all the yolks in the batter. The result is a spongy, airy, yet slightly dense and sturdy cake. It has a delightfully different texture, richer than an angel food cake but lighter and firmer than a typical layer cake. It is delicious served with fresh berries, whipped cream or creme fraiche.
How to Make Angel Cake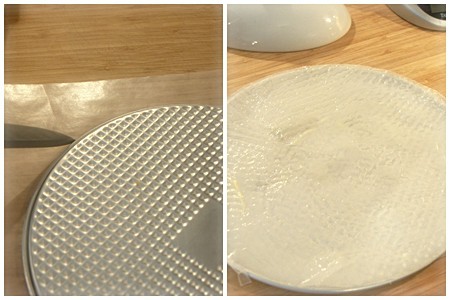 Before you start mixing the cake, go ahead and grease and line a 9″ springform pan. I find the easiest way to do that is to remove the bottom of the pan and use it as a template. Draw around the outside edge with a sharp-pointed paring knife. The resulting circle should exactly fit the bottom of the pan.
Next grease the inside bottom of the pan, place the circle of waxed paper in the bottom and grease the top of the waxed paper, too. Then put the side onto the bottom, close the latch and grease the sides. Set the pan aside for now.
You start by beating the egg whites to stiff peaks. I did the entire cake in a large mixing bowl with a whisk. Just because. Sometimes I just like to do things by hand. Yes, I'm weird like that. Please feel free to use your electric mixer instead.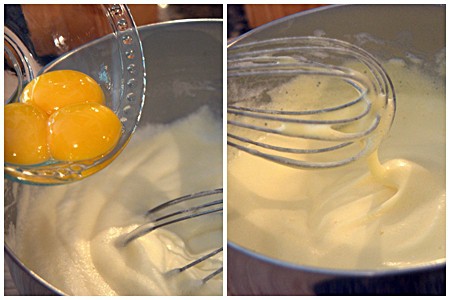 Then add the yolks one-by-one incorporating each into the mixture well. You would think you'd lose volume doing this, but you don't at all.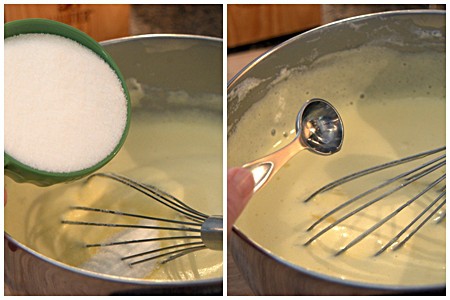 Add the sugar and vanilla whisking or beating until they're just incorporated. You'll still have a voluminous, mousse-like batter.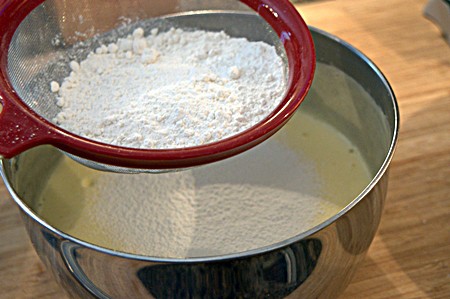 The flour goes in last. Sift the entire cup of flour over the egg and sugar mixture. Stir in well with your whisk or mixer.
This makes a beautiful batter that falls in a lovely ribbon. Pour it in the prepared pan and place in the preheated oven.
Cook for ten minutes, then reduce the heat to 350 and cook for an additional 25-30 minutes or until the cake tests clean near the center. Start testing at about 20 minutes, though since all ovens are a little different and you don't want to overcook this gorgeous cake.
Remove from the oven and cool in the pan for 15 minutes. Remove the cake to a wire rack to cool completely. This cake is delicious served with fresh berries, whipped cream or creme fraiche.
Enjoy!
More Cake Recipes on Lana's Cooking:
Springtime Cake Recipes from Other Bloggers: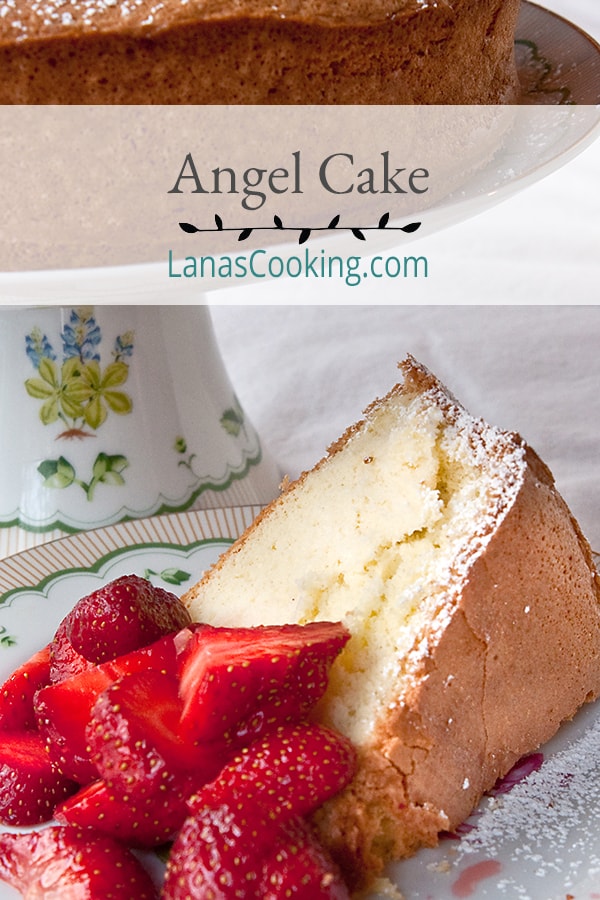 HAVE YOU TRIED THIS RECIPE?
I'd LOVE to know what you thought!
Leave a rating below in the comments and let me know how you liked it!

WE'RE ON FACEBOOK, TOO!
If you'd like to hang out with lots of other Southern Comfort Food lovers, make sure to join my FREE PRIVATE Facebook group.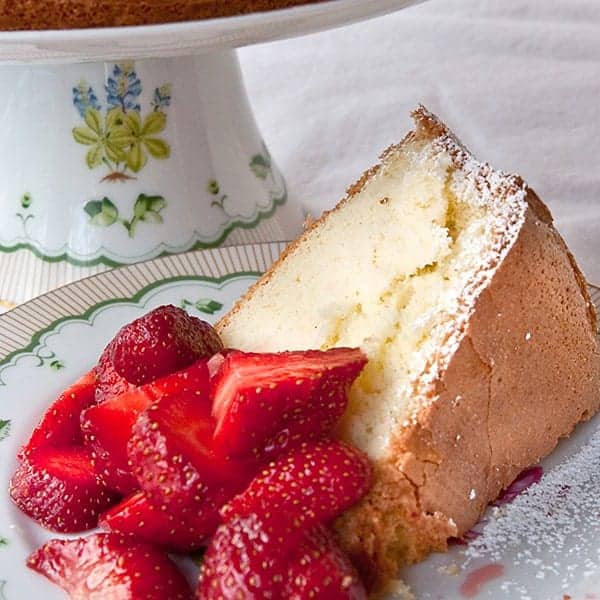 Ingredients
6

eggs

separated, at room temperature

1

cup

sugar

1

tsp.

vanilla

1

cup

all-purpose flour

2

tsp.

powdered sugar for garnish

optional
Instructions
Preheat the oven to 400 degrees.


Line and grease a 9" springform pan.


In a large bowl or with a mixer, beat the egg whites until stiff peaks form. Add the yolks one at a time fully incorporating each. Add the sugar and vanilla, beating each in well.


Sift the flour over the batter. Stir in it until well mixed. Pour the mixture into the prepared pan.


Place in the oven and cook for 10 minutes.


Turn the heat down to 350 degrees and continue cooking for approximately 25-30 minutes or until a tester inserted near the center of the cake comes out clean.


Remove from oven and cool in pan for 15 minutes.


Remove from pan and place on wire rack to cool completely.


Dust top of cake with powdered sugar if desired. Serve with fresh berries, whipped cream or crème fraiche.
Notes
Nutrition Information
Serving
1
|
Calories
141
kcal
|
Carbohydrates
25
g
|
Protein
4
g
|
Fat
2
g
|
Saturated Fat
1
g
|
Polyunsaturated Fat
1
g
|
Cholesterol
93
mg
|
Sodium
36
mg
|
Sugar
17
g
Nutrition information is calculated by software based on the ingredients in each recipe. It is an estimate only and is provided for informational purposes. You should consult your health care provider or a registered dietitian if precise nutrition calculations are needed for health reasons.
Share on Facebook
Pin Recipe