Lana's Cooking…with Aidan and Maggie (and a recipe for Banana Split Cones)
A banana split in a cone!
I just love summer vacation! Even though we haven't had a school-age child for a long time, still the words "summer vacation" just make me say… ahhhh. It's that time of year when there's less traffic on the roads, the pace of life seems to slow down, we enjoy longer, lazier days, and much more time with our grands! Speaking of which, they've been here with us for nearly two weeks and we've been packing a lot of fun into these days. We're all enjoying some of the simple pleasures of summer like eating popsicles and blowing bubbles…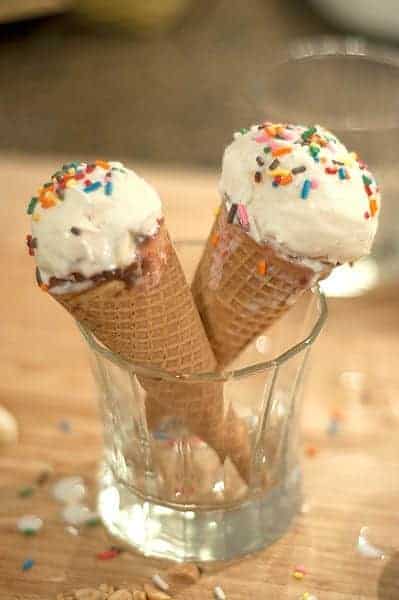 and exploring new interests like archery and photography. (By the way, he'd like for everyone to know that he's not at all fond of my flowery pink camera strap. All boy, that one.)
We've spent days at the movies and at the zoo and lots of time in the pool.
If you've ever spent a summer in the South, you'll understand how unusual our weather was last Sunday and Monday when we had cool temperatures and steady rains all day. Our summer rains typically come in thunderstorms that hit us quickly and move out just as fast. So since the weather wasn't fit for anything outdoors, we decided to just stay in and made chicken and dumplings for dinner.
Aidan learned how to cut the dumplings.
Then Maggie dropped them into the bubbling broth to cook.
We also made a little afternoon treat that day – banana splits in sugar cones! This is a great treat that kids can make on their own. If you don't mind doing a little clean up afterwards :-)
Start with a sugar cone and add a little chocolate syrup in the bottom. Next Add some vanilla ice cream and diced banana. Put in a little more ice cream and a bit of strawberry ice cream topping. Then more ice cream, diced banana and chocolate syrup. Top with one last scoop of vanilla ice cream and some colorful sprinkles. And there you have it – a banana split in a cone!
So, tell me, what have you and your family been up to this summer? Any favorite activities or places you've visited? I'd love to hear about it!
Other ice cream treats you might enjoy from around the internet:
What I was cooking…
Ingredients
4

ice cream sugar cones

1

banana

diced

2

cups

vanilla ice cream

4

tbsp

chocolate syrup

4

tbsp

strawberry ice cream topping

2

tsp

sprinkles
Instructions
Fill sugar cones with layers of chocolate syrup, diced bananas, ice cream, strawberry topping as desired.

Top with sprinkles.
Nutrition Information
Calories
294
kcal
|
Carbohydrates
53
g
|
Protein
3
g
|
Fat
8
g
|
Saturated Fat
5
g
|
Cholesterol
29
mg
|
Sodium
82
mg
|
Potassium
291
mg
|
Fiber
2
g
|
Sugar
35
g
|
Vitamin A
297
IU
|
Vitamin C
6
mg
|
Calcium
87
mg
|
Iron
1
mg
Nutrition information is calculated by software based on the ingredients in each recipe. It is an estimate only and is provided for informational purposes. You should consult your health care provider or a registered dietitian if precise nutrition calculations are needed for health reasons.
Share on Facebook
Pin Recipe