Even though Fall has officially arrived according to the calendar, nature (at least in these parts) hasn't quite caught up yet. I see friends from further north posting photos on Facebook of beautiful fall foliage. One blogging friend from Denver even had a bit of snow this morning. But around here it's still pretty much green and warm. Our trees have barely begun to show any color at all and our daily temperatures are hovering in the low 80's. However, the weather folks assure us "it's coming." A cold front is supposed to sweep through this weekend leaving us with cooler temperatures by Sunday. Fine by me! That means it's soup weather!
I have to admit that Fall is not my favorite time of year. It always seems that I'm in the minority on that, but for me Fall just means that winter is right around the corner. And I despise winter. I get cold around the end of November and don't warm up again until sometime in March. Just miserable. The only thing that makes it more bearable is the multitude of different soups and stews that are perfect for cooler weather.
Like this delicious Black Bean and Ham Soup I'm sharing with you today. This soup is so full of nutrition! The beans and brown rice add lots of fiber and the ham gives it that great deep flavor that only ham can impart. It all comes together in just a few minutes and then needs only a short time to simmer before you're ready to serve. Cornbread goes especially well with this soup. Just sayin'.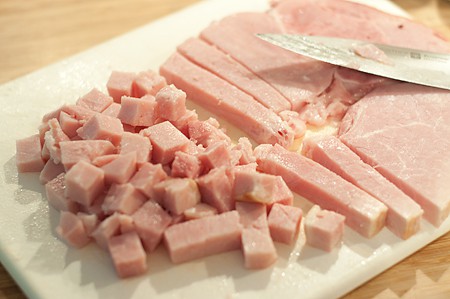 To start, cube some ham and brown it in the bottom of a large soup pot.
Then you'll literally just dump in everything else. Really. That's all there is to it. Delicious, hot, homemade soup in a flash!
Black Bean and Ham Soup
A hearty soup packed full of fiber from black beans and brown rice and flavored with delicious cubes of tender ham.
Ingredients
1 tblsp. olive oil
2 cups cubed ham (cut in about 1/2" dice)
5 cups water
2 can black beans, drained and rinsed
6 cloves garlic, minced
1/4 tsp. crushed red pepper flakes
1/2 tsp. fennel seeds
1 bay leaf
1 cup chopped fresh parsley
2 14.5 oz. cans diced tomatoes with their juice
2 cups cooked brown rice
1 chicken bouillon cube, crushed (recommended: Maggi brand)
3/4 tsp. salt
1/2 tsp. ground black pepper
1/4 tsp. Accent (optional)
Diced red onion (for serving)
Instructions
Add the olive oil to a large soup pot over medium high heat. Cook the cubed ham until it just begins to brown. Add the remaining ingredients. Bring to a boil. Reduce the heat to maintain a steady simmer and cook for 30 minutes.
Serve with a sprinkling of finely diced red onion or shallots.
Notes
I use a center cut ham steak for this soup, cutting it into 1/2" dice. You could also use leftover baked ham.
Try adding a few handfuls of spinach or other green leafy vegetable to the pot.
If you don't have leftover brown rice or don't have time to cook it, you can easily use the frozen brown rice available in the freezer section of your grocery store
Store any leftovers in the refrigerator. Note that the rice will continue to absorb moisture so you'll need to add a little water when reheating.
All text and photographs on Never Enough Thyme are copyright protected. Please do not use any material from this site without obtaining prior permission. If you'd like to post this recipe on your site, please create your own original photographs and either re-write the recipe in your own words or link to this post.
Other black bean soup recipes you might enjoy from around the internet:
What I was up to: