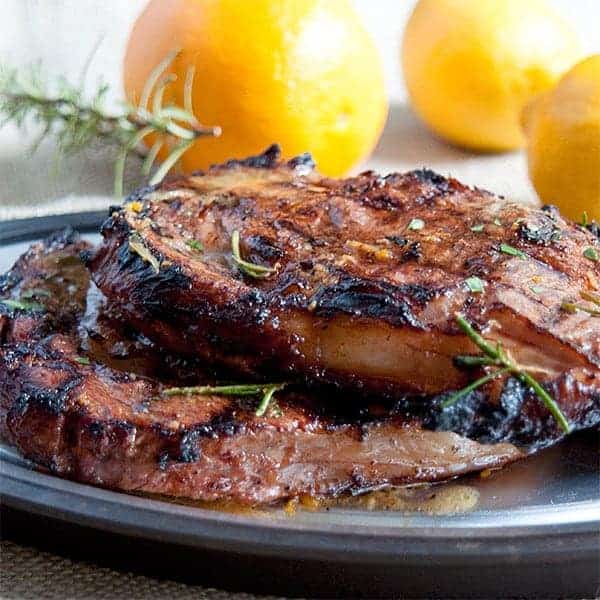 Lots of couples have Valentine's Day traditions and we're no different. But instead of fighting crowds for a table at a romantic restaurant, our tradition is to stay in, enjoy the time together, and put a yummy steak on the grill. If you've been a follower of this blog for long, you'll already know that we truly enjoy beef around here. Maybe it's because my daddy always had cows on the farm and that meant beef in our freezer when I was growing up. I just know it's always my protein of choice.
We've tried many different ways of cooking steaks over the years and have settled on a dry rub mixture that we usually use. But recently I wanted to try something a little different, so I came up with this recipe for a Citrus Marinated Ribeye with lots of Mediterranean flavors. The marinade has good olive oil, fresh lemon juice, orange juice, rosemary, and garlic. It's truly delicious!
The only caution – don't leave your steaks in the marinade too long or the citrus juice will start to cook them. Not good.
Citrus marinated ribeye steaks - marinated in olive oil, orange, lemon, rosemary, and garlic. Click To Tweet
Just mix up your marinade ingredients in a large resealable bag, add the steaks, and let them sit for about 1 1/2 hours. No more. Grill the steaks until they're cooked the way you like them. While you're cooking the steaks, heat the marinade over medium heat, reduce to a simmer and keep warm. Spoon a little of the warm marinade over the finished steaks while they're resting.
You're gonna really love this one. I just know it!
Enjoy!
Citrus Marinated Ribeye
Prep Time:
1 hour
30 minutes
Total Time:
1 hour
40 minutes
Ribeye steaks marinated in olive oil, orange, lemon, rosemary, and garlic.
Ingredients
1/2 cup olive oil
zest and juice of 1 orange
zest and juice of 1 lemon
2 cloves garlic, crushed
2 sprigs rosemary
2 Ribeye steaks
Instructions
Combine all marinade ingredients in a re-sealable plastic bag. Add the steaks turning to coat well.
Marinate for 1 to 1 1/2 hours turning steaks frequently.
Cook on a charcoal or gas grill. While steaks are cooking, pour the marinade into a small saucepan and bring to a boil over medium high heat.
Allow steaks to rest for 10 minutes before serving. Drizzle finished steaks with some of the warm marinade while resting.
Notes
All text and photographs on Never Enough Thyme are copyright protected. Please do not use any material from this site without obtaining prior permission. If you'd like to post this recipe on your site, please create your own original photographs and either re-write the recipe in your own words or link to this post.
Other steak marinade recipes you might enjoy: