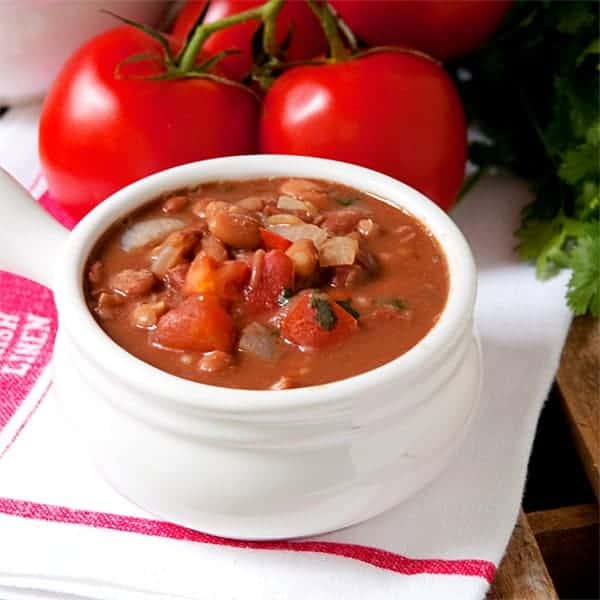 Cowgirl Beans – An easy budget-friendly recipe dried pinto beans cooked with tomato, jalapeno and onion.
Here we are in the hottest part of the summer. Daily temperatures are hovering around 100. Humidity is through the roof. And what do I do? Why get out my pots and pans and cook up some Cowgirl Beans. Yeah. I'm weird like that. Admittedly, this is more of a fall or winter kind of recipe, but doggone it I was just craving a pot of pinto beans.
BeeBop is always talking about the "pintos and cheese" that his Mom made for them when he was a little fellow growing up out west. BeeBop's family is from the same area as mine, but his Dad was in the Air Force so he moved around a couple of times before they settled down again in south Georgia.
Apparently, pinto beans were a big part of the diet out in New Mexico where they were stationed for a while. And they were cheap – very important when you're raising five kids on military pay!
Anyway, I've been trying for years to find a recipe that would satisfy that craving for Mom's "pintos and cheese." I haven't yet hit on that magical combination, but in the process I've found some pretty tasty recipes!
This one for Cowgirl Beans was published by Craig Claiborne in his wonderful book Craig Claiborne's Southern Cooking, but I'm sure it wasn't his original creation. I'd guess that this recipe had been around the block a couple of times before he got it. Regardless, it's a great dish to serve with hearty food. I served it with some pork chops and a fresh green salad.
Oh, and if anybody out there has a recipe for "pintos and cheese" please send it my way?
Sorry I don't have step-by-step photos for you on this recipe (or some of the last ones, either). For some reason I'm getting really blurry shots on those photos. Gotta keep working on those camera skills!
Cowgirl Beans - An easy budget-friendly recipe dried pinto beans cooked with tomato, jalapeno and onion. Click To Tweet
How to Make Cowgirl Beans
To summarize the recipe steps for you – you simply start with dried pinto beans and water. Bring the pot to a boil, reduce the heat to a simmer and let them cook, partly covered, for one hour. After an hour of cooking time, add the salt and half the onion. Continue cooking for 30 minutes more.
Heat up a small skillet with a little oil and cook the remaining onion and the jalapeno until the onion is starting to soften. Add the tomatoes and cilantro and continue cooking for about 3 minutes.
Remove about a cup of beans with the liquid and puree them in a blender or food processor until they are as fine a texture as possible. Stir the pureed beans back into the pot. Add the sauteed tomato and onion mixture and stir it into the beans. Simmer for an additional 5 minutes or so.
Serve the beans as they are, or with a selection of toppings such as grated cheddar cheese, chopped scallions, sour cream and salsa.
Enjoy!
More Bean Recipes from Never Enough Thyme
pinto beans recipes from other bloggers:
Like This Recipe? Pin It!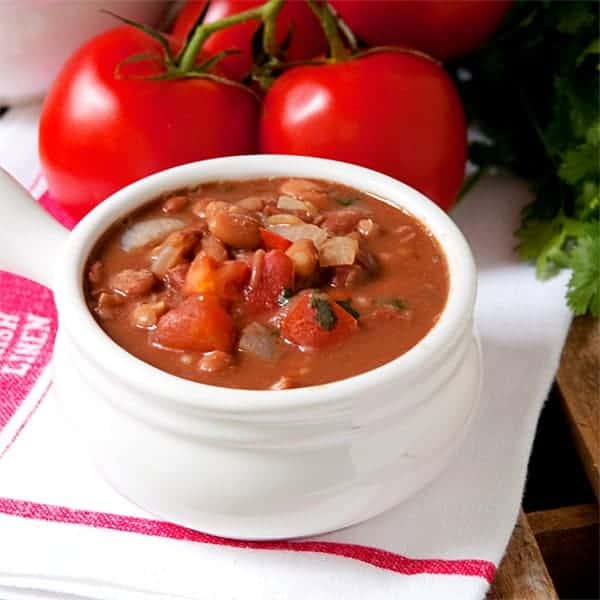 Cowgirl Beans
Cook Time:
1 hour
35 minutes
Total Time:
1 hour
50 minutes
Cowgirl Beans - Budget-friendly dried pinto beans cooked with tomato, jalapeno and onion.
Ingredients
8 oz. dried pinto beans
6 1/2 cups water
1 tsp. salt
1 medium onion, chopped
1 tblsp. canola oil
1 small fresh jalapeno, finely chopped
1 small ripe tomato, chopped
1/4 cup chopped cilantro
Instructions
Rinse the beans and place them in a large pot with the water.
Bring the beans up to the boil. Partly cover beans and cook at a simmer for 1 hour.
Add the salt and half of the chopped onion. Continue cooking, uncovered, for about 30 minutes more.
Heat the oil in a small skillet and add the remaining onion and chopped jalapeno. Cook just until the onion is wilted.
Stir in the tomatoes and cilantro. Cook for an additional 3 minutes.
Remove one cup of the beans with their liquid and process them in a blender or food processor until as fine as possible.
Return the pureed mixture to the beans and stir together.
Add the tomato-onion mixture to the beans and continue to simmer about 5 minutes more.
Serve as is or with toppings of grated cheddar cheese, chopped scallions, sour cream and salsa.
Notes
All text and photographs on Never Enough Thyme are copyright protected. Please do not use any material from this site without obtaining prior permission. If you'd like to post this recipe on your site, please create your own original photographs and either re-write the recipe in your own words or link to this post.
Recommended Products
As an Amazon Associate and member of other affiliate programs, I earn from qualifying purchases.
Nutrition Information:
Yield:

4
Serving Size:

1
Amount Per Serving:
Calories:

128
Total Fat:

4g
Saturated Fat:

0g
Trans Fat:

0g
Unsaturated Fat:

3g
Cholesterol:

0mg
Sodium:

600mg
Carbohydrates:

18g
Fiber:

6g
Sugar:

2g
Protein:

6g
Nutrition information is calculated by Nutritonix and may not always be perfectly accurate. Use your own judgment.
Be sure to follow me on instagram and hashtag #nevrenoughthyme or tag @nevrenoughthyme so I can see and share what you make! if you like this recipe, be sure to follow me on social media so you never miss a post: