We've been doing a lot of kid-friendly food this summer. With the grands in and out, back and forth, there hasn't been much "fancy" cooking going on. And speaking of "kid food," one of the universal favorites of kids of all ages has to be spaghetti and meatballs. But I always avoided doing the meatballs because I just hated frying those little things. They spattered all over my stove and the fact that they were "fried" made me feel guilty about enjoying them. Well, no more! Not since I started making this recipe with baked meatballs! They're just as tasty as the fried kind and lots better for you. I usually serve them with my Tomato-Basil Sauce and spaghetti, but you can use this recipe any way you want.
To get started, take two slices of day-old sandwich bread. Whatever variety you like. Sourdough, whole wheat, soft ooey-gooey white bread. Doesn't matter. Just tear them up into small pieces, put them in a little bowl and pour some milk over the bunch. Let the bread sit while you get the rest of the ingredients together.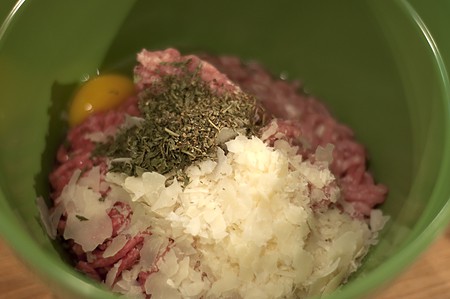 Now just dump the meats, egg, Parm and seasoning together in a medium sized mixing bowl. Take your rings off and get in there with your hands. There's really no good way to mix meatballs or a meatloaf except with the kitchen tools you were born with.
By this time the bread should have soaked up all the milk, so go ahead and put the bread in and mix again. Be sure to get all the bread incorporated well. You don't want croutons sticking out the sides of your meatballs, you know?
Now form your lovely mixture into twelve nice-sized meatballs. Mine are usually about 2″ across. A good size for this recipe or for a meatball sub. Yum and a great idea for the leftovers :-) Place the meatballs on a baking sheet that has been coated with cooking spray.
Bake the meatballs for 15 minutes. Turn them over and bake for an additional 15 minutes. Remove the meatballs from the oven and put them into the Tomato-Basil Sauce (or jarred marinara that you have been heating) and leave them for a few minutes just so they get coated with the sauce.
Serve over hot, cooked spaghetti with plenty of Parmesan to pass at the table for topping.
Enjoy!
Baked Meatballs and Spaghetti
Spaghetti and tomato sauce with meatballs that are baked instead of fried.
Ingredients
2 slices bread
4 tblsp. milk
½ lb. lean ground beef
½ lb. ground pork
1 egg
¼ cup Parmesan cheese
1 ½ tsp. Italian seasoning
½ tsp. salt
¼ tsp. ground black pepper
1 recipe of Tomato-Basil Sauce (or a good quality jarred marinara sauce)
8 oz. spaghetti
Instructions
Preheat the oven to 425 degrees.
Tear the bread into small pieces and place it in a small mixing bowl. Pour the milk over the bread and set aside.
In a medium mixing bowl, add the ground beef, pork, egg, Parmesan cheese, Italian seasoning, salt and pepper. Using your hands, gently mix until well combined.
By this time, the bread should have absorbed all the milk. Add the milk and bread to the meat mixture and mix again. Make sure to thoroughly combine the bread with the meat mixture.
Form the mixture into 12 meatballs.
Place the meatballs on a baking sheet coated with cooking spray.
Bake for 15 minutes. Turn the meatballs over and bake for an additional 15 minutes.
While the meatballs are cooking, put the pasta on to cook and prepare the Tomato-Basil Sauce.
Remove the meatballs from the oven and place them in the Tomato-Basil Sauce.
Cook for 2-3 minutes just to coat the meatballs with the sauce.
Serve over hot, cooked spaghetti and pass additional Parmesan for topping.
Notes
All text and photographs on Never Enough Thyme are copyright protected. Please do not use any material from this site without obtaining prior permission. If you'd like to post this recipe on your site, please create your own original photographs and either re-write the recipe in your own words or link to this post.
Other meatball recipes you might enjoy from around the internet:
What I was cooking…