These crispy roasted potatoes are thinly sliced, layered with shallots, brushed with butter and oil, and cooked until golden brown and crispy.
I can't tell you how happy this Crispy Roasted Potatoes recipe makes BeeBop. He'll be the first to admit that he is a big meat and potatoes fan and he has declared this recipe a huge success.
I mean really? Who wouldn't love crispy potatoes flavored with butter, shallots and a touch of lemon thyme? I have a pot of lemon thyme that grows like weeds in my herb bed, so I often use it instead of regular thyme. I love the flavor it adds to lots of recipes. So good.
These crispy roasted potatoes are thinly sliced, layered with shallots, brushed with butter and oil, and cooked until golden brown and crispy. Click To Tweet
How to Make Crispy Roasted Potatoes
You'll start off by melting your butter and adding the olive oil. Generously brush the bottom of your baking dish with some of the mixture. I chose to make this in my 10-inch cast iron skillet. You could use a gratin dish or any shallow 9 or 10-inch baking dish.
The only negative to this recipe is that you're going to need to peel four pounds of potatoes. Now peeling potatoes is one kitchen chore that I just despise. I have to really love you to peel a potato for you.
Even though I dislike doing it, I do think it makes for a much nicer finished recipe here. And once that bit of drudgery is out of the way, it's easy-peasy from there on out.
If you have a mandoline and are not terrified of using it (that would be me), you can cut your potatoes on it. Otherwise, use a sharp knife to cut each potato crosswise into thin slices. Try to keep the slices together as you go and as you finish each potato, place it intact into the pan.
Once you have all the potatoes snuggled nicely in place, peel and slice the shallots. Wedge the shallot slices randomly in between the sliced potatoes.
The final step is to brush on the rest of that lovely butter and olive oil mixture and season generously with salt and pepper. Then pop the pan into your 375-degree oven for an hour and 15 minutes. Go do whatever you want to, no stirring and no pot watching required!
After the time is up, remove the pan from the oven, artistically strew the top of the potatoes with the thyme sprigs and return it to the oven to cook for an additional 35 minutes or until the potatoes are golden brown on top and cooked through.
Add a little more fresh thyme right before serving if you like. And then...
Enjoy!
More Potato Recipes from Never Enough Thyme:

Roasted Potato Recipes from Other Bloggers:

Like This Recipe? Pin It!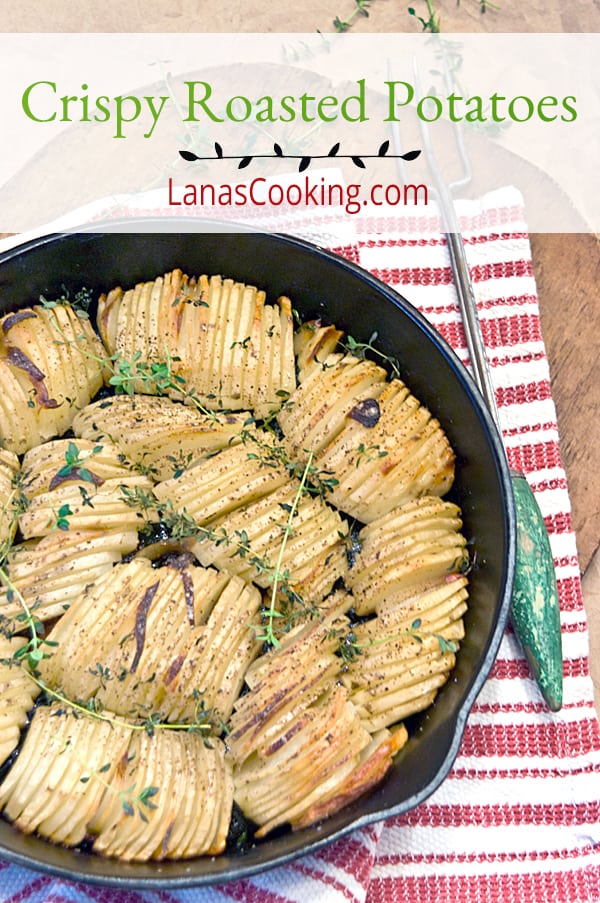 Crispy Roasted Potatoes
Russet potatoes roasted with olive oil, salt, pepper, shallots and thyme.
Print
Pin
Rate
Ingredients
4

tblsp butter

melted

4

tblsp olive oil

4

pounds

russet potatoes

peeled

4

shallots

thickly sliced

Salt

Pepper

8

sprigs lemon thyme

more for garnish
Instructions
Preheat the oven to 375 degrees.

Combine the melted butter and olive oil in a small bowl.

Generously brush the bottom of a 9-10 inch baking dish with the butter and oil mixture. Set aside the remainder for now.

Peel the potatoes; slice each potato very thinly using a sharp knife or mandoline, keeping the potato intact as you proceed.

Place the potatoes vertically in the prepared baking pan.

Peel the shallots and slice them lengthwise.

Wedge the slices of shallot randomly between the potatoes slices.

Brush with remaining butter and oil.

Sprinkle generously with salt and pepper.

Bake for 1 hour and 15 minutes.

Remove pan from oven and add the thyme sprigs.

Return to the oven and bake an additional 35 minutes or until potatoes are cooked through and top is brown and crispy.

Remove from the oven and sprinkle with additional lemon thyme for garnish.
Notes
Nutrition Information
Serving:
1
g
|
Calories:
371
kcal
|
Carbohydrates:
60
g
|
Protein:
8
g
|
Fat:
13
g
|
Saturated Fat:
5
g
|
Polyunsaturated Fat:
8
g
|
Cholesterol:
15
mg
|
Sodium:
155
mg
|
Fiber:
8
g
|
Sugar:
6
g
Nutrition information is calculated by software based on the ingredients in each recipe. It is an estimate only and is provided for informational purposes. You should consult your health care provider or a registered dietitian if precise nutrition calculations are needed for health reasons.
Share on Facebook
Pin Recipe
Be sure to follow me on instagram and hashtag #nevrenoughthyme or tag @nevrenoughthyme so I can see and share what you make! if you like this recipe, be sure to follow me on social media so you never miss a post:
| facebook | instagram | pinterest | twitter |
Lana Stuart is the cook and occasional traveler here at Never Enough Thyme. Lana has been cooking since she was tall enough to reach the stove and started this blog in 2009 to share her delicious home cooking recipes. You'll find about 700 recipes here so there's sure to be something your family will like!
More About Lana →