Going Home for a Birthday Celebration
Last Sunday was a very special occasion for our family. My mother's mother, my grandmother Polly, celebrated her 97th birthday. And we went home for the weekend.
BeeBop and I have been living in north Georgia for quite a few years now and it's a lovely place. We are fortunate to live in a beautiful neighborhood with friendly, welcoming folks. But, as the saying goes…there's no place like home.
All around our home in north Georgia, there are rolling hills, mountains even, but in south Georgia it's all flat. Flat as a pancake kind of flat. The kind of flat where you can see cars approaching from two or three miles away. And I love it.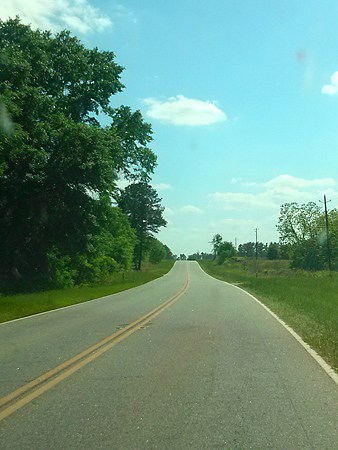 It's the kind of place where commerce looks like this…
And this…
I took those photos through the car window, and I can make no apologies for the bug splats. That's also part of life in the country.
This is a place where life moves slowly and neighbors still take the time to visit.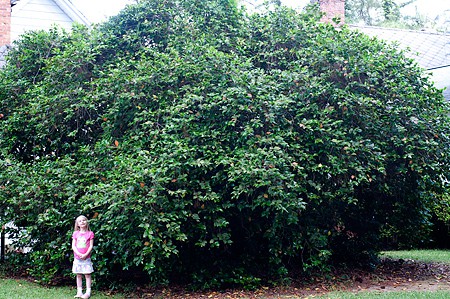 Where the camellias grow as big as trees. And where homes look like this…
That's my mother's house. I can't remember the year it was built now, but it dates from the 1800's and it sits just off the town square.
This tiny town in this little farming community is where the heart and soul of our family exists. Our family may all be scattered now, but this place holds a special spot in all our hearts and coming back for Polly's special day was our great joy and pleasure.
From my perspective, it always seemed to me that Polly has lived her life exactly however she pleased. She is the oldest of seven children (six of whom are still living). She's an avid reader, staying current on local and national events. She's always been an independent woman who loved to travel and had some delightful adventures traveling all over the country with a close-knit group of ladies that included her sister-in-law and several friends. When I was growing up, Polly and "Gran Robert" lived in Atlanta – the ultimate in glamorous, big-city living to my little country girl experience. I wrote more about Polly last December when I posted a recipe for her famous "Pink Stuff." Go on over there and read it!
As we drove toward home with our two precious grandchildren in the car with us, I found myself thinking about all the things that Polly has seen and experienced during her lifetime. In the year she was born, 1915, the no. 1 bestseller was The Turmoil by Booth Tarkington, Rocky Mountain National Park was established by Congress, Pluto was photographed for the first time, and the neon tube was patented for use in advertising. That same year, the Nobel prize for physics went to William H. Bragg for his work on x-rays.
During her first 15 years, World War I was fought, the first self-service grocery store opened in the U.S., and the Spanish Flu pandemic took place. Russian Czar Nicholas II and his family, including the famous Anastasia, were killed, the first commercial radio broadcast aired, and the lie detector was invented.
The Charleston became a popular dance (yes, I've seen Polly do the Charleston), and women got the right to vote. The Teapot Dome scandal occurred, talking movies were invented and the first winter Olympic games were held. A woman swam the English Channel for the first time ever and the Scopes Monkey Trial took place. Bubble gum was invented, the first Oxford-English Dictionary was published, sliced bread was invented, and penicillin discovered.
Can you imagine witnessing all those events just in your first fifteen years? What a childhood she had!
But – back to the birthday celebration! Mama had almost everything ready for Polly's birthday even before we arrived. She's always enjoyed having family dinners, so entertaining 14 for lunch was routine for her. Actually, I wish she'd slow down a little and let someone else take over the hosting duties sometimes, but I think she takes a lot of pleasure in having a house full of family.
We all enjoyed a beautiful lunch of baked ham, fresh green beans, squash casserole, broccoli salad, and…gosh I can't begin to remember it all! And, of course, birthday cake and ice cream. A black forest cake to be exact – Polly's specific request.
At the end of the day there were hugs and kisses all around, promises of getting together again real soon, and lots of "Y'all drive carefully now!"
I'd say it was a pretty darned good weekend!
Happy 97th Polly! Here's wishing you 97 more!