This is a sponsored post written by me for the Georgia Watermelon Association. All opinions are 100% mine.
Watermelon has long been my most favorite summer time treat. A perfectly ripe, juicy, red watermelon is one of life's perfect delights! Enjoying that delicious, sweet watermelon with the juice dripping down your arms was a childhood joy in my little southern home town. How better to remember those days than with a cold, delicious drink like my Watermelon Cherry Limeade. A deliciously refreshing mix of watermelon juice, sparkling cherry juice, and lime, this beverage is perfect for summer parties or just afternoon sipping.
Even though watermelons weren't a major cash crop where I grew up, most people grew them in their gardens. Daddy would sometimes bring four or five at a time home during the height of the season. We'd put them in the fridge or just under the air conditioner so they'd be nice and cool when we were ready for them.
During the hot late afternoon, Mama would put us all around the picnic table in the back yard and cut open one of those beautiful watermelons. We'd eat until our faces and hands were sticky and we couldn't manage one more bite. I liked mine plain, but my Daddy always had salt on his.
A deliciously refreshing summer time drink - a mix of watermelon juice, sparkling cherry juice, and lime. Click To Tweet
Just a little way up the road from where I grew up is Crisp County. Located in southwest Georgia, Crisp County, is the state's foremost watermelon-growing county and the number 4 watermelon-growing county in the United States. Crisp County growers produce primarily seedless, red watermelons. The city of Cordele, located in Crisp County, is known as the Watermelon Capital of the World because of the quality and quantity of watermelons grown there. Their local farmer's market is a major watermelon shipping point. Each summer, Cordele celebrates the harvest with the Watermelon Days Festival. If you ever find yourself in southwest Georgia during late summer, be sure to try one of the locally grown watermelons. They're absolutely mouth-wateringly delicious!
I was recently asked by the Georgia Watermelon Association if I'd like to help promote their Georgia's Best Summertime Drink Recipe Contest. Of course, I said "Yes!" I love to brag about Georgia products, and with watermelons being one of my favorites, I was eager to help out. If you make a great summertime drink featuring watermelon, jump over to the site and enter! There are some very nice prizes up for grabs.
Here are the details:
Georgia's Best Summertime Drink Recipe Contest
Submit your best beverage featuring watermelon for a chance to win summer juicing accessories + the title of "Georgia's Best Summertime Drink"
The Georgia Watermelon Association is on the hunt for Georgia's Best Summertime Drink, featuring locally-grown Georgia watermelons.
Whether you're opting for a blender or breaking out the juicer, serving it up to your kids or enjoying an afternoon cocktail in the shade, submit your favorite watermelon drink recipes for a chance at sweet prizes:
How the contest works:
Create your perfect summertime beverage featuring Georgia watermelon.
Through August 15, 2016, submit your watermelon refreshment recipes through the entry form on the GWA web site or by emailing

[email protected]

.
Qualified recipes will be shared on GWA's social media pages for all to see.
Winners will be announced in late August!
Looking for inspiration? "Like" and follow along with the GWA Facebook page for recipes and tips all summer long. Good Luck!
Now, if you'd like to try my Watermelon Cherry Limeade recipe, here are all the directions:
Halve or quarter the watermelon and cut the flesh from the rind.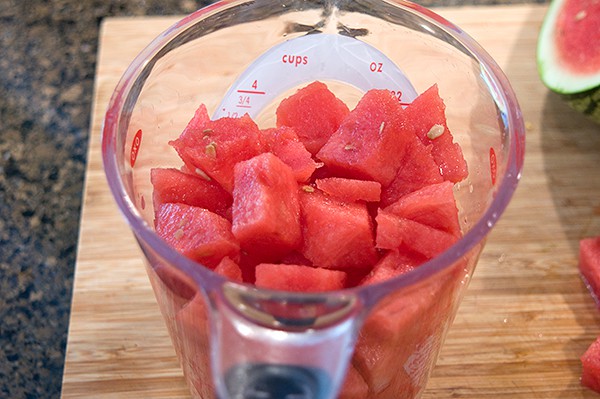 Cut the watermelon flesh into about 1-inch cubes.
Muddle or crush the watermelon cubes to extract as much juice as possible. Since I don't happen to have a muddler, I just used an old rolling pin with blunt ends. You could also use a wooden spoon or something similar. Keep pressing or muddling until the watermelon has broken down and yielded its juice.
Strain the juice into a pitcher. Do it a little at a time pressing against the strainer to get the maximum amount of juice. Discard the pulp.
Lovely, red watermelon juice!
Add the sparkling (or plain) cherry juice,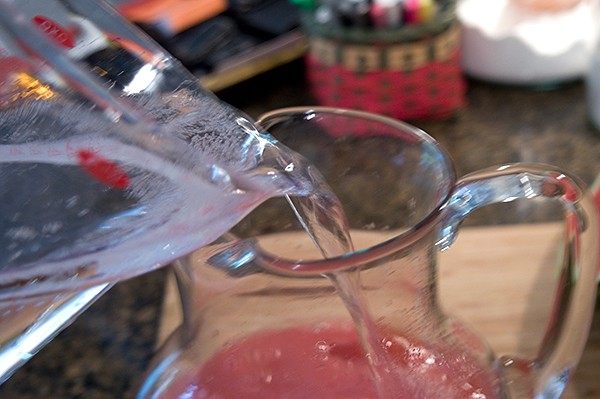 the lemon-lime soda,
and fresh lime juice.
Cover and chill for 2 hours or overnight. Some of the bubbly foam will settle out but not all. It doesn't matter to me, because it's so pretty!
Enjoy!

Lana Stuart
Yields 6 servings
Watermelon Cherry Limeade
Deliciously refreshing summer time drink - a mix of watermelon juice, sparkling cherry juice, and lime.
15 minPrep Time
15 minTotal Time
Ingredients
4 cups cubed watermelon
1 cup sparkling cherry juice (or cherry juice drink)
2 cups lemon-lime carbonated soda
Juice of 2 limes
Instructions
Muddle or crush the watermelon cubes to extract as much juice as possible. Strain into a pitcher.
Add remaining ingredients.
Cover and chill for 2 hours or overnight.
Notes
All text and photographs on Never Enough Thyme are copyright protected. Please do not use any material from this site without obtaining prior permission. If you'd like to post this recipe on your site, please create your own original photographs and either re-write the recipe in your own words or link to this post.
7.8.1.2
633
https://www.lanascooking.com/watermelon-cherry-limeade/
Lana Stuart | Never Enough Thyme
More watermelon drink recipes you might enjoy: