Update: Giveaway is closed. The winner of the beautiful Hurst's Beans clay bean pot was comment #50 from Michelle Schweitzer! Congratulations, Michelle.
Gumbo soup? Isn't that redundant?
Well, there's a reason and I want to get to it right up front. Because I know that my Gulf Coast friends (yes, I'm looking at you Drick) would flip out if I called this recipe a "gumbo" and there's no roux in sight. See, a real gumbo starts with the making of roux, a combination of flour and fat cooked to a particular dark or light color depending on the recipe.
So, instead of proclaiming that this is gumbo, I chose to call it gumbo-soup. It's definitely influenced by gumbo with its use of the trinity – onion, celery, and bell pepper – along with red pepper flakes, Tabasco, and Worcestershire, but it's not quite as thick owing to the lack of the roux. Okay – everybody happy now?
What makes this gumbo soup so different is that it contains lentils! That's right. I'm using lentils in place of the second protein, often chicken, that you'd usually find in gumbo. Did you realize that lentils are one of the most nutritious foods in the world? They have loads of protein, they're low in fat and high in fiber. I've also read that they are helpful in reducing cholesterol and beneficial to controlling diabetes. Good gracious, is there anything lentils can't do?
Hope you enjoy this delicious and healthy Lentil and Sausage Gumbo Soup!
Lentils take the place of a second protein in this deliciously flavored soup based on traditional Louisiana-style gumbo Click To Tweet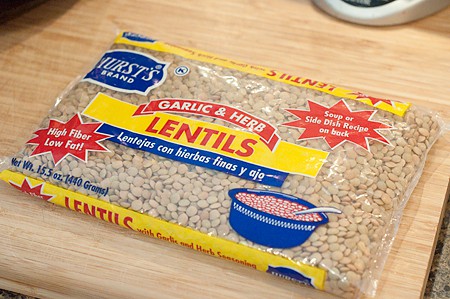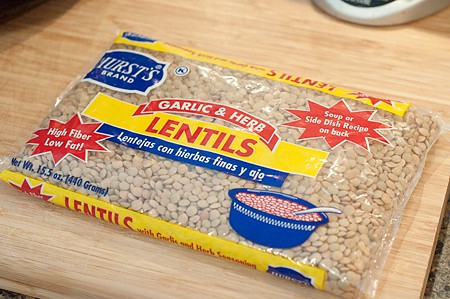 I used Hurst's Garlic and Herb Lentils to make this batch of delicious gumbo soup. They're so convenient and loads of flavor is already provided for you in the seasoning packet.
Just rinse the lentils under cold running water. Then, believe it or not, all you do is add everything into a big slow cooker, set it on high, and let it go for about four hours. That's it!
Just a note or two for you – be sure to use a good smoked sausage in this recipe. I chose a hickory smoked sausage from Conecuh, but you go with whatever you like. It does need to be smoked, though, and not a kielbasa or something like that. The smoky flavor is really important to the finished recipe.
Also, for the okra I recommend just grabbing a bag of frozen, sliced okra at the grocery store. It's just as good as fresh and a big time saver.
The spices can be adjusted to suit your tastes. If you like more red pepper flakes or more Tabasco – go for it! I tend to go light on the fiery stuff and offer more at the table for others to add to their serving.
And, finally – cornbread makes a mighty fine accompaniment to this soup. Yum.
Enjoy!

Lentil and Sausage Gumbo Soup
Prep Time: 10 minutes

Cook Time: 4 hours

Total Time: 4 hours 10 minutes

Lentils take the place of a second protein in this deliciously flavored soup based on traditional Louisiana-style gumbo.
Ingredients
1 pkg. Hurst's Garlic and Herb Lentils
8 cups water
1 lb. smoked sausage, cut in 1" pieces
1 medium onion, diced
2 stalks celery, diced
1 medium green bell pepper, diced
1/2 bunch fresh parsley, roughly chopped
2-3 green onions, chopped
2 cups sliced okra
1 1/2 tsp. kosher salt
1/2 tsp. ground black pepper
1/4 tsp. red pepper flakes
5-6 dashes Tabasco sauce
1 tblsp. Worcestershire sauce
1/2 tsp. dried thyme
Filé powder (optional)
Instructions
Rinse the lentils under running water.
Combine the lentils, seasoning packet, and all remaining ingredients in a slow cooker.
Cook on high for four hours or until lentils are tender.
Serve individual portions in soup bowls.
Pass filé powder for use as desired.
Notes
Cornbread goes very nicely with this soup.

All text and photographs on Never Enough Thyme are copyright protected. Please do not use any material from this site without obtaining prior permission. If you'd like to post this recipe on your site, please create your own original photographs and either re-write the recipe in your own words or link to this post.



And now for the giveaway! If you're a regular reader, you may have noticed that I've posted a few recipes lately featuring Hurst's Beans products. Well, those nice folks have offered the chance for one of you to win a beautiful Hurst's HamBeens bean pot! These coveted clay pots are handmade near the N. K. Hurst Company in Indiana and are currently only available as "prizes" for contests, auctions, and charity events. Not only would this pot look awesome in your kitchen, but you can actually cook your beans in it, too!
To enter the giveaway, all you have to do is simply leave a comment below. That's it! Just tell me what you're cooking for supper tonight, or how your day went, or what your plans are for Saturday. Doesn't matter…just speak up.
Oh, and if you want, I know Hurst Beans would appreciate you "liking" them on Facebook (www.facebook.com/hurstbeans) and following them on Twitter (@hurstbeans), but it's not a requirement for the giveaway.
Comments for the giveaway will remain open through next Friday, February 22. The winner will be determined by random.org and notified on Saturday. Open to residents of the continental U.S. only.
Note: I am required by FTC rules to disclose that I will receive compensation from the N. K. Hurst Co. for this post. However, any opinions expressed in the post are strictly my own. Always have been. Always will be.
Other lentil recipes you might enjoy:
What I was up to…