Quebec City in the Summer
Quebec City in the Summer – we chose Quebec City for our annual trip with our grandchildren because of its cultural, historical, and culinary backgrounds.
When we started thinking about our annual summer vacation earlier this year, BeeBop and I tossed around all sorts of ideas. We've done lots of different things in the past. Last year was our trip to Universal Studios in Orlando. The year before was the Grand Canyon, and before that a lovely trip to St. Augustine in Florida. But, since our grands are getting older now (19 and 13 – yikes!), we wanted to do something different.
We thought about maybe renting a beach cottage? Or a trip to the Pacific northwest? Maybe take the grandkids to Europe? In the end, we decided on Quebec City.
Why Quebec City you may ask? Well, it's as nearly European as you can find in North America. It has a culture different to ours (it's quite French), and English is its second language. All things we really wanted our grandchildren to experience. Plus, it has great food and loads of history.
Quebec City for Culture, History, and Cuisine
And yes, they do speak French in Quebec. Everyone does. All the signs are in French. Road signs, airport signs, bathroom signs. Everything. However, if you have even the most rudimentary French (thank you Mrs. Charlene Moore!) you will be able to manage easily. Plus, nearly everyone also speaks English so don't let a lack of French keep you from visiting. People there are very friendly and will gladly translate if you need help.
We started our trip on a Monday morning with a flight from Atlanta to Montreal. After looking at all the flight options, we decided it would be just as well to drive from Montreal to Quebec City as it would be to layover for several hours for a flight there. If we had it to do over, we'd definitely wait for the flight to QC. The drive was much longer than I thought. And it's a bit boring, honestly.
Montreal – Your Traffic, Ugh!
And can I just say – Montreal! Your traffic! Ugh! We live near Atlanta, Georgia, and many of you know that I will do almost anything to avoid driving in Atlanta. I'd go an hour out of my way to drive around Atlanta rather than through it.
Y'all – I would drive all day in and around downtown Atlanta rather than ever be in Montreal traffic again. Yeah, it's that bad. And the roads themselves are horrible on top of it. Plus GPS got us lost. It was not a fun afternoon.
But, needless to say, we finally got to Quebec City and checked into our hotel. We were booked into the Hilton Quebec City which is an absolutely wonderful hotel in a perfect location! It is literally just outside the walls of the old city with a fantastic view of the Parliament building and Le Château Frontenac, a gorgeous historic hotel and landmark.
I just can't say enough good things about the Hilton Quebec City. From the front desk, to the doormen, wait staff, and valets, every employee we encountered was top notch.
When in Quebec, try Poutine!
By the time we finally arrived late that afternoon, everyone was tired so we chose to dine in the hotel restaurant where we all had our very first taste of poutine. Now if you've never had poutine, you have missed a real treat. It's a classic Quebec dish consisting of french fries topped with cheese curds and brown gravy. Now, I ask you, how could that be bad?
Touring Quebec City
Our first full day in Quebec City started with a luxurious room service breakfast as a treat to ourselves. Followed by a bus tour of the city and a tour of the Musée de la Civilisation à Québec. The museum is quite large but maintains two permanent exhibits, 'People of Québec: Then and Now' and 'This Is Our Story,' which are unique to the area's history. They present the transformation of Québec City from a city of trappers to one of entrepreneurs, and the social history of Québec and the Québécois with a wide array ordinary objects.
Fondue for Dinner
After a little time to rest and recover, we all decided on La Grolla as our spot for dinner. La Grolla is a lovely, cozy little fondue restaurant just a block or two from the Hilton Quebec City.
The fondue was absolutely delicious! And the wait staff is very helpful if you're unsure about how to order (the menu is, of course, in French).
A Food Tour of Quebec City
The next morning was the event that I was most looking forward to on this trip. We had scheduled a food tour of Quebec City. We'd never done a food tour before, and all four of us were really excited about it. This was a walking tour through the old city that highlights quite a few different restaurants and includes a discussion of the history of the area as well.
We had so much fun on the tour! Although, I will point out that if you have any mobility issues at all or are looking for something with a leisurely pace, this tour may not be for you. I felt pretty rushed from one spot to the next and the guide, although quite knowledgeable, was not interested in actually discussing the food (i.e., origins, how it relates to foods from other areas). It was obvious that he had his route to get through and was focused on that.
Some of the things that we most enjoyed on the tour included the Québécois pea soup and pâté chinois (above), the croissant from Chez Paillard, sucre à la crème at Chez Boulay Comptoir Boréal, and the mac and cheese with maple bacon from BEClub Bistro. The last stop was at Maison Livernois where we tasted several dishes along with a local Québécois gin. (Note: the tour offers beverage options for children).
Time for a Short Rest
After racing from spot to spot along the tour, we were all exhausted! So tired, in fact, that we called for a cab to take us back to the hotel.
I'm going to just say right here that every person we met and interacted with in Quebec City was very friendly and congenial with the exception of the cab drivers. I don't know what it was, but all three cabbies that we had during our stay were cold and surly to the point of rudeness. Maybe just bad luck on our part, don't know.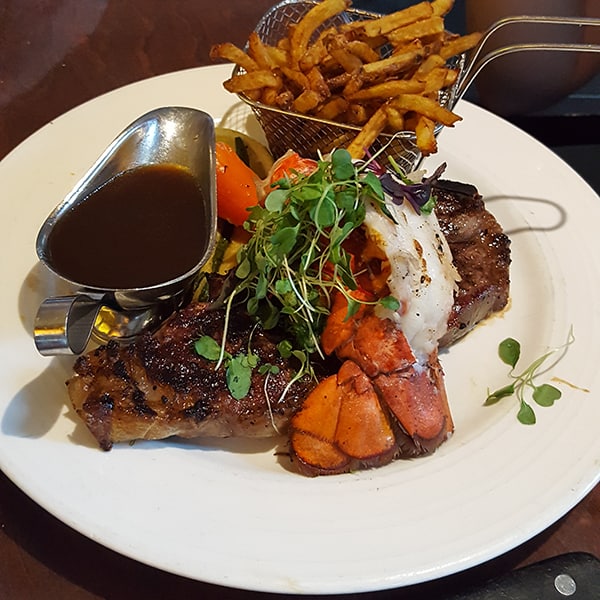 Steak and Lobster for Dinner
After a day of food touring, you might think we wouldn't even want to think about dinner, but you'd be wrong! Following a nice rest back at the hotel, we wandered a little way down the street to the Beffroi Steak House. If you ever find yourself in Quebec City at dinner time and would like to enjoy a fantastic steak in a restaurant with wonderful service, the Beffroi is the place for you!
Our last day in Quebec was set aside for exploring outside the city. After a nice little breakfast, we headed out to the île d'Orléans.
Exploring île d'Orléans
île d'Orléans is located in the Saint Lawrence River about 3 miles from downtown Quebec City and is about 21 miles long and 5 miles wide. It was one of the first areas to be colonized by the French, and many French Canadians can trace their ancestry to the early residents. You reach the island via the île d'Orléans Bridge and can then continue driving the entire perimeter on Route 368, the sole route on the island.
Our first stop on the island was the Chocolaterie de l'Ile d'Orleans where we enjoyed fantastic dipped ice cream cones and browsed for chocolates to bring back home with us. After that very enjoyable interlude, we continued on around the island to find our next stop at the Forge A Pique Assaut Museum & Art Gallery.

The Forge à Pique-Assaut specializes in custom ornamental metal work created at the forge on site. They also feature the work of several local arts and craftspeople and their boutique is a joy to browse! Needless to say, we made several art and jewelry purchases at the Forge.
After leaving the forge, we continued our drive through the picturesque countryside and visited Les Fromages de L'isle d'Orleans. At this lovely fromagerie, guests are greeted by employees in period costume and can enjoy local cheeses on the enclosed patio. We all enjoyed a delicious cheese plate with a variety of offerings.
The Basilica of Sainte Anne de Beaupré
Departing from île d'Orléans, we traveled a few more miles to the Basilica of Sainte Anne de Beaupré, one of the five national shrines of Canada. It has been credited by the Catholic Church with many miracles of curing the sick and disabled and receives about a half-million pilgrims each year.
St. Anne is believed, by the pious, to obtain miracles through her intercession. People from all around the world come to visit the basilica. Pillars in the front entrance are covered in crutches from people who are said by the parishioners to have been miraculously cured and saved.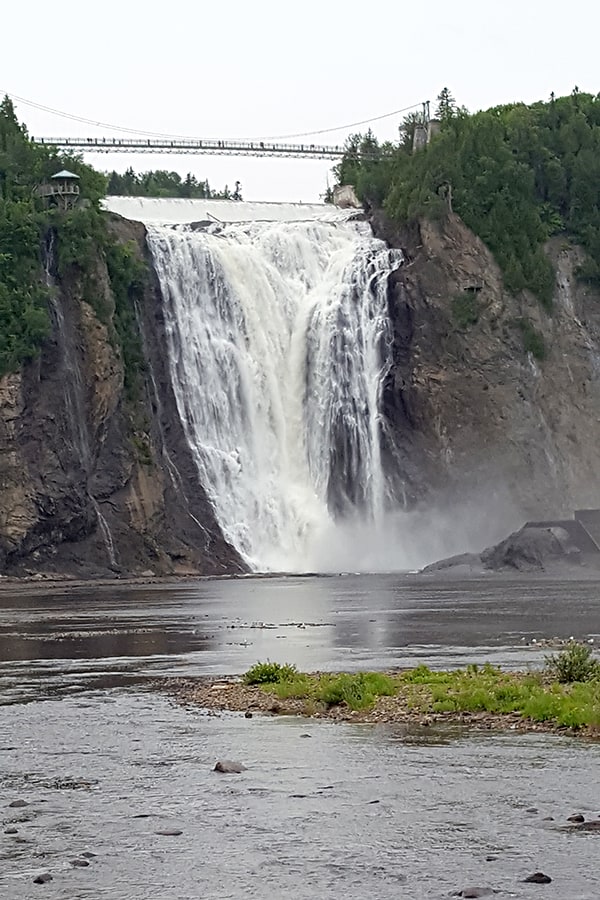 Last Stop – Montmorency Falls
Our last stop of the day was Chute Montmorency, or Montmorency Falls. The falls are located just outside old Quebec City at the mouth of the Montmorency River where it drops over the cliff shore into the Saint Lawrence River, opposite the western end of the Île d'Orleans. The waterfalls are 272 feet tall, which is 99 feet higher than Niagara Falls.
On Friday we headed back to Montreal to board our flight back to Atlanta. I won't bore you with the details (both hilarious and frustrating) of getting through security and border control. Trust me, that was an adventure in itself. But after our flight home and an hour's drive from the airport, we all collapsed in bed.
Our trip to Quebec City was one of the most interesting we've ever done with the grandkids and I think they enjoyed it just as much as we did. Most importantly, though, we were all together and made even more memories to last for a lifetime.
More Travel Posts on Lana's Cooking:

Quebec City Information from Other Posters:

Like This Post? Pin It!