Thinking of one last getaway before school starts? Check out Myrtle Beach.
If you're thinking of a spot for one last getaway with the kids before school starts back, let me recommend Myrtle Beach, South Carolina. When looking for a location for a week away with our grandchildren recently, BeeBop and I thought of all kinds of places – beaches, mountains, historic sites, even theme parks. We ultimately decided on the Myrtle Beach area since it was one of the places we'd never been in all our travels.
The city of Myrtle Beach is the centerpiece of The Grand Strand, a 60-mile stretch of beach on the coast of South Carolina. Although, Myrtle Beach sees millions of tourists every year and there are many high-rise condo buildings along the shore, we felt like it had somehow managed to retain the feeling of an old beach town.
[bctt tweet="Thinking of one last getaway before school starts? Check out Myrtle Beach." username="NevrEnoughThyme"]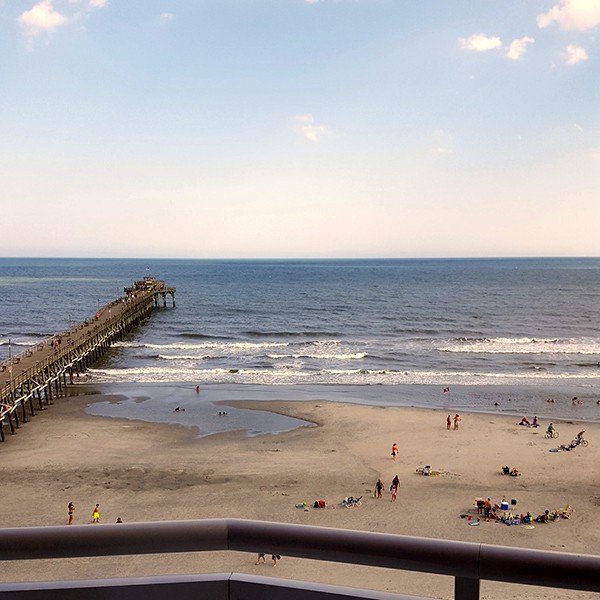 We chose to stay in North Myrtle Beach for our vacation, at the Prince Resort which is located adjacent to the Cherry Grove Beach Pier. It was a great location with very comfortable, spacious condos although I wouldn't call it a "resort." When I think of a resort, I think of tennis courts, a spa, maybe a golf course, none of which are a part of the Prince Resort. Still the accommodations were quite nice and the location was good. It was just a few minutes drive from everything we wanted to do and it turned out that the north end of the beach was quiet and relaxed and quite family-friendly. We enjoyed it very much.
Our first day there was spent entirely on the beach! I don't remember the last time I saw BeeBop so relaxed. He and I set up chairs and umbrellas near the pier while the grandkids splashed, wave-boarded, and built sand castles along the shore.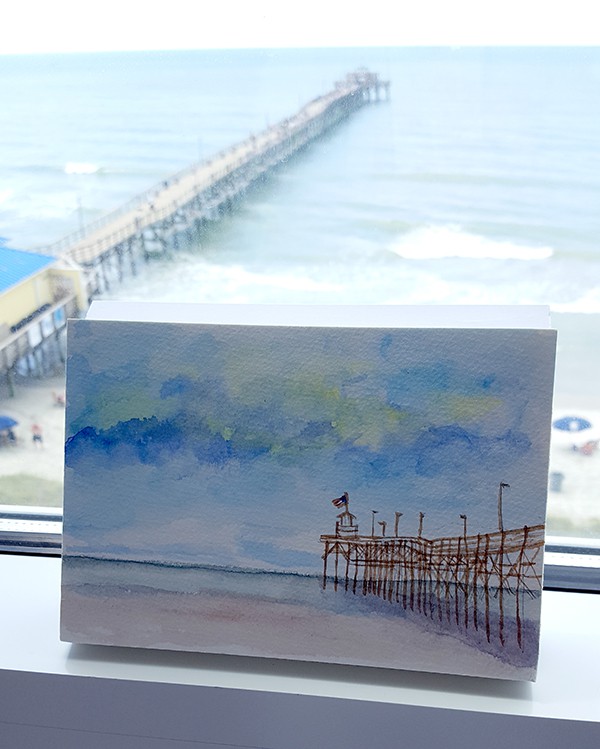 I even found some time to play with my watercolors. It was a delightful, relaxing day and we were all ready for sleep early that night!
The next day we explored Broadway at the Beach, a shopping and entertainment complex set on 350 acres surrounding Lake Broadway. It features three theaters, over 20 restaurants and more than 100 specialty shops along with attractions, nightclubs, and hotels. If you're planning to visit Broadway at the Beach, I recommend absolutely no less than one full day and then you still won't see everything! We only made it to a few of the attractions, but our favorite was Ripley's Aquarium.
We spent hours there viewing the exhibits that included everything from jellyfish to moray eels to sharks and stingrays.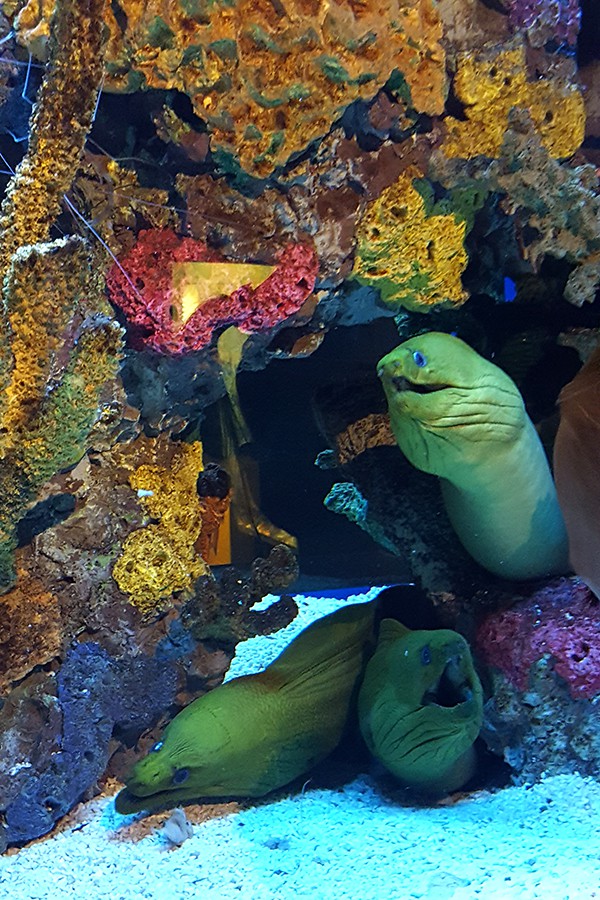 We even had an opportunity to touch jellyfish and stingrays. My favorite part of the aquarium was Dangerous Reef which is filled with thousands of fish of every shape and size. You travel through the reef on a moving 340-foot long glidepath. As you wind your way through the acrylic tunnel, you come face to face with snappers, tarpons, grunts, squirrelfish, green sea turtles, giant stingrays, sawfish, and very large SHARKS! Those sharks are just on the other side of the window and it really feels like you can almost touch them! The water is crystal clear and you're surrounded by it on both sides and above. That was the first time I'd ever seen a shark's teeth up close and in person and I'm telling you, it was creepy in the extreme. And fascinating!
Another of the major attractions in Myrtle Beach is the SkyWheel, a 187-foot tall Ferris wheel that gives you a bird's eye view of the beach and surrounding area. The SkyWheel is the second-tallest Ferris wheel in North America with 42 glass-enclosed, temperature controlled gondolas each with seating for six passengers.
I have to tell you, I'm not the best at handling heights and at the top of the first revolution, I nearly thought I'd have to pull the signal for them to let me out at the bottom. But, I stuck it out and by the second time around I was really enjoying the ride! Just as long as the gondola didn't swing too much.
Along with the beach and all the attractions, we also enjoyed some great dining while we were in Myrtle Beach. One of our favorites was Miyabi Japanese Steak and Seafood House on Kings Highway. We always enjoy a hibachi cooking show, but Miyabi also has an extensive sushi menu. Our grandson enjoyed the selection you see above.
And we found out that our sweet granddaughter is a master with chopsticks! I've tried and tried and never could master them, but she's a pro!
So there you have a little overview of our fun trip to Myrtle Beach. If you have a beach trip on your list before school starts back, I highly recommend you give it a try!
Note: I received no compensation whatsoever for this post.
More information about Myrtle Beach:
More Travel Posts on Lana's Cooking:
Like This Post! Pin It!