Ready or not, it's coming! And it's not far away. Parties are scheduled. Gift lists are made. Decorations are going up. Menus are being planned. It makes me a little dizzy just thinking about everything that goes on during this time of year! In the midst of all the hustle and bustle, it's nice to have shortcuts that you can rely on for the busiest days.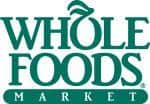 That's why I'm happy to be a part of Whole Foods Market's Buy Some, Make Some campaign for this holiday season. Because parties are such a big part of this time of year, and because the host and hostess want to join in the fun along with their guests, Whole Foods asked a group of bloggers to come with our best ideas for taking some of their products, adding finishing touches, and giving you back the time you would have spent in the kitchen.
I ask you, what Christmas party would be complete without beautifully decorated Christmas cookies? None, right? But the mixing, chilling, cutting, and baking take a lot of time. Why not just skip all that and get right to the fun part? The decorating!
I used Whole Foods Market's 365 Shortbread Holiday Cookies to create a tray full of gorgeous tidbits. And I did it with hands-on time from start to finish in under 30 minutes. While I was shopping for cookies, I also picked up some semi-sweet and white chocolate chips, some maple bourbon pecans (which almost didn't make it home…yum!), and some chipotle chili flakes.  Other things I used for my cookie decorating session were a few peppermint candy canes, and some red and gold sprinkles.
Before you start, line a large baking sheet with aluminum foil. It cuts way down on clean up later!  If you're using peppermints for one of your decorations, put two or three in a plastic bag and give them a tap with something heavy like a meat mallet or a heavy bottomed glass. Don't bash it too hard or you'll have peppermint dust! When you have all your decorations assembled, prepare the chocolate. Use one at a time so that neither hardens before you're finished with the other.
In a small microwaveable dish, place one cup of chocolate chips and one teaspoon of a flavorless cooking oil such as canola or grapeseed.  Microwave for 30 second increments, stirring well after each, until the chocolate is almost completely melted. Remove the bowl from the microwave and stir until all the chips are melted.
Dip one cookie at a time into the melted chocolate allowing most of the excess to drain back into the bowl. Place the dipped cookie on the prepared baking sheet. While the chocolate is still wet, sprinkle with your chosen decoration. Repeat. Repeat. Repeat.
For some of the cookies, I chose to submerge them completely into the chocolate. Simply use a fork to lift the cookie out of the chocolate and allow the excess to flow back into the bowl. Those are the cookies that I topped with a maple bourbon pecan. And, by the way, the completely dipped cookies got the most rave reviews from the taste testers!
Repeat the entire process using white chocolate chips for half the cookies.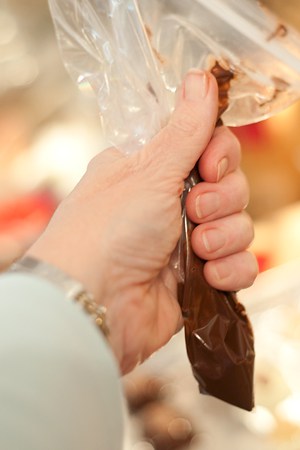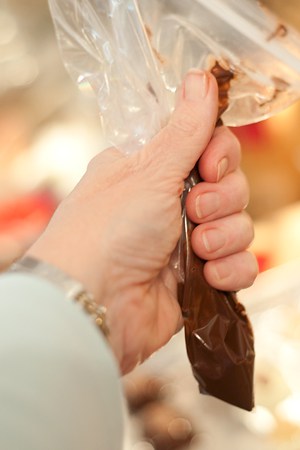 To make the cookies with the stripes, place a tablespoon or two of the desired chocolate into the corner of a resealable plastic bag. Be sure to push the chocolate down into the corner. Snip off the tiniest possible point. Use light pressure to gently push the chocolate out of the bag. Move in a back and forth motion across the top of the cookie.
Just a note about the chipotle chili flakes – chocolate and chili is a very popular combination these days and those cookies really flew off the plate. However, be sure to warn your guests that the chipotle flakes are quite potent!  And I'd suggest using a very light hand when applying those to the finished cookies. Two or three on a cookie go a long way!
When you have finished decorating all your cookies, place the baking sheet with the finished cookies in the refrigerator for about 30 minutes to allow the chocolate to set up.
And there you go! In just a few minutes you have a gorgeous tray of cookies for your party, to take to a neighbor, or to wrap up in a pretty box for a friend.
Now, I know you want to see all the other ideas that my fellow bloggers have for the Buy Some, Make Some campaign, don't you? Of course! You'll find them all at Kitchen PLAY. And if you still don't have time to use one or two of our ideas, you can always order online from your Whole Foods. You're going to love all the ways that Whole Foods Market is making your life easier during this holiday season!
And for even more ideas and fun, join us for the #wfmholiday Twitter Party featuring Whole Foods Market at 7:00 p.m. Eastern on Tuesday, December 10.  Sign up here to be a part of the fun and you could win one of ten Whole Foods Market gift cards valued at $50 each.
I'm required by FTC rules to disclose to my readers that I will be compensated for my work on this post. A girl has to pay the bills, you know. But anything I say here is 100% my own opinion. Always has been, always will be.
What I was up to…