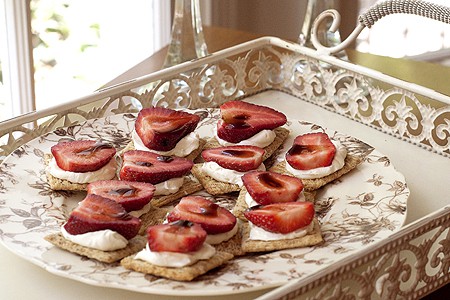 I've been on a bit of an appetizer kick lately. You might remember my last post – that cute little BLT Bite that lots of people liked. BeeBop really enjoyed those as well! And while he was testing them, I helped myself to a few of these Strawberry-Balsamic Appetizers. This is a quick and easy appetizer with quite a sophisticated taste. This little bite combines strawberries, balsamic vinegar and cracked black pepper which, I believe, is a classic of Italian cuisine. Though, I may be completely wrong about that and please correct me if I am.
The base for the appetizer is the new (or new to me, anyway) Triscuit. Have you tried these yet? The ones with cracked black pepper and olive oil? I had not until recently and I am so impressed with the taste of them. They're quite good with a nice cheese and glass of wine and they make these little appetizers a snap to put together. I actually saw this recipe in one of Kraft Food's publications and knew immediately that I wanted to try it. It's a definite keeper.
For one dozen appetizers:
12 Triscuit Cracked Pepper & Olive Oil crackers
12 tsp. softened cream cheese
6 ripe, sweet strawberries, halved
Balsamic vinegar
(Note: If you can't find the triscuits, you can mix a little olive oil and lots of cracked black pepper into the cream cheese and use a neutral flavored cracker.)
Wash the strawberries, remove the tops and cut them in half. You want to use the sweetest, ripe strawberries you can find for this. The contrast in flavors between the sweetness of the strawberries with the balsamic vinegar and black pepper is what makes this so interesting.
Place a teaspoon of cream cheese on each of the crackers. Top with a strawberry half.
Place the assembled appetizers on a serving dish and add a drop or two of balsamic vinegar to the top of each strawberry.
Enjoy!
Just a note: I am in no way associated with Kraft Foods. They have absolutely no idea who I am and I'm not endorsing or trying to sell you on any particular product. I just happened to really like their new Triscuit!