The calendar may say that it's already Fall but to me Fall doesn't really arrive until Halloween decorations start showing up along our street. I just love seeing all the pumpkins, the corn stalks and hay bales that come out at this time of year. And I always look forward to seeing our neighborhood trick-or-treaters on Halloween night.
We've always had a rule at our house that we won't make Halloween scary for even the tiniest goblins that come to our door. No ghosts around here. No vampires that jump out from hiding places to make you run back down the driveway to your Mama. No, we always have a fun, friendly Halloween house.
A few weeks ago I received an invitation from Casey at KitchenPLAY to participate in one of her Sidecar Series challenges. I have to say that this was one of the most fun challenges that I've ever participated in. I actually found myself giggling out loud while making all these kid-friendly treats.
The Halloween treats that I'm sharing with you are fun for ghouls and goblins of all ages. I used McCormick Black and Assorted Food Color in all these decorations, perfect for a kid-friendly Halloween. BeeBop taste tested each and every one of them to make double sure they were not only cute, but tasty as well. We have some Halloween Chocolate Bark, some Ghosts in the Graveyard and, my favorite, Mummy Cookies.
For the Chocolate Bark:
Place 16 ounces of semi-sweet chocolate chips in a heatproof bowl over a pan of simmering water. Turn the water off and let the bowl sit for ten minutes.
Stir the chips until they are completely melted. Then stir in one cup of toffee bits and one cup of pecans. Spread the bark mixture on a sheet pan lined with parchment paper.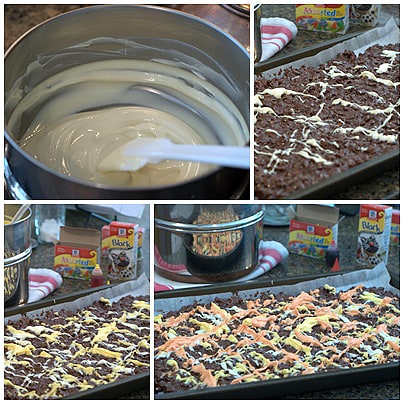 Now melt 8 ounces of white chocolate using the same method of a heatproof bowl over simmering water (or follow the directions on the chocolate you're using – some give different guidelines). Drizzle about 1/3 of the white chocolate over the chocolate bark mixture. To the remaining white chocolate, add 12 drops of McCormick Yellow Food Color. Drizzle about ½ of the yellow chocolate over the bark. Into the rest of the melted white chocolate, add 6 drops of McCormick Red Food Color to make a bright orange color. Drizzle the orange chocolate over the chocolate bark.
Put the pan in the refrigerator for two hours to set up.
Remove the pan and break the bark into randomly sized pieces.
For the Ghosts in the Graveyard:
Using a packaged red velvet cake mix, bake 24 cupcakes. Let the cupcakes cool completely before decorating.
To make the black frosting – add 25 drops of McCormick Black Food Color to ½ can of purchased chocolate frosting. Stir until completely mixed and no streaks of color remain.
Lightly frost each cupcake and set aside.
Cut the bottom off of 25 "tombstone" shaped cookies. Using a small round piping tip, pipe the letters "R. I. P." onto each cookie top.
Push the cookie into the cupcake. Make ghosts using purchased vanilla or cream cheese frosting. Use a large round piping tip or make a piping bag with a large opening from a resealable plastic storage bag. Follow the illustration in the photo to create a ghost shape. Use a small round tip with more of the black frosting to create eyes and a mouth.
For the Mummy Cookies (my favorite!):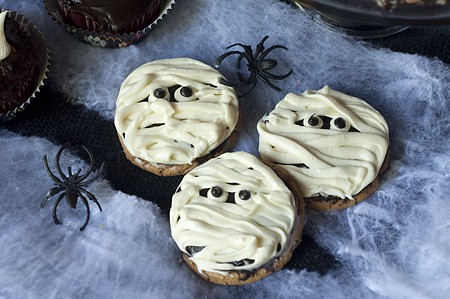 Bake or purchase a dozen sugar cookies or peanut butter cookies.
Spread each cookie with black frosting. Create the mummy's eyes by making a circle of white frosting with a black dot in the center of each.
Create the mummy's wrappings using either a piping bag or a resealable plastic storage bag with a small diagonal cut across the corner. Pipe the frosting back and forth to create the linen wrappings. Follow the illustration in the photo.
Aren't these just the cutest! You could easily create the mummies on top of cupcakes as well.
McCormick is also sponsoring a wonderful giveaway at Kitchen PLAY. Simply recreate any one recipe from this month's SideCar Series, post about the experience on your blog and provide a link to your post on Kitchen PLAY to enter. All qualifying bloggers in each course will be entered to win $50 (10 prizes total).  The deadline is October 31, 2011. Please review the complete contest rules before entering. Good luck!
Note: I was compensated by McCormick for this post. However, all opinions expressed are 100% my own.
What I was cooking…