An Old-Fashioned Treat – Coke Floats
An old-fashioned treat of vanilla ice cream, Coca-Cola, and whipped cream. With a cherry on top!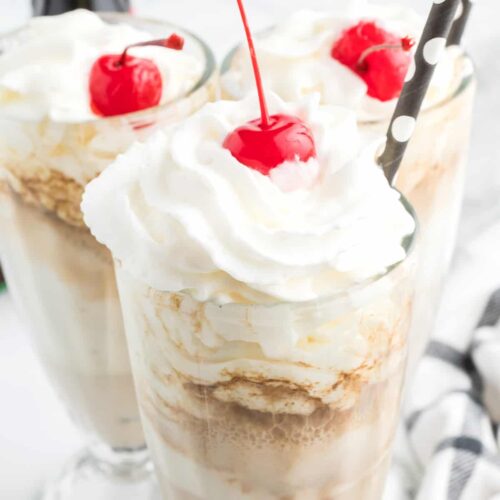 Coke Floats are an old-fashioned summertime treat made with Coca-Cola and vanilla ice cream. Serve with a straw and a long handled spoon.
Wow. What a full-of-fun, fast-paced two weeks we've had. Our two precious grandchildren are packing up to go home today after two weeks with us. And, wow, did those two weeks fly by!
Most of the past two weeks were spent exploring the northern part of the state of Arizona, including the Grand Canyon. It was a tremendous experience for all of us and I'll be sharing a post on that trip soon. But after flying back and forth, and walking miles each day, this Nana is worn out. Even so, I'd do it all over again in a minute. Nothing like grandkids.
One of the things that I think the kids truly find entertaining, other than sightseeing around huge canyons and meteor craters, of course, is when BeeBop and I talk about the "old days." You know – when we were kids – before cell phones and computers.
And since we both grew up in very small southern towns, our old days talk can be somewhat quaint. One day I was talking about things my sisters and I did during summer vacation when we were children.
Our vacations involved some work in the garden and preserving vegetables, etc., but we had loads of fun, too. And almost every day in the late afternoon we had a little snack. A real southern treat. Coke with salted peanuts.
I realize that many of you have never heard of this peculiar southern treat. But those folks around my age who grew up anywhere in rural south Georgia will know exactly how to do this.
Take an 8 ounce Coca-Cola in the bottle. It has to be a bottle. No cans. Drink a few swallows so that there's some room in the bottle.
Now pour in a small package of salted peanuts. No more than an ounce. Drink the Coke and munch the peanuts. It's a sweet and salty treat that I still enjoy, being the country girl that I am and all.
So while talking about Coke and peanuts, I found out that my grandchildren have never had Coke in the 8 ounce bottles. What! I knew I had to remedy that right away so I went straight to the store and picked up a six-pack.
Of course, it was more of a novelty than anything else, but they so enjoyed those little bottles of Coca-Cola. And at the end of the week there was one little bottle left. Hard to split that between two, so I came up with another childhood favorite for them to try – Coke Floats! According to them, they'd never enjoyed this particular treat either but were willing since it involved ice cream.
How to Make Coke Floats
As simple as pie – just scoop some vanilla ice cream into a glass, pour over the Coke and enjoy! I added a little whipped cream and a cherry just for good measure.
After these last two weeks talking about our childhoods, BeeBop and I are now officially dinosaurs :-)
More Beverage Recipes on Lana's Cooking:
Have you tried this recipe? I'd really appreciate you giving it a star ⭐️⭐️⭐️⭐️⭐️ rating in the recipe card or in the comments section.
AND REMEMBER TO SIGN UP FOR MY FACEBOOK GROUP.
If you'd like to hang out with me and lots of other online Southern Comfort Food lovers, make sure to join my FREE PRIVATE Facebook group.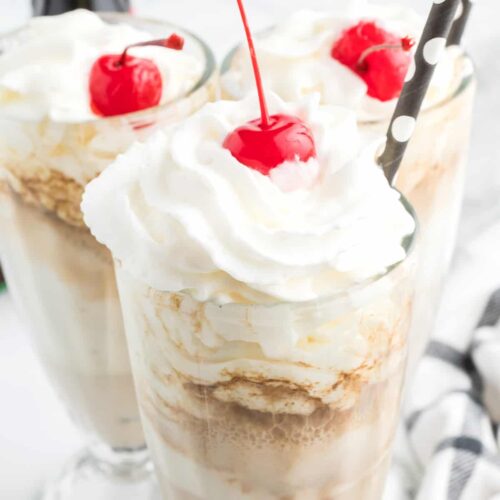 Classic Coke Float
An old-fashioned treat of vanilla ice cream, Coca-Cola, and whipped cream. With a cherry on top!
Print It
Rate It
Ingredients
For each serving use:
2

scoops

vanilla ice cream

4

ounces

Coca-Cola

Whipped Cream

Cherry
Instructions
Scoop the ice cream into tall glasses.

Slowly pour over the Coca-Cola.

Top with whipped cream and a cherry.
Notes
Serve the float with a small plate underneath to catch any drips.
Chill the glass and the soda. Place the glass in the freezer for up to a half hour before making your float and use cold soda. This will keep all the ingredients nice and cold and slow the melting!
Pour the soda slowly to create less foam.
Nutrition Information
Serving:
1
|
Calories:
315
kcal
|
Carbohydrates:
42
g
|
Protein:
5
g
|
Fat:
15
g
|
Saturated Fat:
9
g
|
Polyunsaturated Fat:
1
g
|
Monounsaturated Fat:
4
g
|
Cholesterol:
58
mg
|
Sodium:
110
mg
|
Potassium:
265
mg
|
Fiber:
1
g
|
Sugar:
38
g
|
Vitamin A:
556
IU
|
Vitamin C:
1
mg
|
Calcium:
171
mg
|
Iron:
0.2
mg
Nutrition information is calculated by software based on the ingredients in each recipe. It is an estimate only and is provided for informational purposes. You should consult your health care provider or a registered dietitian if precise nutrition calculations are needed for health reasons.
Share on Facebook
Pin Recipe
More Recipes for Floats …