You know, it's not all traditional Southern cooking here at Never Enough Thyme. Although that is the main focus, we do enjoy lots of different types of food and I really like being able to share something a little different with you. And today's post is definitely a little different. It's a pressed sandwich. Nothing so different about a pressed sandwich, right? Maybe not, but it's the filling of this sandwich that makes it special. Inside these little baguettes are all the brightest, most delicious flavors of Mediterranean cooking. Kalamata olives. Ripe, red tomatoes. Olive oil and lemon juice. Anchovies and roasted red peppers. Yum.
This sandwich is the perfect picnic fare. You can easily make these the night before and they'll be ready for a lovely picnic the next day. All you need with them is a little fresh fruit, maybe some cheese and a crisp white wine. Just the thing for a late summer picnic, don't you think?
You're going to need two small baguettes for the recipe. I always keep these frozen ones on hand because we just don't have access to good, fresh baguettes around here. This is the best I can do with what I have :-)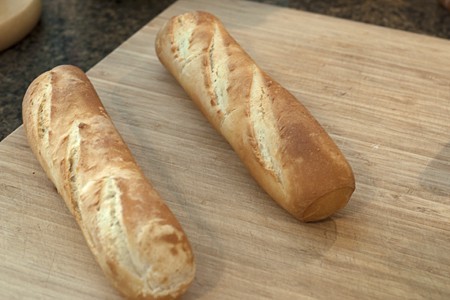 So, either purchase two nice little baguettes, bake them from scratch or frozen and then proceed with the recipe.
In your food processor, or using a mortar and pestle if you'd rather, combine the sun-dried tomatoes, kalamata olives, roasted red bell pepper, green beans, tomato and anchovies. I didn't have any fresh green beans on hand so I used a few very well drained canned beans. Worked out fine! Pulse just a few times until everything is combined but still quite chunky. Be very careful not to over process and turn it into soup!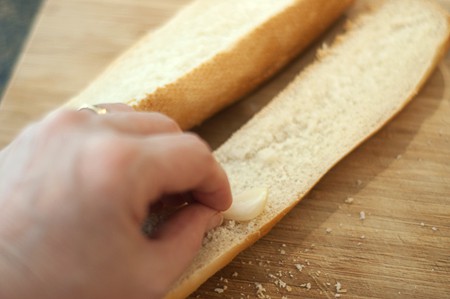 Slice the baguettes in half and rub the cut sides of the bread with the cut side of a clove of garlic. Discard the garlic.
Spread the veggie mixture very thickly on the bottoms of the baguettes and put the tops back on.
Wrap each sandwich quite tightly in waxed paper and twine.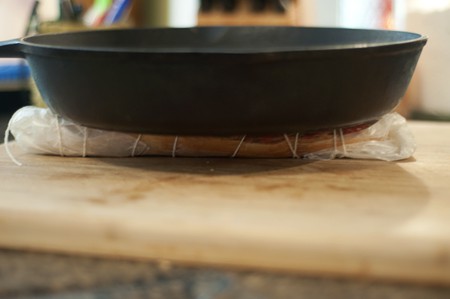 Place a large heavy object like a cast-iron skillet or a marble cutting board on top of the sandwiches. Let them sit at room temperature for one hour before serving.
These were such a delicious change of pace from the usual cold cut sandwiches. I enjoyed the fresh, bright taste of the veggies but I have to admit that I did sneak a few pieces of bacon into BeeBop's. He loved it!
Enjoy!

Mediterranean Pressed Sandwich
Yield: 4

Prep Time: 10 minutes

Total Time: 10 minutes

A pressed sandwich filled with all the brightest flavors of the Mediterranean
Ingredients
2 small baguettes
1 clove garlic, cut lengthwise
2 oil-packed sun dried tomatoes
6-8 pitted kalamata olives
1/2 medium roasted red bell pepper (Vigo brand recommended)
1/4 pound blanched green beans
1 tomato, cored and seeded
2 anchovy fillets
1 tblsp. olive oil
1 tsp. lemon juice
Salt and pepper to taste
Instructions
Cut the baguettes in half lengthwise and rub the cut sides of the bread with the cut sides of the garlic clove.
Combine all ingredients up through anchovies in the bowl of a food processor. Pulse until well mixed but still chunky.
Stir in the olive oil, lemon juice and salt and pepper to taste.
Spread the mixture very thickly on the bottom half of each baguette.
Place the remaining halves on top and wrap each sandwich tightly in waxed paper. Using kitchen twine, tie each wrapped sandwich tightly.
Place a heavy object such as a cast-iron skillet or marble cutting board on top of the sandwiches and press down firmly.
Allow the weight to remain on the sandwiches for one hour before serving.
Notes
All text and photographs on Never Enough Thyme are copyright protected. Please do not use any material from this site without obtaining prior permission. If you'd like to post this recipe on your site, please create your own original photographs and either re-write the recipe in your own words or link to this post.



–Inspired by a recipe from Two Fat Ladies show on Cooking Channel
Other pressed sandwich recipes you might enjoy from around the internet:
What I was cooking…