These Slow Cooker Tropical Ribs are cooked with a sauce containing lots of fantastic orange and lime flavor. Quite different from the usual plain barbecue sauce.
There's not much better to this southern girl than pork ribs. We most often have them with a barbecue sauce, but sometimes it's really nice to change that up a bit.
Using your slow cooker means that the oven isn't going for hours and neither do you have to stand watch over a grill outdoors in the heat. Both of which are why the slow cooker is my favorite way to prepare ribs.
My personal preference is for spare ribs. However, BeeBop likes the "country style" ribs. They're very meaty and have no bones.
He says spare ribs just aren't worth it for the amount of work you have to do. In other words, there's not enough meat on those bones for him! And, truth be told, the country style do better in the slow cooker.
Hope you enjoy these. We certainly did!
Slow Cooker Tropical Ribs - meaty country style ribs slow cooked in a citrus based sauce. Click To Tweet
How to Make Slow Cooker Ribs: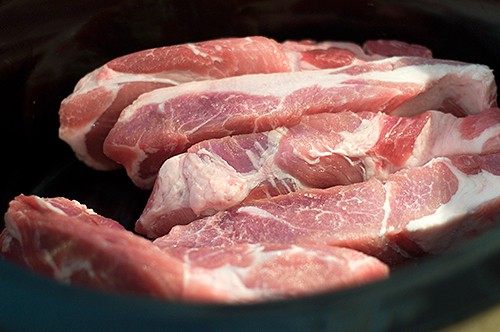 Place the ribs in a 3 1/2 to 4 quart slow cooker.
In a small bowl, combine the remaining ingredients. Mix well and pour over the ribs.
Cook for 6-7 hours on low setting or until ribs are done throughout. Spoon some of the sauce over the ribs for serving.
Enjoy!



Slow Cooker Tropical Ribs

Total Time:

7 hours

15 minutes

Meaty country style ribs slow cooked in a citrus based sauce.

Ingredients

2 1/2 lbs country style pork loin ribs
1/4 cup finely chopped onion
1/4 cup BBQ sauce of your choice
1 tsp orange zest
1 tsp lime zest
1/2 tsp salt
1/4 cup orange juice
1 tbsp lime juice

Instructions

Place the ribs in a 3 1/2 to 4 quart slow cooker.
In a small bowl, combine remaining ingredients. Mix well and pour over ribs.
Cook 6-7 hours on low setting. Spoon sauce over ribs for serving.

Notes

All text and photographs on Never Enough Thyme are copyright protected. Please do not use any material from this site without obtaining prior permission. If you'd like to post this recipe on your site, please create your own original photographs and either re-write the recipe in your own words or link to this post.


More slow cooker rib recipes you might enjoy: