I think I've mentioned before that I grew up in a small community in southwest Georgia. A very small community. The entire population of my home county is about 6,100 and the population of the county seat, the only town in the county, is about 2,000. That's small. The next nearest town is 15 miles away and it is only slightly larger than my hometown. I am inextricably bound to that little town and the people there. It is as much a part of me as I am of it. No matter where I go, no matter where I live, that tiny little town will always be home. Up until I was in the third grade, my family lived about ten miles out of town on our farm. Even after we moved to "town," Daddy continued to farm for many more years. Daddy raised cows and pigs and he grew mostly corn and peanuts. As a matter of fact, everyone I knew grew peanuts. Back in those days, peanuts were a big money crop. If you had a good year with your peanuts, you did quite well. Even the people who didn't farm were in some way dependent on peanuts. If the farmers did well, the merchants did well. If you didn't farm and weren't a merchant, you probably worked for one of the peanut processing plants. All intertwined and all hoping for a good peanut crop year after year.
Did you know that peanuts are not actually nuts? They're legumes. In the same family as beans and lentils. And they grow underground. Peanut harvesting begins in early to mid-September each year. When the peanuts are ready to harvest, the farmer uses a machine that digs the entire plant up and inverts it on top of the ground. The peanuts are left to dry for a short time on top of the ground before harvesting begins. Large peanut combines are driven up and down the rows of inverted peanuts. The combines pick up the plants, separate the vines from the peanuts, drop the vine back down on the ground and shoot the peanuts up and into a large container on the back. Once the container, or "hopper," is full, the peanuts are dumped into special trailers. The trailers are pulled two or three at a time out of the field and taken to the local processing plant.
I can remember the sound of the peanut dryers running day and night at the peanut processing plants during peanut season. You could hear them from anywhere in town. They were the lullaby we fell asleep to on fall nights. And the smell! Right now, if I close my eyes, I can imagine the smell of freshly dug peanuts. It's the most fresh, earthy smell you can imagine. A little while ago I was driving toward home and suddenly I smelled that freshly dug peanut smell! Sure enough, I rounded the next curve in the road and there was a field of peanuts being picked. I felt like a little girl coming home.
Boiled Peanuts - a little salty, a little earthy, a lot delicious! A real southern delicacy.
Click To Tweet
Part of living in a peanut growing area is the joy of eating Boiled Peanuts. They are truly a "southern thing" and I understand that some people outside of the south don't find them very appealing. That's okay — more for me! If you want to make boiled peanuts, you will need "green" peanuts. Green peanuts are peanuts that have recently been "dug" and haven't dried out or been roasted. I vividly remember Daddy bringing home stacks and stacks of fresh peanuts still on the vines every fall. Mama, me and my sisters would pick the peanuts off the vines, then wash them well and Mama would cook them up for us to enjoy. Where I live now I don't have access to really fresh green peanuts, but one of the local grocery stores occasionally has them in the produce department. When I saw them there on my last trip, I just had to have some.
There are several varieties of peanuts and I saw at least three different types in this one bag. The small ones with the red skins are Spanish peanuts. The rounded, plump ones – like ballpark peanuts – are Virginia peanuts and the long ones with 3 or more peanuts in a shell are Valencias or Runners.
I'm sure this is far more than anyone ever wanted to know about peanuts and peanut production! But, hey, now you know something that maybe you didn't before, right?
Let's get these peanuts boiling!
Wash the peanuts well to make sure all the dirt is dislodged. I usually fill the sink, dump the peanuts in and agitate them.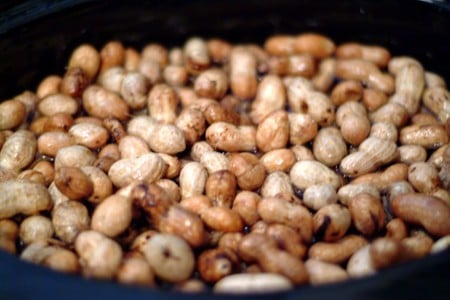 Place the peanuts in a very large pot and add water to cover the peanuts by 1 inch or more. I used my crockpot this time so that I could just leave them alone to cook while BeeBop and I went out shopping. Worked like a charm!
Add the salt and stir well. Yes, it really does take a lot of salt to flavor the peanuts. However, a huge amount of the salt gets discarded with the cooking brine. Bring it all to a boil, then reduce the heat to a simmer, cover and cook until done. Start testing for doneness after about 4 hours. The peanuts should have a soft, but not mushy, texture. Cook longer if needed. Sometimes it takes 6 or more hours for the peanuts to cook.
After the peanuts are done, drain the brine and store the peanuts in the refrigerator (if there are any left!). Don't let them sit in the brine. They will get too salty.
Enjoy!
Boiled Peanuts

Total Time:

5 hours

10 minutes

A true Southern delicacy - boiled green peanuts.

Ingredients

1 gallon bag cleaned green peanuts
1/2 cup salt (do not faint – most of it gets discarded)
Water

Instructions

Wash the peanuts well to make sure all the dirt is dislodged. I usually fill the sink, dump the peanuts in and agitate them.
Place the peanuts in a very large pot and add water to cover the peanuts by 1 inch or more.
Add salt and stir well. Remember that a huge amount of the salt gets discarded with the cooking brine.
Bring it all to a boil, then reduce the heat to a simmer, cover and cook until done. Start testing for doneness after about 4 hours. The peanuts should have a soft, but not mushy, texture. Cook longer if needed. Sometimes it takes 6 or more hours for the peanuts to cook.
After the peanuts are done, drain the brine and store the peanuts in the refrigerator. Don't let them sit in the brine as they'll become too salty.

Notes

All text and photographs on Never Enough Thyme are copyright protected. Please do not use any material from this site without obtaining prior permission. If you'd like to post this recipe on your site, please create your own original photographs and either re-write the recipe in your own words or link to this post.


More boiled peanut recipes you might enjoy: