Country Ham with Red Eye Gravy
Try Country Ham with Red Eye Gravy for an authentic southern breakfast! It's made with dry cured ham and the gravy is flavored with coffee.
Country Ham with Red Eye Gravy is a southern staple breakfast recipe that starts with salty, dry cured ham. The gravy is flavored with strong black coffee and served over grits.
I'm putting my southern roots in full view today and reaching way back into the past with this recipe. Back to something that was an ordinary, everyday part of life when I was a child – Country Ham with Red Eye Gravy.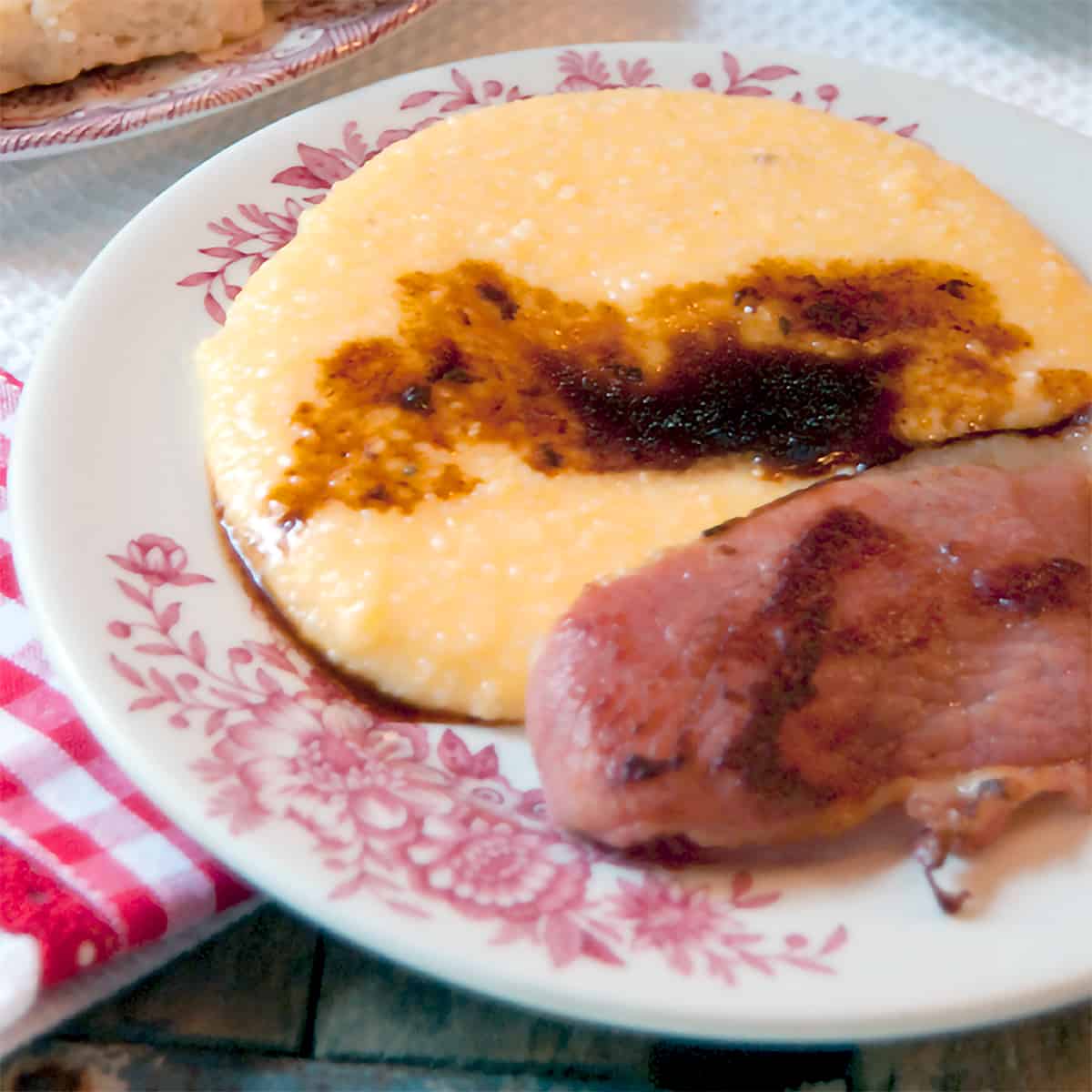 When I was growing up people didn't let anything go to waste, even leftover coffee. And while it might sound strange to make gravy with coffee, it's really quite good!
I would be willing to bet that there's no one who grew up in a rural area of the southeastern U.S. who doesn't know what country ham and red eye gravy are. This was one of the most common breakfasts served in southern households for a very long time.
🤔 What is Country Ham?
---
I suppose the best known country hams are the Smithfield brand. They're definitely good hams. A country ham is made from the shank portion, which is covered in salt and processed by dry-curing it over a long period of time. The end result has a strong salty, porky taste, a deep red color, and a chewy texture.
Back before Smithfield became a household word, however, southern families cured their own hams. The time for butchering hogs was always the first frost in the fall.
I have very vague childhood memories of the adults doing the fall butchering. The most persistent of those memories is the smell of my grandparents' smokehouse.
The smokehouse was a tiny little building set away from the back of their home. I can just barely remember the meats hanging up in there and a steady, very slow smoke filling the whole place. There was always that pungent, smoky smell that got into your clothes and your hair but which made the meats coming from that smokehouse so delicious!
Country ham was one of my daddy's favorite things. Second only to a good t-bone steak. After he had a major heart attack, however, those were two of the long list of things that he had to give up.
Even so, mama would always make country ham for him once a year on Christmas morning. I think he looked forward to Christmas breakfast as much as he did any other part of the day!
🙋‍♀️ Why Is It Called Red Eye Gravy?
---
Like so many things, the true origin of the name of this southern comfort food recipe is obscure. You can find lots of stories online, but the following is my favorite.
According to legend, Andrew Jackson, who was a general at the time, called his cook in to give him instructions about what to prepare for breakfast. The cook had been drinking liberally the previous evening and his eyes were bright red as a result. The general told the cook to bring him some country ham with gravy as red as his eyes. Some of those nearby heard the order and from then on, ham gravy became "Red Eye Gravy."
"Red Eye" is not this recipe's only name, however. It's also known as coffee gravy, poor-man's gravy, muddy gravy, bottom sop, and bird-eye gravy depending on which part of the south you come from.
❤ Why We Love This Recipe
---
It's a southern breakfast classic
The coffee adds a little oomph to your morning
Red Eye Gravy tastes great and offers something unique compared to traditional breakfast gravies
🛒 Ingredient and Equipment Notes
---
This post contains affiliate links. Lana's Cooking is reader-supported and earns a tiny commission at no extra cost to you when you shop from our links.
This recipe doesn't call for any fancy cooking equipment. All you'll need is a skillet for both frying the ham and making the gravy along with a saucepan for the grits!
Cured country ham thinly sliced – For country ham, you can't beat Smithfield. We can purchase their country ham slices in grocery stores in the south, but you can also order online if you like.
Milk – Used for relieving some of the ham's saltiness.
Strong black coffee – The stronger the coffee, the more flavorful the gravy.
🔪 How to Make Country Ham with Red Eye Gravy
---
Now, country ham is salty. Actually, that's an understatement. Country ham is super salty.
Some people cook it right out of the package, salt and all, but I like to let it soak overnight in a milk bath. It takes away a lot of the salt making it a bit more mellow and begins breaking down the chewiness of the ham just a bit, I think.
🐷 Can I Use a Different Kind of Ham for Red Eye Gravy?
---
👉 A Note About the Ham: There is no red eye gravy without cured country ham. Other kinds of ham don't have the correct flavor for this recipe. You'll need a very good quality Smithfield or genuine Virginia ham with a good amount of fat around the edges.
When you're ready to cook the next morning, remove the ham from its milk bath and dry it with paper towels. Discard the milk. Then heat a skillet over medium heat and add a small amount of oil.
To keep the ham from curling when it cooks, slash the edges of the fat in a few places. Cook the ham according to the brand's package directions or until the surface temperature is about 160 degrees. Remove the ham from the pan and keep it warm.
👉 PRO TIP: I gauge whether the ham is done by appearance. When the fat is just translucent and the ham has a bit of golden color on it, it's done.
Now, admittedly your pan is probably looking pretty dismal at this point. It's going to have a lot of very dark brown stuff on the bottom, but that's okay! That's going to make your gravy just that much better.
Also, be aware that you'll probably not have much moisture in the pan. Most country hams are too dry to give off much liquid.
Mix together the water, coffee, and cornstarch and add it to the pan. Make sure you have a nice, strong coffee for your gravy. Its flavor is important to the finished product.
Now here's where some of you who are familiar with red eye gravy are going to disagree with me and that's on the use of cornstarch. I know, I know…it traditionally does not have any thickening agent added. It's a thin sauce. But I like mine with just a little body so I add a touch of cornstarch. If you want to stay true to the authentic recipes, just leave it out. We'll still be friends :-)
If you find that the coffee has made your gravy just a bit too bitter, add a little water and a tiny pinch of sugar to mellow the flavors.
🍽 How To Serve?
---
Serve over plain or cheese grits, cut a biscuit open and drizzle it on, or spoon it over country ham. Or do all three. Some fried eggs alongside make a nearly perfect breakfast or dinner on a cold winter night.
If you want a real, old-fashioned country treat, cut open a biscuit and dip the cut sides quickly into the gravy. Put a piece of country ham and a spoonful of Mayhaw jelly inside. Close your eyes, take a bite, and say "Yummmm….."
🍚 How Do I Store the Leftovers?
---
Leftovers? You have leftovers? Just kidding. The leftovers can be stored in the fridge for up to three days and reheated in the microwave or over low heat on the stove. Unlike other gravies that are heavy with cream and flour, this gravy does freeze well.
❓ Frequently Asked Questions
---
Can red eye gravy be made without coffee?
Now, I know some of y'all are wondering if you can substitute the coffee in this recipe with something else, bless your heart… the answer to that is just no. Red Eye Gravy is the combination of coffee and country ham, one without the other just makes it … well, I don't know but definitely not Red Eye Gravy!
Can you buy a red eye gravy mix in the store?
No. There are no packets of Red Eye Gravy mix sitting on the supermarket shelves. Even if there was I would give you another big fat no!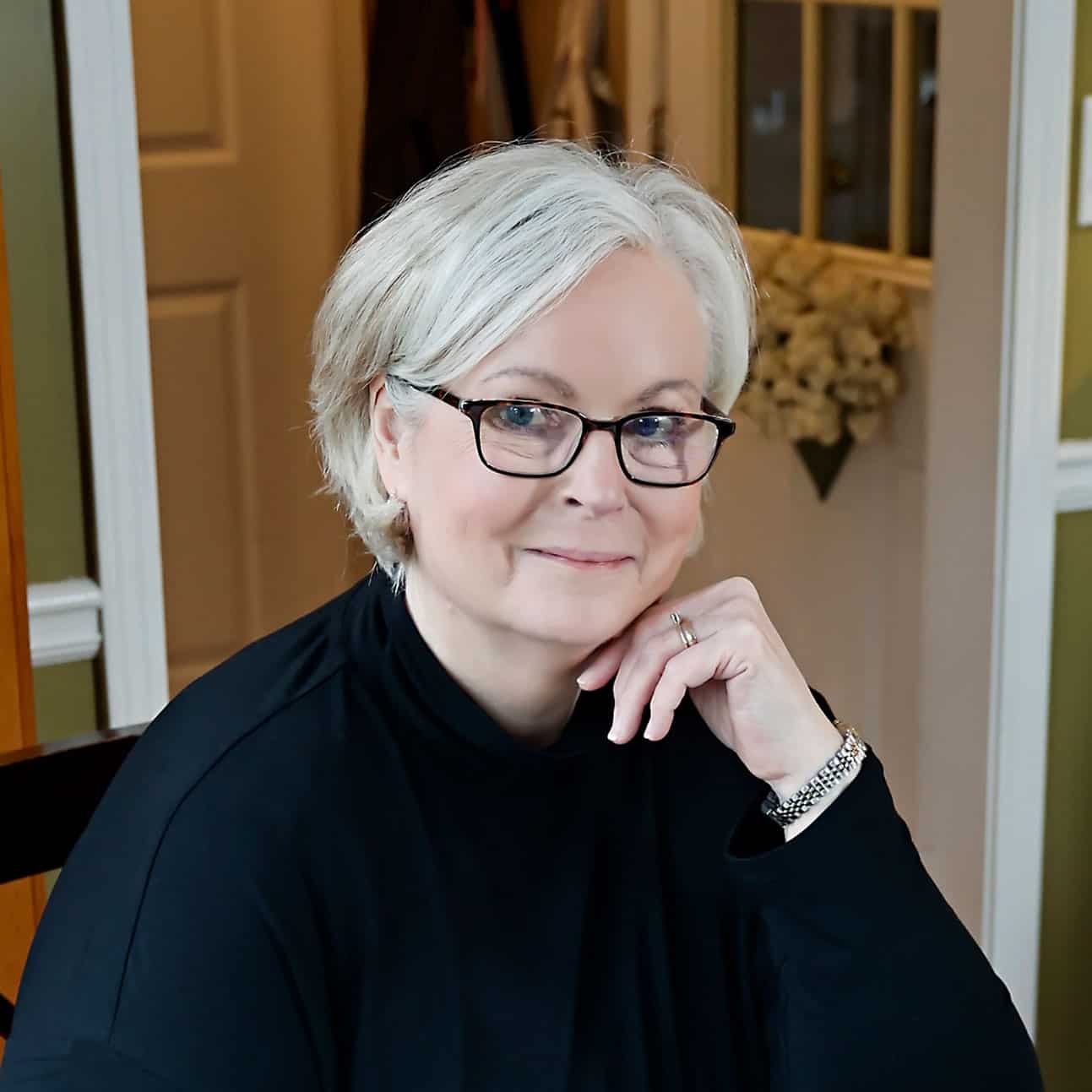 More Questions? I'm happy to help!
If you have more questions about the recipe, or if you've made it and would like to leave a comment, scroll down to leave your thoughts, questions, and/or rating!
Thanks so much for stopping by!
📖 Recipe
Country Ham with Red Eye Gravy
Try Country Ham with Red Eye Gravy for an authentic southern breakfast! It's made with dry cured ham and the gravy is flavored with coffee.
Print It
Rate It
Save
Saved!
Ingredients
1

pound

cured country ham

thinly sliced

½

cup

milk

1

tablespoon

oil

¼

cup

strong black coffee

¼

cup

water

1

teaspoon

cornstarch
Instructions
Place the sliced country ham and the milk in a bag and let it sit overnight in the refrigerator.

Remove the ham and wipe dry with paper towels.

Heat the oil in a skillet over medium heat.

Add the ham and cook briefly until the fat is cooked through and the ham has reached a surface temperature of 160 degrees (or follow the package directions for cooking).

Remove the ham from the skillet and set aside.

Mix the coffee, water and cornstarch together and pour into the pan.

Cook while stirring to dislodge any drippings from the bottom of the pan.

Serve over plain or cheese grits, split biscuits or over the cooked ham.
Notes
Choose slices from a good quality dry-cured Smithfield or genuine Virginia ham with a good amount of fat around the edges.
Leftovers can be stored in the fridge for up to three days and reheated in the microwave or over low heat on the stove.
Nutrition Information
Serving
1
|
Calories
309
kcal
|
Carbohydrates
1
g
|
Protein
24
g
|
Fat
23
g
|
Saturated Fat
7
g
|
Cholesterol
70
mg
|
Sodium
1347
mg
|
Potassium
324
mg
|
Calcium
8
mg
|
Iron
1
mg
Nutrition information is calculated by software based on the ingredients in each recipe. It is an estimate only and is provided for informational purposes. You should consult your healthcare provider or a registered dietitian if precise nutrition calculations are needed for health reasons.
Share on Facebook
Pin Recipe
— This post was originally published on September 9, 2011. It has been updated with additional information.