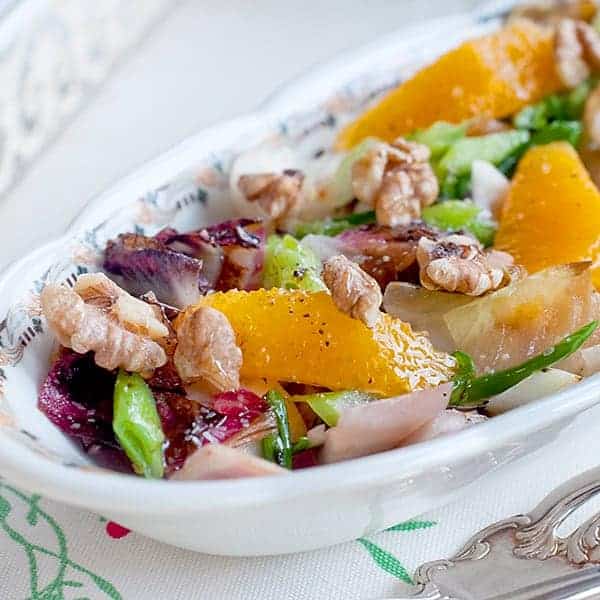 Grilled Endive Salad – perfectly grilled endive tossed with orange sections, green onions, and walnuts in a Dijon, olive oil, and honey dressing.
Surprises are the best, aren't they? Especially when they're totally and completely unexpected and something nice that you never even thought of.
I came home a couple of weeks ago to find a package at my door. A totally unexpected package. And what do you think was inside? Endive! Yes, gorgeous fresh endive. Some of them were even wrapped in paper and tied with a ribbon. An endive bouquet.
My endive bouquet was all courtesy of the California Endive Growers Association, thanks to the very nice Casey Benedict who is their social media coordinator. I've worked with Casey on several projects in the past and she thought I'd enjoy this very thoughtful gift of fresh endive. She was right!
I knew right away what I wanted to make with my endive gift – a Grilled Endive Salad.
Grilled Endive Salad - perfectly grilled endive tossed with orange sections, green onions, and walnuts in a Dijon, olive oil, and honey dressing. Click To Tweet
How to Make Grilled Endive Salad
I started by cutting the endive lengthwise and brushing with olive oil. I also trimmed some green onions and coated them with a bit of olive oil, too.
Then I heated up a grill pan on the stove. You could also do this on your outdoor grill in nicer weather. Grill the endive for a few minutes on each side and then grill the green onions.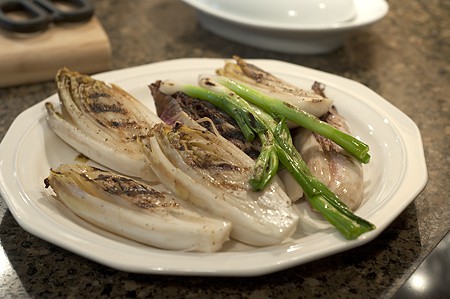 In the meantime, I sectioned a sweet, juicy navel orange being sure to catch all the juices in a small bowl. I already had some toasted walnuts on hand, but if you need to toast a few it only takes a few minutes. You can do them either in a dry pan on the stovetop or in the oven at about 350 for a few minutes.
To make the dressing, add a little Dijon mustard, olive oil and honey to the reserved orange juice. Whisk it together well and add just a pinch of salt and a few grinds of black pepper.
Cut the endive crosswise into one-inch sections. Cut the grilled green onions on a slant in similar sized pieces. Combine the endive, green onion, orange sections, and walnuts in a large bowl. Pour the dressing over and toss to coat well. Serve immediately.
Enjoy!
More Salad Recipes on Never Enough Thyme:
Other great endive recipes you might enjoy:
Endive Salad Recipes from Other Bloggers:
Like This Recipe? Pin It!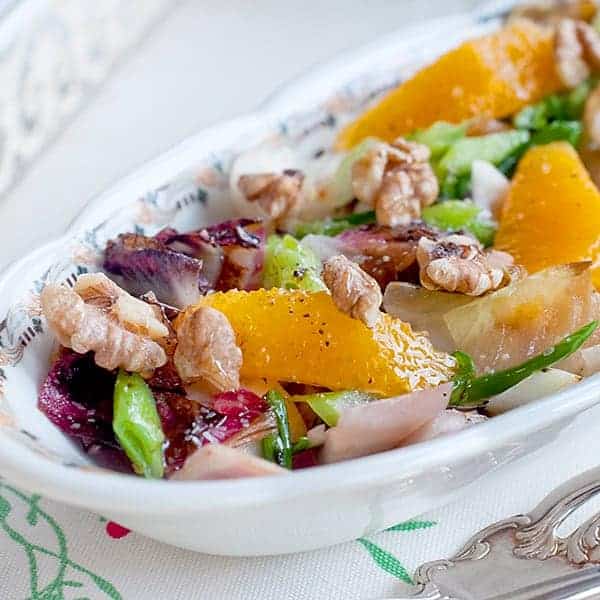 Grilled Endive Salad
Grilled endive and green onions with navel orange sections and toasted walnuts tossed with vinaigrette.
Ingredients
3 endive
4 green onions
1 tblsp. olive oil
salt and pepper
1 navel orange, sectioned, juice reserved
1/3 cup toasted walnut pieces
1 tsp. Dijon mustard
1/4 cup olive oil
1 tblsp. orange blossom honey
Instructions
Split endive lengthwise.
Trim roots and most of the ends from green onions.
Brush cut sides of endives and green onions with olive oil. Lightly salt and pepper both and set aside.
Heat a grill pan over medium-high heat.
Add endives, cut side down, to hot grill pan.
Cook 3-4 minutes or until endive is slightly softened and grill marks appear.
Turn and grill on opposite side for 2-3 minutes. Remove and set aside.
Grill onions for 3-4 minutes or until lightly cooked.
Cut the endive crosswise into approximately 1" slices. Cut the onions on the bias into similarly sized pieces.
Add the endive and onions to a large bowl.
Section the orange over a small bowl catching all the juices as you work. Add the orange sections and toasted walnuts to the endive and onions.
In the small bowl with the orange juice, add the mustard, olive oil, and honey. Whisk together until smooth and emulsified. Add salt and pepper to taste.
Pour the dressing over the endive, onions, orange sections, and walnuts.
Toss to coat well.
Notes
All text and photographs on Never Enough Thyme are copyright protected. Please do not use any material from this site without obtaining prior permission. If you'd like to post this recipe on your site, please create your own original photographs and either re-write the recipe in your own words or link to this post.
Nutrition Information:
Yield:

2
Serving Size:

1
Amount Per Serving:
Calories:

600
Total Fat:

45g
Saturated Fat:

6g
Trans Fat:

0g
Unsaturated Fat:

38g
Cholesterol:

0mg
Sodium:

297mg
Carbohydrates:

50g
Net Carbohydrates:

0g
Fiber:

8g
Sugar:

36g
Sugar Alcohols:

0g
Protein:

5g
Nutrition information is calculated by Nutritonix and may not always be perfectly accurate. Use your own judgment.
Be sure to follow me on instagram and hashtag #nevrenoughthyme or tag @nevrenoughthyme so I can see and share what you make! if you like this recipe, be sure to follow me on social media so you never miss a post: