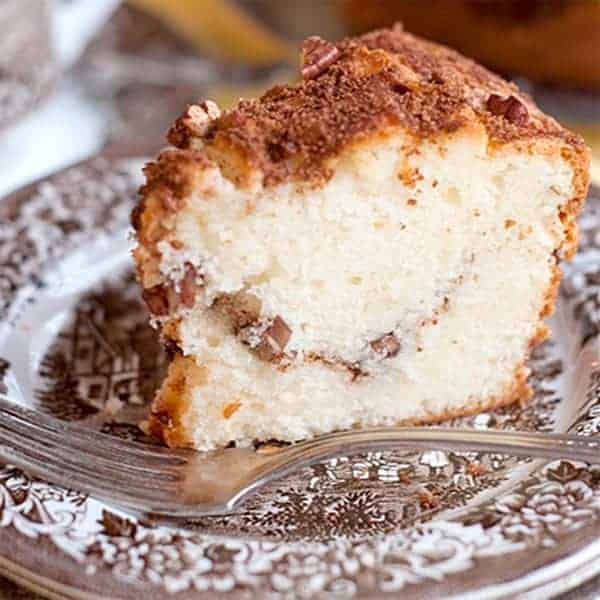 In all the time I've been writing here on the blog, I've never posted a coffee cake! Until now, anyway. And what a great one to do as the first – this Sour Cream Pecan Coffee Cake has a mixture of pecans, cinnamon and brown sugar for the topping with a soft, moist, and slightly tangy cake layer. Yum.
Coffee cakes are so easy to make. There's just one lovely little layer – no worries about getting those multiple layers stacked correctly – and no frosting! Frosting and I are not always good friends. Sometimes it likes me and sometimes it just refuses to cooperate. Sometimes it's too thick, sometimes too thin and it's always a big mess. Yes sir, give me a simple one-layer cake like this and I'm really happy.
Enjoy this delicious coffee cake with, naturally, a cup of coffee or a glass of milk. It makes a nice ending for breakfast, a lovely little afternoon snack or even a light dessert.
Sour Cream Pecan Coffee Cake - great for breakfast, snack, or dessert. Click To Tweet
Sour Cream Pecan Coffee Cake
Total Time:
1 hour
15 minutes
A delicious, moist sour cream and pecan coffee cake. Good with a glass of milk, too!
Ingredients
1 cup butter, room temperature
2 cups granulated sugar
2 eggs
1 cup sour cream
1 tsp. vanilla
2 cups cake flour, sifted
1 tsp. salt
1 tsp. baking powder
1/2 cups chopped pecans
2 tsp. ground cinnamon
4 tblsp. brown sugar
Instructions
Heat the oven to 350 degrees.
Grease and flour a 10-inch tube pan.
Cream the butter and sugar in a large bowl.
Add the eggs one at a time, beating well after adding each.
With the mixer on low speed, beat in the sour cream and vanilla.
Sift together the cake flour, salt, and baking powder.
Start with your mixer on very slow speed and gradually add the dry ingredients to the wet mixture. Increase the mixer speed as you add more of the dry ingredients and the batter becomes thicker.
In a small bowl, combine the pecans, cinnamon, and brown sugar.
Put half the batter in the prepared pan.
Sprinkle half the pecan-cinnamon-sugar mixture over the batter.
Add the remaining batter and sprinkle with the remaining topping.
Bake for 50-60 minutes or until a tester inserted halfway between the center and edge of pan comes out clean.
Cool completely in the pan on a wire rack.
Remove from pan, slice and serve.
Dust with powdered sugar if desired.
Notes
All text and photographs on Never Enough Thyme are copyright protected. Please do not use any material from this site without obtaining prior permission. If you'd like to post this recipe on your site, please create your own original photographs and either re-write the recipe in your own words or link to this post.
Other coffee cake recipes you might enjoy:
What I was up to…