Use the abundance of summer produce to make your own Home Canned Tomatoes. You'll love having them when winter comes around.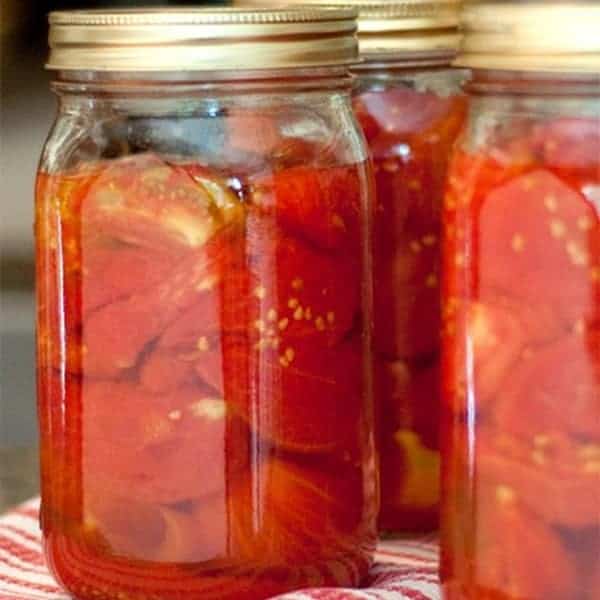 What do you do when you nature hands you the gift of beautifully ripe summer tomatoes? Why you get out your canner and jars and go to work.
Canning is a simple, but exacting process that is easily mastered. And opening a jar of Home Canned Tomatoes in the middle of winter is like opening a ray of summer sunshine.
I'm sure it's weird, but excessive amounts of gorgeous summer produce get me so excited. I immediately start making plans about how to preserve it and what to do with it later on.
If I have peaches, they usually wind up as preserves with some also being frozen for use in cobblers later in the year. Same with berries and other fruits.
Peas and butterbeans are always blanched, packaged, and frozen. But when I have an abundance of tomatoes, I almost always can them. I just think canning is the best way to capture that fresh summer taste. Plus, they look so nice on my pantry shelves.
Use the abundance of summer produce to make your own Home Canned Tomatoes. You'll love having them when winter comes around. Click To Tweet
Review Proper Canning Procedure
If you have never canned before, or if it has been a while since your last time canning, please review the current guidelines. You always want to make sure that you handle canned goods correctly. Improperly canned foods can really be disastrous. I wrote a post about correct canning techniques a few years ago that you mind find helpful.
The first step in home canning tomatoes, or for any canning session, is to prepare your jars, lids, and rings and to start your canner full of water heating. Wash the jars, lids, and rings in hot soapy water. Place the lids in a small pan with enough hot water to cover them and place it on the lowest heat setting on your stove. Put the clean jars in your canner rack and let them come up to the boil along with the water in the canner.
Then you can get on with preparing the tomatoes. Wash the tomatoes well, then peel and core them. You can leave your tomatoes whole or cut them into halves or quarters. I did quarters this time.
How to Make Home Canned Tomatoes
When all the tomatoes are prepped and ready to go, start filling your jars. The method I use for canning tomatoes is the "raw packed in their own juice" method.
Fill Hot Jars One at a Time
The way I proceed is this. Lift the canner rack with the jars in it and hook it over the sides of the canner so that it remains elevated. Remove one jar at a time from the rack and drain the water from the jar back into the canner. Place the hot jar on a folded dish towel.
Add the salt and lemon juice to the jar. Just a note about this step, in case you're interested. Modern varieties of tomatoes are not acidic enough to be safely canned using a water bath method and that is why the lemon juice is required. You can faintly taste it in the finished product, but adding a tablespoon or so of sugar will offset that taste.
Keep the pH at the Correct Level
Additionally, it's recommended to use the bottled lemon juice from the grocery store instead of squeezing fresh lemons. The pH of the bottled juice is controlled at a specific level and fresh lemon juice may or may not have the necessary pH to maintain the safety of your canned tomatoes. Pickling salt is used because it doesn't have any additives that could cloud the liquid in the jars. It's just pure salt.
Way more than you wanted to know about canning tomatoes. Am I right?
Fill the jar half to three-fourths full with tomatoes and then gently press on the tomatoes to release the juice and fill all the space between the tomatoes. Continue filling and gently pressing until the contents of the jar are within 1/2 inch of the top rim.
Clean Jar Rims and Apply the Lids
Wipe the rim with a wet paper towel. Apply the lid and ring and set the jar back on the elevated rack in the canner. Repeat the process until all jars are filled.
Now gently lower the rack with the filled jars into the boiling water in the canner. There must be enough water in the canner to completely cover the tops of the jars by one inch. Begin timing when the water in the canner returns to the boil.
Don't Take Shortcuts!
I just have to share this photo with you. I know all you seasoned canners will be able to sympathize with me. In all my years of canning, I had never had a jar break. Until now. I got in a hurry and took a shortcut (I'm not telling what I did) that let my jars cool down too much. When I put this one in the canner, I heard that distinctive "pop" and immediately knew that it had broken. If this happens to you, don't even think about trying to save the contents. There are likely to be teensy-tiny shards of glass in there that you'd never find. Just let it go and learn your lesson like I did!
Process both pints and quarts for 85 minutes. Longer processing times are required for higher altitudes (see recipe below). At the end of the processing time, turn off the heat under the canner and allow the jars to sit in the water for 10 minutes.
Carefully remove the jars from the canner and set them on a folded kitchen towel. Allow the jars to cool completely before moving them (at least overnight). Check to make sure seals are complete. Store in a dark, cool area.
More Canning Recipes on Never Enough Thyme:
Great internet resources for safe canning techniques and recipes:
Like This Recipe? Pin It!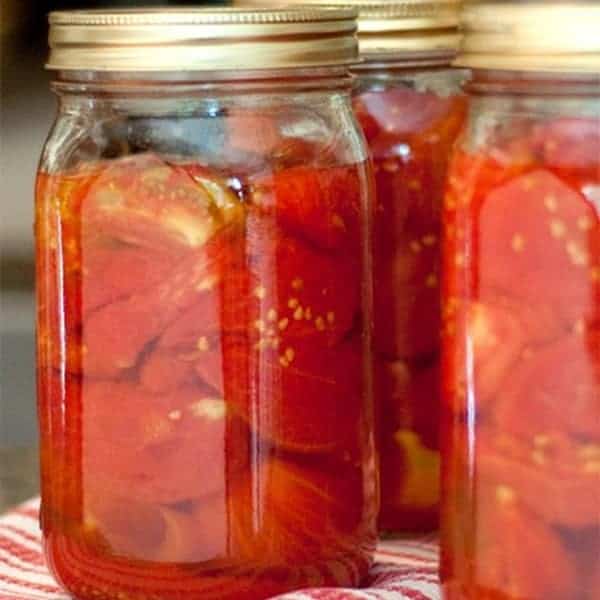 Home Canned Tomatoes
Cook Time:
1 hour
25 minutes
Total Time:
2 hours
25 minutes
Procedure for canning the abundance of ripe summer tomatoes at home.
Ingredients
2 1/2 to 3 1/2 pounds tomatoes per quart
Bottled lemon juice
Pickling salt
Instructions
Prepare standard canning jars and lids according to manufacturer's directions.

Peel and core tomatoes. Leave whole or cut into halves or quarters. When all tomatoes are ready, prepare one jar at a time, keeping the other jars hot while you work.

Add 2 tablespoons lemon juice and 1 teaspoon salt to each quart jar (half the amount for pints).

Pack tomatoes into jars, pressing gently on tomatoes until the juice fills the spaces between tomatoes. Leave 1/2 inch headspace.

Remove air bubbles.

Wipe rims of jars and apply two-piece canning caps.

Process in a boiling water bath 85 minutes for both quarts and pints.
Notes
Adjusted processing times for higher altitudes: 1,001 – 3,000 ft, 90 minutes; 3,001 – 6,000 ft, 95 minutes; above 6,000 ft, 100 minutes
Information sources: National Center for Home Food Preservation (University of Georgia), Ball Blue Book of Preserving
All text and photographs on Never Enough Thyme are copyright protected. Please do not use any material from this site without obtaining prior permission. If you'd like to post this recipe on your site, please create your own original photographs and either re-write the recipe in your own words or link to this post.
Be sure to follow me on instagram and hashtag #nevrenoughthyme or tag @nevrenoughthyme so I can see and share what you make! if you like this recipe, be sure to follow me on social media so you never miss a post:
| facebook | instagram | pinterest | twitter |