Mama's Ambrosia – a Christmas Tradition
Mama's Ambrosia is a simple mix of Navel oranges and coconut with clean, bright flavors.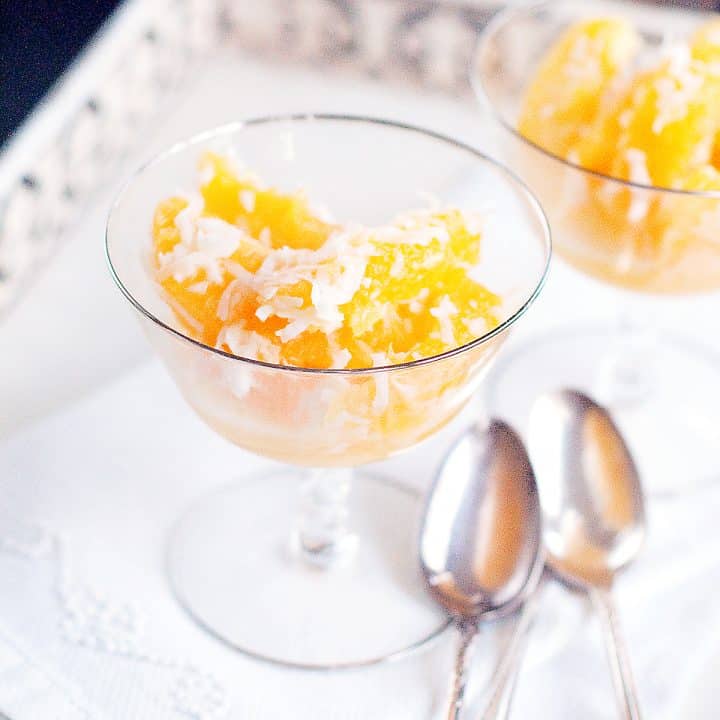 Mama's Ambrosia is a simple mix of Navel oranges and coconut with clean, bright flavors. A Christmas tradition in our family.
This is one of my favorite recipes of all time. Actually, it's hardly a recipe. Just two, maybe three ingredients and a little work is all that's required, but the result? Well, it tastes like Heaven to me.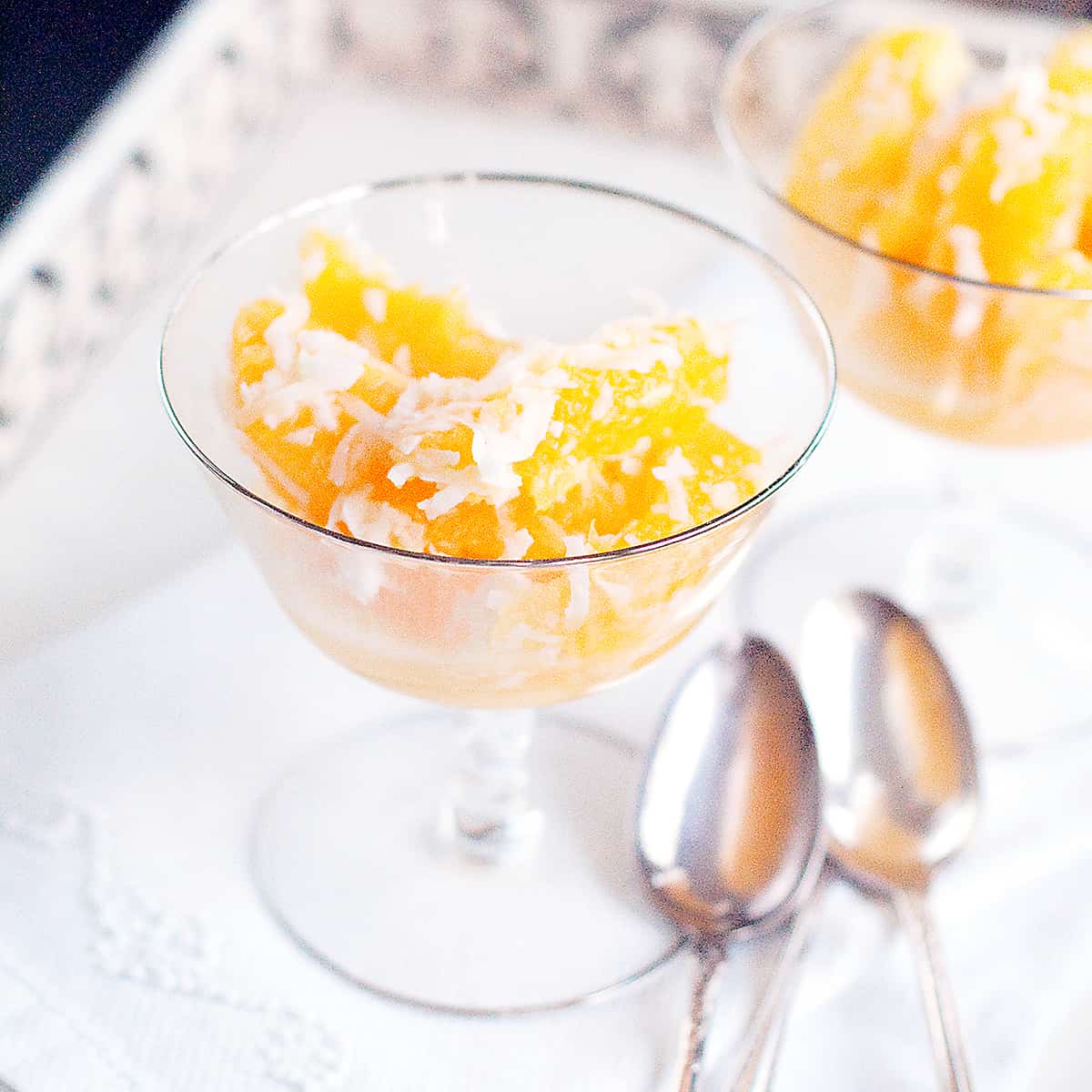 Mama's Ambrosia contains two simple ingredients resulting in a bright, clean flavor. The bright, slightly acidic bite of orange paired with an almost creamy sweetness from the coconut. Yum. Yum.
I vividly remember this dessert being on our table for Christmas every year when I was a child. And I remember Mama standing at the kitchen counter peeling and peeling and peeling oranges. The kitchen smelled like an orange grove in bloom by the time she was finished.
Over the years, I've found that there are about as many recipes for ambrosia as there are cooks making ambrosia. And over those years I've also never found another ambrosia recipe as simple as this one.
I believe most people think of ambrosia as a combination of oranges, pineapple, coconut, and other fruits, with some sort of sweet dressing such as "cool whip" or sour cream. In our family, we call that fruit salad. It's quite different from our ambrosia and it's delicious too, but for us…this is ambrosia. But let me also make one thing clear – whichever way your Mama makes it…that's the right way :-)
It's a bright, refreshing counterpoint to heavy holiday meals.
Makes the best use of seasonal produce.
Kids and adults both love the flavors.
It's a proven, tried and true heritage recipe.
Ingredient Notes
Navel oranges (I always choose navel orange because they're nicely sweet yet still a bit tart. They have the familiar flavor of morning orange juice.)
Shredded coconut (My favorite brand is Baker's Angel Flake.)
How to Make Mama's Ambrosia
Let's Go Step-by-Step
I always like to show you the photos and step-by-step instructions for my recipes to help you picture how to make them in your own kitchen. If you just want to print out a copy, you can skip to the bottom of the post where you'll find the recipe card.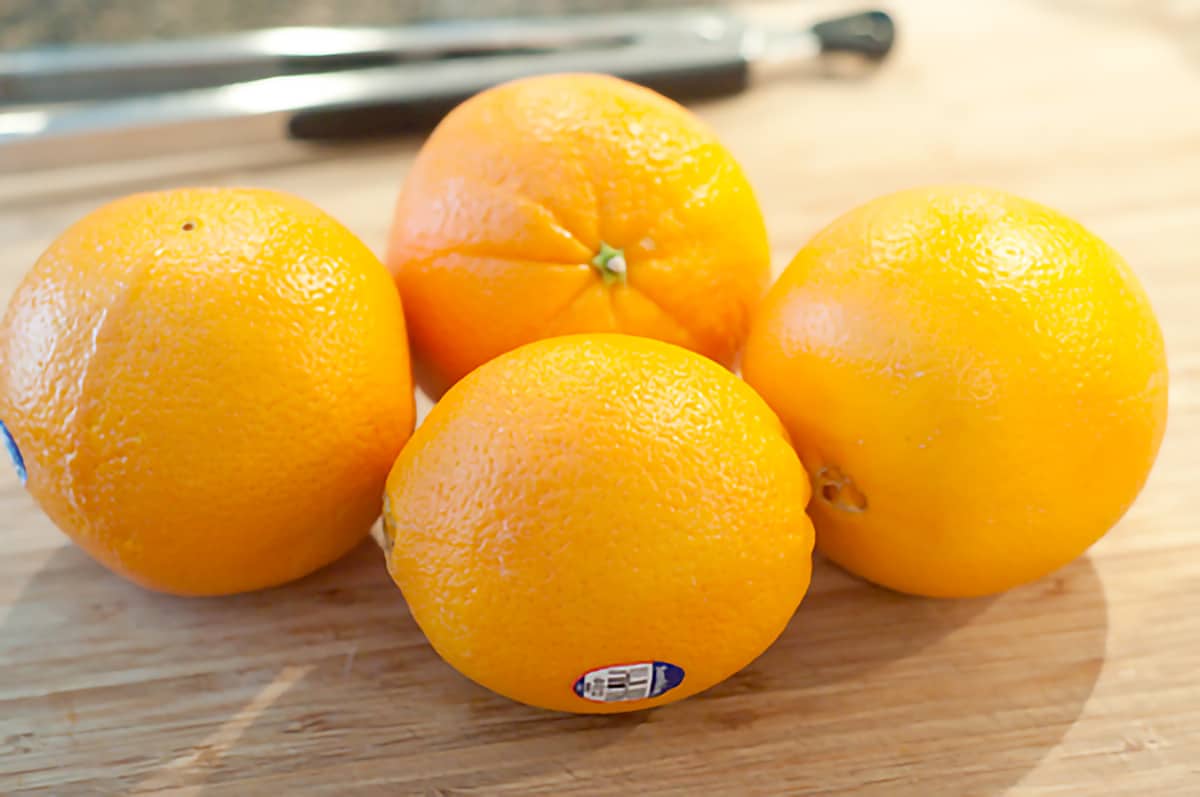 You'll need one large Navel orange for each serving of Ambrosia. These were just beautiful. Bright, blemish-free skin and so juicy and sweet!
Prep the Oranges
Peel the oranges and remove all of the white pith. That pith is bitter and you don't want it in your lovely, sweet ambrosia.
Now, there are several methods of peeling oranges, but the one I learned and still use is the round and round one. I just start at the end opposite the "navel" and peel around using a sawing motion with the knife until I reach the other end. This works for me.
Some people cut a slice off either end, stand the orange on one end and cut in a downward motion removing sections of the peel as they go. Do whatever works best for you.
Cut into Sections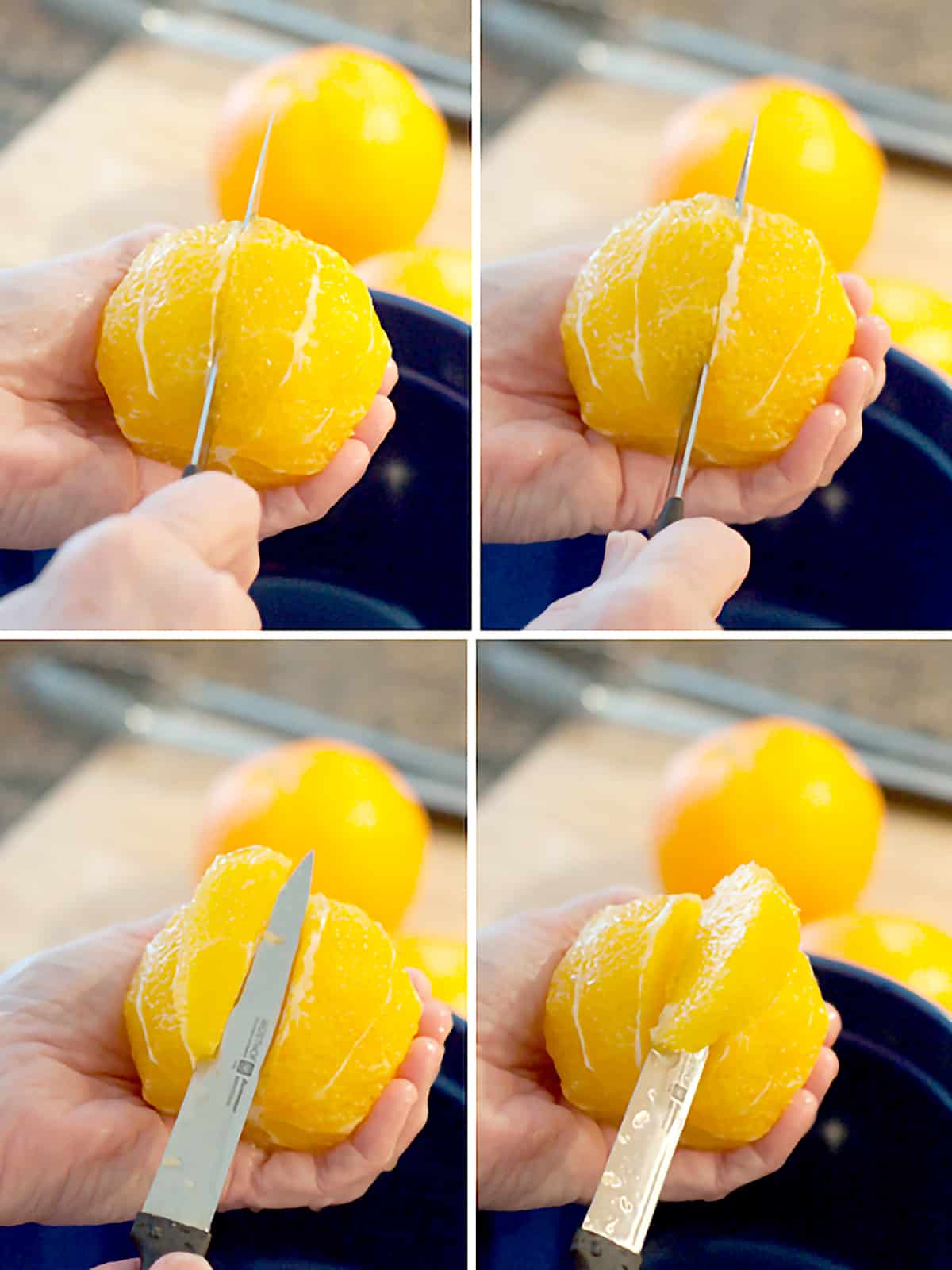 Now, once you have your oranges peeled and all the pith removed, you want to cut the oranges into sections following the lines of the membranes inside the orange. Those sections, when removed from the orange, are called "supremes."
Section the oranges while working over a bowl to catch the juices. Holding the orange firmly in one hand and using a thin, very sharp knife, cut down as close to the membrane as possible going from tip to bottom and all the way through to the core. Repeat on the other side of the orange section. Turn your knife to the side gently to release the "supreme."
This does take a little work and practice, but I think it makes a much nicer presentation. However, if you just can't manage the supremes, then cut the oranges crosswise into about 1/2″ thick slices.
When you have removed all the orange sections, give the core and membranes a gentle squeeze to remove any remaining juice allowing it to fall back into the bowl. Discard the core and membranes.
Sweeten if Needed
Taste the oranges and, only if needed, add a tablespoon or two of sugar. I usually don't need any or just a very minimum amount.
Add Coconut
Scatter the shredded coconut over the oranges. Gently stir it together taking care not to break the orange supremes you worked so hard on :-)
Cover the bowl and refrigerate for several hours to allow the flavors to blend.
HAVE YOU TRIED THIS RECIPE?
I'd LOVE to know what you thought!
Leave a rating below in the comments and let me know how you liked it!

WE'RE ON FACEBOOK, TOO!
If you'd like to hang out with lots of other Southern Comfort Food lovers, make sure to join my FREE PRIVATE Facebook group.
Recipe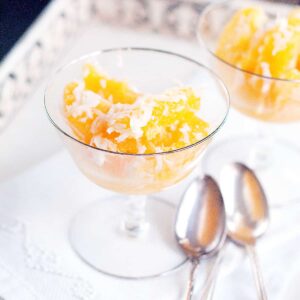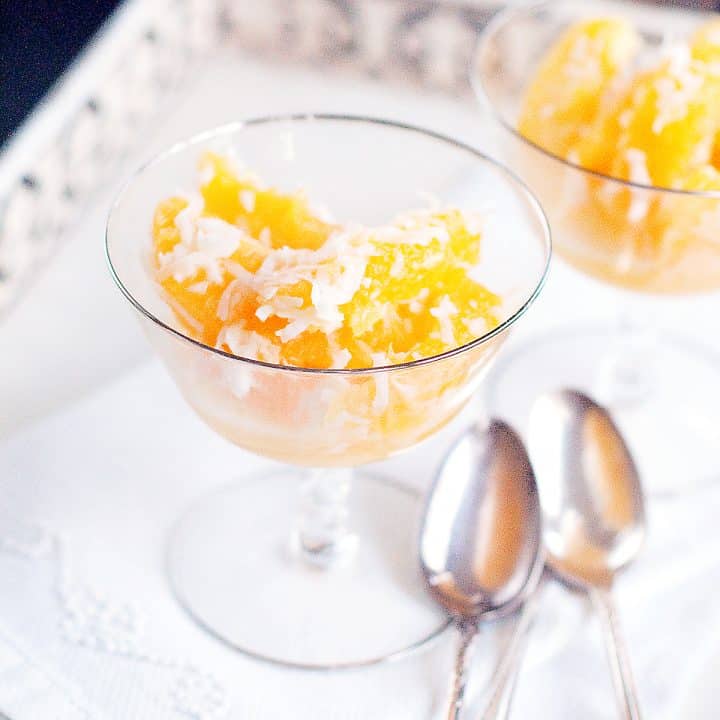 Mama's Ambrosia
Mama's Ambrosia is a simple mix of Navel oranges and coconut with clean, bright flavors.
Print It
Rate It
Save
Saved!
Ingredients
4

large Navel oranges

Sugar to taste

(optional)

½

cup

shredded coconut
Instructions
Peel the oranges and remove all the white pith. Working over a bowl to capture the juices, remove the orange sections. Squeeze any remaining juice from the core and membranes into the bowl with the orange sections.

Taste the oranges and add a small amount (1-2 tblsp.) sugar if needed.

Add coconut. Toss together.

Cover bowl and refrigerate for several hours to allow the flavors to blend.
Notes
If blood oranges are available, use half blood oranges and half Navel oranges for a pretty effect.
Nutrition Information
Serving
1
|
Calories
125
kcal
|
Carbohydrates
23
g
|
Protein
2
g
|
Fat
4
g
|
Saturated Fat
4
g
|
Sodium
31
mg
|
Potassium
270
mg
|
Fiber
4
g
|
Sugar
17
g
|
Vitamin A
346
IU
|
Vitamin C
83
mg
|
Calcium
60
mg
|
Iron
1
mg
Nutrition information is calculated by software based on the ingredients in each recipe. It is an estimate only and is provided for informational purposes. You should consult your health care provider or a registered dietitian if precise nutrition calculations are needed for health reasons.
Share on Facebook
Pin Recipe
— This post was originally published on January 8, 2013.