Embrace cooler weather with this Southern Oyster Stew made from plump oysters in a creamy base. A delicious old-fashioned specialty!
Embrace cooler weather with this delicious Southern Oyster Stew made with plump, briny oysters in a creamy base. An old-fashioned specialty that will become a favorite at your table.
This recipe is one that I always think of when the weather turns cold. In my opinion, late fall and the early part of winter is the time of year when fresh oysters are at their best in the southeast.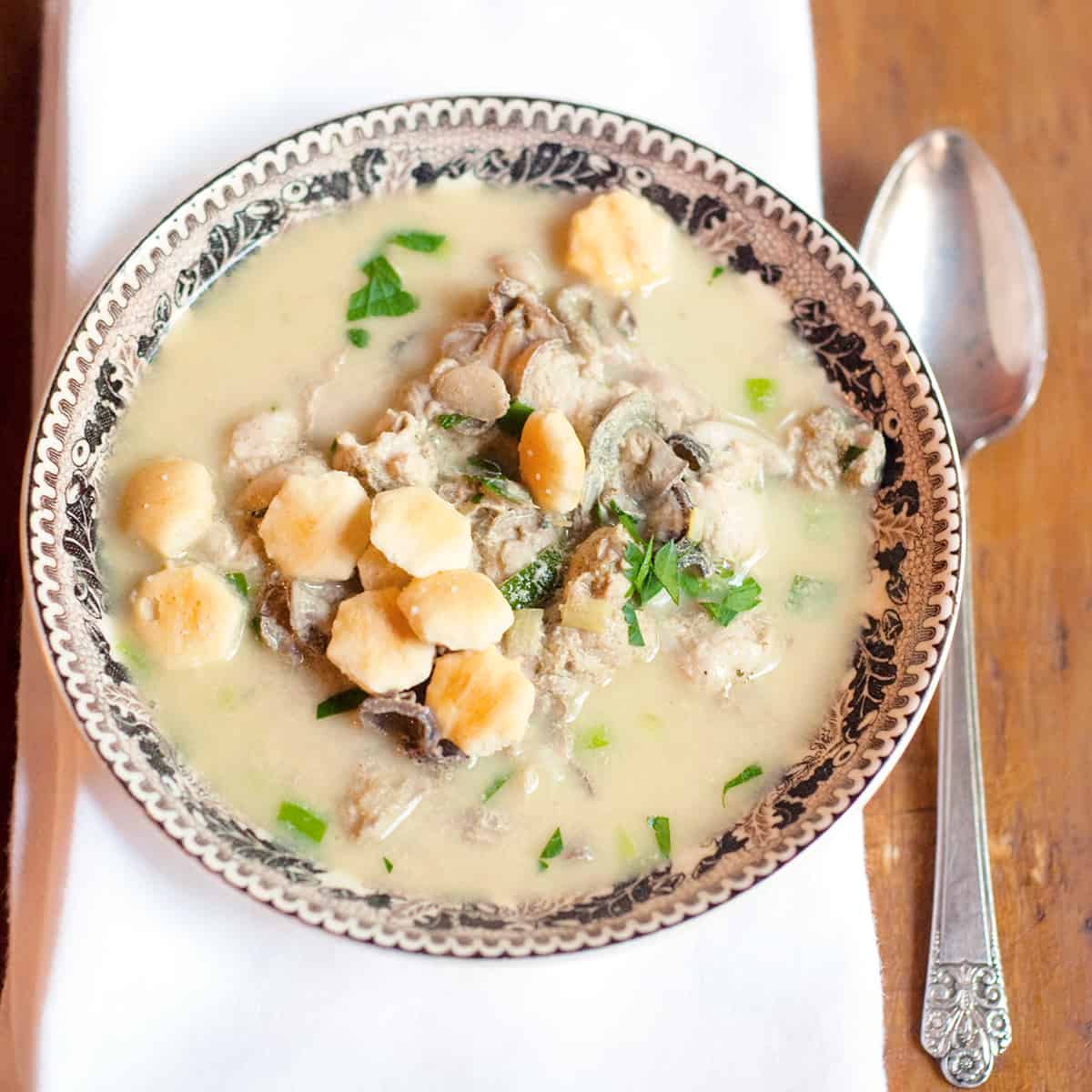 Especially if you can get your hands on some Apalachicola Bay oysters. Small, sweet, plump, and with a mild saltwater taste, they're simply the best oysters in the world.
Unfortunately, the future of those special oysters is threatened right now. Their ecosystem is in peril, but people are working really hard to try to save it. I'm wishing them all the best in doing that.
🦪 Love Some Raw Oysters!
When I was much younger, we'd go to a local oyster bar in town to have oysters raw on the half shell. Rural southern oyster bars are not fancy places.
My favorite one had a screen door, a bar that would seat three folks on wooden stools, and one table with four straight-back wooden chairs. You'd wait your turn to sit at the bar where fresh oysters were shucked and served right in front of you.
The accompaniments? Soda crackers, hot sauce, and, if you insisted, cocktail sauce. Take a shucked oyster. Place it on top of your cracker. Add a drop or two of hot sauce and inhale the whole thing in one bite. I've been known to down two dozen in a sitting.
🍲 Oysters Are Great in a Stew
Besides enjoying them in their natural, raw state, they are also delectable when battered and deep fried. Or you can take a slightly more refined approach and make them into this creamy, luscious oyster stew.
Be sure to use a pint of the freshest oysters possible. Ask the fish seller to hand-shuck them if possible or bring them home and do that task yourself. Try to avoid the oysters in the plastic container at the grocery store. Lord only knows where they came from and how long they've been in that refrigerator case.
WHAT PEOPLE ARE SAYING …
"The visual I got of your description of a rural southern oyster bar is priceless."
— Priscilla
❤️ What You'll Love About This Recipe
---
It's so rich and creamy! Each spoonful of this southern oyster stew is rich and buttery with a fresh-from-the-ocean undertone. Yum!
It's simple yet elegant. The very simplicity makes it perfect for both family and special occasions.
Heartwarming memories. For many people, this recipe is a trip down memory lane; it was often served for Christmas Eve dinner in times past.
🛒 Essential Ingredients
---
This post contains affiliate links. Lana's Cooking is reader-supported and earns a tiny commission at no extra cost to you when you shop from our links.
Fresh oysters: They're the star of this recipe for old fashioned oyster stew. Opt for the freshest oysters you can find, ideally freshly shucked by your fishmonger or by yourself at home.
Butter: It creates the rich, smooth texture of the stew. Use either salted or unsalted butter.
Green onion and fresh parsley: Brings a burst of freshness to the recipe.
Worcestershire and Tabasco sauce: Add a subtle richness and a lightly spicy flavor to the stew.
Whole milk, heavy cream, or half and half: Choose any of these to create the creamy base. I typically use half and half (I find whole milk a little weak and heavy cream a little too over the top.)
🥄 How to Make Oyster Stew
---
Place all the ingredients except the milk in a saucepan.
👉 PRO TIP: Be sure to include the liquid the oysters are packed in (also known as oyster liquor). Or, if you're shucking your own fresh, be sure to catch the liquid that's inside the shells as you open the oysters.
Heat the mixture over medium-low heat until the edges of the oysters just begin to curl. This takes about 10 minutes and should not be rushed. Be sure to keep the heat fairly low and stir frequently.
In another saucepan, scald the milk, heavy cream, or half-and-half. When the edges of the oysters have curled, add the scalded milk to the oyster mixture and stir well.
👉 How to Scald Milk
If you're wondering what's meant by "scald" by the milk, it's really simple. Place the milk, heavy cream, or half and half in a small saucepan over medium-high heat. Stir frequently until you see bubbles begin to form around the edges of the milk and it starts to steam. Technically, milk is scalded when it reaches 170 degrees if you want to be precise and use a thermometer but that's not necessary.
Serve immediately with oyster crackers and additional Tabasco if desired.
⚠️ Troubleshooting Tips
⚡Oysters Overcooking: Be watchful as the oysters cook. They should just curl at the edges and become slightly firm. Overcooking will make them rubbery. Remove the pan from heat as soon as they're done.
⚡Avoid Boiling the Milk: When heating the milk, make sure that it doesn't reach the boiling point. Boiling can cause the milk to separate and give the stew a grainy texture.
⚡Stew Too Thin: If your stew turns out thinner than you like, you can thicken it by creating a roux. Melt a little butter in a pan, stir in an equal amount of flour, and cook for a couple of minutes. Gradually whisk this into your stew to reach the desired consistency.
⚡Stew Too Thick? Conversely, if it seems too thick, simply thin it out by adding a bit more milk and heating it gently until you get the consistency you like.
⚡Flavor Adjustments: Taste as you go. If you find the stew lacking in flavor, don't hesitate to adjust the seasonings. A bit more salt or a dash more Worcestershire sauce can make a big difference.
⚡Sticking on Bottom: If the mixture in the bottom of your pan starts to stick, don't scrape it up into the stew. Instead, gently pour everything into another pot, leaving the scorched part behind, and continue over lower heat.
🔀 Recipe Variations
For a spicy kick, add extra Tabasco to your recipe for oyster stew recipe.
Vegetarians can replace oysters with mushrooms for a unique take on this old fashioned oyster stew.
🍽️ How to Serve
Serve hot from the stove in shallow bowls. Pair it with oyster crackers or saltine crackers for a classic experience. A side of warm, buttered honey wheat bread also makes an excellent companion.
🍚 How to Store
This recipe is best enjoyed fresh and piping hot. If needed, refrigerate in an airtight container for up to two days and reheat gently, preferably in a double boiler. Freezing is not recommended.
❓ Questions About Southern Oyster Stew
---
Why did my oyster stew curdle?
The most likely causes of a curdled oyster stew are either heating the milk too quickly or adding cold milk into warm ingredients. Be sure to warm the milk slowly, following the tip above for scalding milk, before adding it to the stew.
Why did my oysters shrink so much?
It's natural for oysters to shrink a bit when cooked as they lose moisture. To minimize shrinkage, make sure not to overcook them – they should just curl at the edges and become plump.
How do I know if fresh oysters are good?
Fresh oysters should smell like the ocean — briny and clean. The shells should be tightly closed or should close when tapped. If they smell off or are open and don't close, they should be discarded.
How do I store fresh oysters before cooking?
Store fresh oysters in the refrigerator, flat side up, covered with a damp cloth, and use them within 24 hours of purchase. Do not store them in water.
Can I use canned oysters or jarred oysters for this recipe?
I wish I could help you out and say, "Sure, go ahead and use those!" but I just can't. This recipe is simply meant for freshly shucked oysters.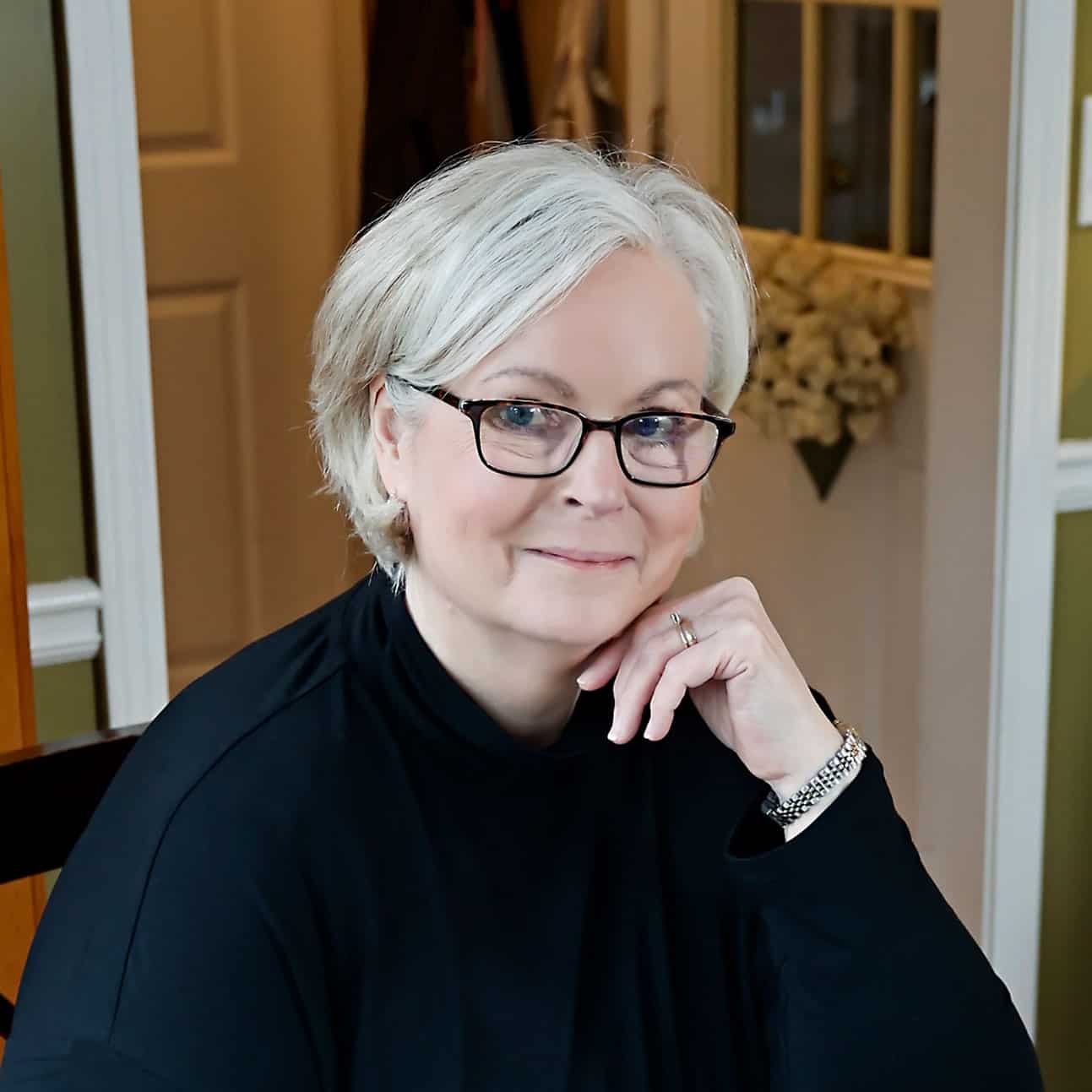 More Questions? I'm happy to help!
If you have more questions about the recipe, or if you've made it and would like to leave a comment, scroll down to leave your thoughts, questions, and/or rating!
Thanks so much for stopping by!
📖 Recipe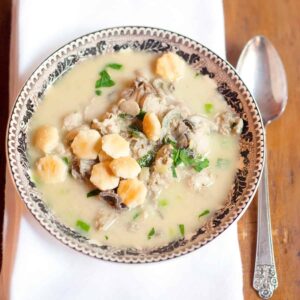 Oyster Stew
Embrace cooler weather with this Southern Oyster Stew made from plump oysters in a creamy base. A delicious old-fashioned specialty!
Print It
Rate It
Save
Saved!
Text It
Ingredients
1

pint

fresh oysters

with their liquid

4

tablespoons

butter

1

green onion

chopped

2

teaspoons

chopped fresh parsley

½

teaspoon

Worcestershire sauce

¼

teaspoon

Tabasco sauce

1/4

teaspoon

black or white pepper

2

cups

milk

(whole milk, heavy cream, or half and half)

1/4

teaspoon

salt

optional

Oyster crackers

for serving
Instructions
In a saucepan, combine all ingredients except milk. Heat over medium-low heat just until the edges of the oysters curl (about 10 minutes).

In another saucepan, scald the milk (or heavy cream or half and half). (See the blog post for information on how to scald milk.) Stir the milk into the other ingredients.

Taste and add salt only if you think it's needed.

Serve immediately.
Notes
Do not use low-fat or reduced fat milk for this recipe.
Be sure to include the liquid the oysters are packed in (also known as oyster liquor or oyster brine). Or, if you're shucking your own fresh oysters, be sure to catch the liquid that's inside the shells as you open the oysters.
Nutrition Information
Serving
1
|
Calories
181
kcal
|
Carbohydrates
6
g
|
Protein
5
g
|
Fat
15
g
|
Saturated Fat
10
g
|
Polyunsaturated Fat
1
g
|
Monounsaturated Fat
4
g
|
Trans Fat
0.5
g
|
Cholesterol
49
mg
|
Sodium
309
mg
|
Potassium
220
mg
|
Fiber
0.1
g
|
Sugar
6
g
|
Vitamin A
588
IU
|
Vitamin C
1
mg
|
Calcium
164
mg
|
Iron
1
mg
Nutrition information is calculated by software based on the ingredients in each recipe. It is an estimate only and is provided for informational purposes. You should consult your healthcare provider or a registered dietitian if precise nutrition calculations are needed for health reasons.
Share on Facebook
Pin Recipe
— This post was originally published on November 13, 2012. It has been updated with additional information.