I'm a notoriously impatient baker. Baking is just not my forte. It requires precision, accurate measurements and proper mixing techniques. These attributes don't come easily to me. I'd much rather add a pinch of this and a dab of that than to get out measuring cups and spoons.  However, there are a few baked goods that I can manage fairly well. Drop cookies…yes. Muffins…okay. Cupcakes…definitely! And best of all, this old-fashioned Raspberry Filled Jelly Roll.
If you think you've never had a jelly roll, you might just know it by one of its many other names. They're also called cake rolls, jam rolls, Swiss rolls, sponge rolls, and roulade. Even the famous Buche de Noel, or Yule Log, is simply a rolled cake.
A southern jelly roll is a thin sponge cake filled with jam, jelly, or preserves which is then rolled and sprinkled with powdered sugar. It's quick and easy to make, looks impressive on the plate, and kids and adults alike love it! I've used a low-sugar raspberry jam for this one, but strawberry is great as well. I would even use blueberry, blackberry, apricot, pineapple, or peach preserves. Whatever you like!
Raspberry Filled Jelly Roll - rolled and filled sponge cake sprinkled with powdered sugar Click To Tweet
Heat the oven to 375 degrees.
Generously butter a 15×10 jelly roll pan. Cut a piece of parchment or waxed paper to fit the inside of the pan. Place the paper in the pan and butter it as well.
Beat the eggs until very thick and pale yellow colored. This will take about 5 minutes. Gradually beat in the sugar. With the mixer on low speed, slowly add the water and vanilla. Still on low speed, gradually add the flour, baking powder, and salt, beating just until blended.
Pour the batter into the prepared pan. Be sure to spread the batter into the corners.
While the cake is baking, prepare a tea towel with a generous dusting of powdered sugar.
Bake for 12-15 minutes or until a toothpick inserted in the center comes out clean. Remove the cake from the oven, loosen it from the edges of the pan, and immediately invert the hot cake onto the prepared tea towel. Carefully peel away the paper. While still hot, carefully roll the cake and towel starting from the narrow end.
Cool the rolled cake on a wire rack for at least 30 minutes.
Unroll the cake and remove the towel. Trim away any stiff edges if necessary. Spread the jam or jelly over the inside surface of the cake.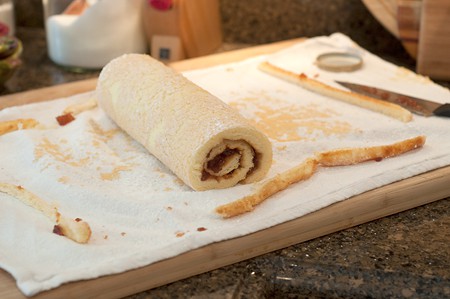 Re-roll the cake. Wrap the cake loosely in waxed or parchment paper and refrigerate. When ready to serve, sprinkle generously with powdered sugar.
Enjoy!
Raspberry Filled Jelly Roll

An old-fashioned jelly roll! A thin, yellow cake layer filled with raspberry jam, rolled and dusted with powdered sugar.

20 minPrep Time

15 minCook Time

35 minTotal Time

Ingredients

3 large eggs
1 cup sugar
1/3 cup water
1 1/2 tsp. vanilla
3/4 cup all-purpose flour
1 tsp. baking powder
1/4 tsp. salt
Confectioner's sugar (for rolling and sprinkling)
1 cup (or more) raspberry jam or jelly

Instructions

Heat the oven to 375 degrees.
Generously butter a 15x10 jelly roll pan. Cut a piece of parchment or waxed paper to fit the inside of the pan. Place the paper in the pan and butter it as well.
Beat the eggs until very thick and pale yellow colored. This will take about 5 minutes. Gradually beat in the sugar. With the mixer on low speed, slowly add the water and vanilla. Still on low speed, gradually add the flour, baking powder, and salt, beating just until blended.
Pour the batter into the prepared pan. Be sure to spread the batter into the corners.
While the cake is baking, prepare a tea towel with a generous dusting of powdered sugar.
Bake for 12-15 minutes or until a toothpick inserted in the center comes out clean. Remove the cake from the oven, loosen it from the edges of the pan, and immediately invert the hot cake onto the prepared tea towel. Carefully peel away the paper. While still hot, carefully roll the cake and towel starting from the narrow end. Cool the rolled cake on a wire rack for at least 30 minutes.
Unroll the cake and remove the towel. Trim away any stiff edges if necessary. Spread the jam or jelly over the inside surface of the cake. Re-roll the cake.
Wrap the cake loosely in waxed or parchment paper and refrigerate. When ready to serve, sprinkle generously with powdered sugar.

Notes

All text and photographs on Never Enough Thyme are copyright protected. Please do not use any material from this site without obtaining prior permission. If you'd like to post this recipe on your site, please create your own original photographs and either re-write the recipe in your own words or link to this post.

7.6.4

504

https://www.lanascooking.com/raspberry-filled-jelly-roll/

Lana Stuart | Never Enough Thyme


More cake roll recipes you might enjoy: