We Georgians are pretty darned proud of our agricultural products. Believe me.
Growing up the daughter of a farmer in rural southern Georgia, I learned to have a deep appreciation for the amount of work and stress involved in getting a crop from farm to table. When the harvest finally came about it was always a time of pride and thanksgiving. Pride in a job well done. Thanks that the rains came at the right time. Thanks that the insects didn't eat everything before it was gathered. And thanks that you simply had the physical stamina to see it through from start to finish.
That's why I so appreciate seeing Georgia products in my local grocery store. When I was shopping last week I saw several bundles of baby Vidalia onions. If you're wondering just what a Vidalia onion is, take a quick peek at this post from last year. It'll get you up to speed. Now I know it's really getting near the end of the season for fresh, baby Vidalias so I made sure to grab a little bunch to take with me for this delicious and very refreshing Sweet and Sour Cucumber and Vidalia Onion Salad.
I just love the contrasting tastes in this recipe. The bite of the vinegar against the sweetness of the sugar and the crunch of the fresh cucumbers and onions. It's one that we enjoy again and again throughout the year. And, of course, you can make it with mature Vidalia onions but, if you can get some baby ones, do give those a try, won't you?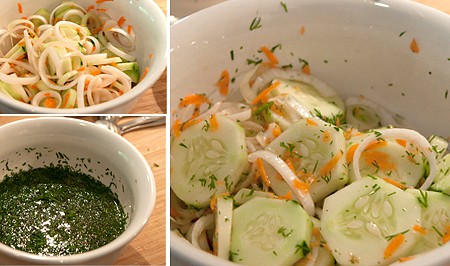 I like to use Kirby type cucumbers for my salad. But whatever you might have on hand is fine, too. Peel and thinly slice your cucumbers. Then thinly slice the Vidalia onions and grate the carrots. Toss the vegetables together in a medium bowl.
In a smaller bowl, combine the vinegar, sugar (I use Splenda), dill, salt and pepper. Mix that together and pour it over the veggies. Toss until everything is coated well.
Serve immediately or refrigerate and serve later.
Enjoy!
Sweet and Sour Cucumber and Vidalia Onion Salad
A light, refreshing springtime salad featuring baby Vidalia onions
10 minPrep Time
10 minTotal Time
Ingredients
3-4 peeled, thinly sliced Kirby type cucumbers
1 1/2 to 2 cups thinly sliced baby Vidalia onions
2 carrots, peeled and grated
1/2 cup white vinegar
2 tblsp. sugar (or equal amount of sugar substitute)
2 tblsp. chopped fresh dill
1/2 tsp. salt
4-5 grinds black pepper
Instructions
In a medium bowl, toss together the cucumbers, onions, and carrots. In a small bowl, combine the remaining ingredients, stirring well. Pour over the cucumber-onion-carrot mixture and toss so that the vegetables are coated well. Serve immediately or cover and refrigerate.
Notes
Adapted from a recipe by Herndon Country Farm (certified Vidalia onion producer)
All text and photographs on Never Enough Thyme are copyright protected. Please do not use any material from this site without obtaining prior permission. If you'd like to post this recipe on your site, please create your own original photographs and either re-write the recipe in your own words or link to this post.
7.6.4
192
https://www.lanascooking.com/sweet-and-sour-cucumber-and-vidalia-onion-salad/
Lana Stuart | Never Enough Thyme
Other Vidalia onion recipes you might enjoy from around the internet:
What I was cooking…