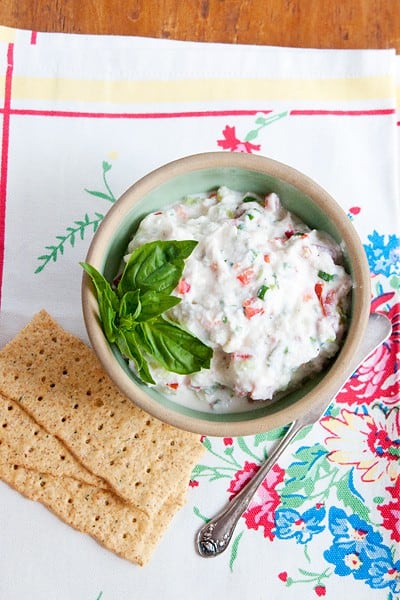 This delicious ricotta veggie spread is one of those recipes that sometimes just "happens" when you stare at the contents of your fridge and wonder what to do with ingredients you have on hand. Do you ever do that? Just start thinking of things you have in your fridge or pantry and how you could put them together to make something delicious? Maybe that's just me. But it's how I've come up with some of the recipes we've enjoyed the most.
This recipe came together last Sunday afternoon a little while before The Masters coverage came on. Masters weekend is pretty sacred around our household. We both watch it from start to finish while cheering our favorites on. It would take something pretty drastic to pull us away from the television when the Masters is being played. But wait, I'm getting off the subject…
I wanted to put together a little something to snack on for the afternoon and what I came up with was this spread. It's quite light and the combination of veggies with the basil and touch of garlic was really delicious. I'd easily serve this as a nibble along with cocktails or just as an afternoon snack. Try this one and let me know what you think!
All you do is mix all your ingredients together in a small bowl. Cover the bowl and let it sit in the fridge for a while so that the flavors blend really well. Serve the spread with an assortment of crackers.
Enjoy!
Ricotta Veggie Spread
This ricotta and fresh veggie combination is a great hors d'oeuvres served with cocktails or just as an afternoon snack.
Ingredients
1 cup ricotta cheese
2 green onions, finely chopped
1 rib celery, finely chopped
1/4 cup finely chopped red bell pepper
1 small tomato, seeded and diced
3 large basil leaves, finely chopped
1/2 tsp. salt
1/4 tsp. black pepper
1/8 tsp. garlic powder
Instructions
Combine all ingredients in a small bowl. Mix well. Cover and refrigerate for several hours to allow the flavors to blend.
Serve with an assortment of crackers.
Notes
All text and photographs on Never Enough Thyme are copyright protected. Please do not use any material from this site without obtaining prior permission. If you'd like to post this recipe on your site, please create your own original photographs and either re-write the recipe in your own words or link to this post.
Other cheese spread recipes you might enjoy from around the internet:
What I was up to…