Oh, my gosh, has it ever been a busy week around here! I don't know what happened but it seems like I got hit with three Mondays at once and I thought Friday would never get here. I'm looking forward to this weekend for some rest, cooking fun recipes in the kitchen and watching the Georgia-Florida game on Saturday! GO DAWGS! I have a few new game-day recipes I want to try out on BeeBop and that game will be the perfect opportunity.
And of course you need a substantial breakfast to get you going on game day. That's exactly what this Banana-Maple French Toast is. Substantial. I used a hearty, whole grain bread with fresh eggs, rich cream and a splash of maple syrup. Just a great Fall morning breakfast.
For this French toast, I recommend a good bakery quality, sturdy whole grain bread. It will absorb the egg mixture without turning to mush like a softer bread might.
Combine your eggs, cream, syrup, vanilla and salt in a flat, wide container large enough to accommodate a slice of bread. Beat it together with a fork or a whisk until it's well combined. Dip the bread on one side for a few seconds, then turn and dip the second side for a few seconds.
Cook on a griddle or heavy skillet coated with cooking spray. After the toast is brown on one side, flip and cook the second side until golden brown.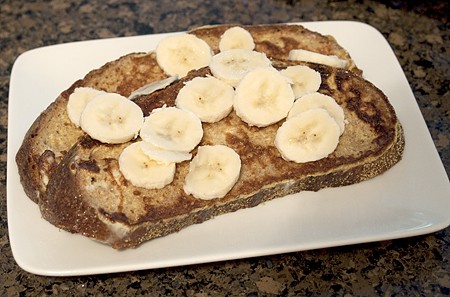 Top each serving with half a sliced banana and drizzle with maple syrup.
Enjoy!
Banana-Maple French Toast
Whole grain French toast topped with sliced bananas and maple syrup
Ingredients
5 eggs
2 tblsp. heavy cream
2 tblsp. maple syrup (more for serving)
1 tsp. vanilla extract
dash of salt
6 slices hearty whole grain bread
Cooking spray
3 bananas, sliced
Instructions
Place the eggs, cream, syrup, vanilla and salt in a flat, wide dish or pan.
Using a fork or whisk, beat until well combined.
Heat a griddle to 325 degrees or place a heavy skillet over medium-high heat.
When the griddle or pan is hot, dip the bread slices, one at a time into the egg mixture. Leave for a few seconds on each side so that the bread absorbs some of the egg mixture.
Cook until brown on one side. Flip slices over and cook until browned on the second side.
Top each slide of French toast with half a sliced banana.
Drizzle with maple syrup.
Notes
All text and photographs on Never Enough Thyme are copyright protected. Please do not use any material from this site without obtaining prior permission. If you'd like to post this recipe on your site, please create your own original photographs and either re-write the recipe in your own words or link to this post.
More French toast recipes you might enjoy from around the internet:
What I was cooking…