Delicious Baked Chicken Parmesan with a creamy mushroom and Parmesan sauce over angel hair pasta is a simple and delicious dinner that the entire family will enjoy. 
Ever since I started blogging, something I've tried to always do is to be authentic. Whatever I post here is something that I cook and serve to my family.
Any time I do a post for a brand name product, it's something that I use myself and can recommend to my readers.
To tell you the truth, I turn down more offers to do posts for brand name products than I accept. I think those things all contribute to maintaining authenticity. Or, you know, just being myself.
You're probably wondering why I'm bringing up the subject of authenticity today. Well, it's because of one of the ingredients in this Baked Parmesan Chicken recipe.
Specifically, canned cream of mushroom soup. Believe me, I understand that there are a huge number of people out there who would never, ever, under any circumstances use a can of cream-of-whatever soup.
Well, that's fine with me. My philosophy is that there's room for everybody in the food world.
If your choice is to be vegetarian, go for it. If you want to follow a paleo diet, that's fine with me. I would never feel that it was my place to lecture you on how you should or should not cook and eat.
I hear a lot of people talk about their "food culture." Well, let me tell you that for people my age who grew up in the 50's and 60's in the rural south, convenience foods were a huge part of our food culture.
They were new and innovative and our mothers, grandmothers, and aunts embraced them wholeheartedly. Remember that this was in a rural area that, at that point in history, was not too far into the era of electricity and some of those cooks had started out on wood stoves.
If I'd been cooking on a wood stove with no electricity and suddenly I had an electric stove and store-bought canned foods, I'd take advantage of them, too!
Maybe you're thinking to yourself, "Yes, but you don't have to use that now. There are better ways. You could make a sauce from scratch" and you'd be right! But do you know what? Sometimes there's just nothing that beats the convenience of a can of cream-of-something soup. So, please be kind in your comments. I'm just being authentic here.
Now for the recipe. This is one of those church cookbook types of recipes that we enjoy so much.
It's quite simply baked chicken with a creamy mushroom and Parmesan sauce served over angel hair pasta. Add a fresh tossed salad on the side and supper's ready to serve!
Baked Parmesan Chicken - Chicken with a creamy mushroom and Parm sauce over angel hair pasta Click To Tweet
How to Make Baked Parmesan Chicken:
Preheat the oven to 400 degrees.
In a large resealable bag, combine the bread crumbs, 4 tablespoons Parmesan cheese, garlic powder, salt, pepper, and Italian seasoning.
Add the chicken pieces and shake until well coated with the bread crumb mixture.
Place the chicken pieces in a single layer in a baking dish that has been well coated with cooking spray.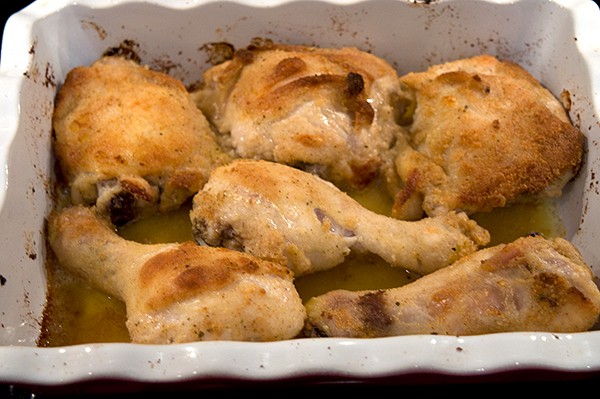 Bake for 20 minutes. Turn chicken and bake for 20 minutes more.
In a small mixing bowl, whisk together the soup and milk. Spoon evenly over the top of the chicken. Sprinkle lightly with paprika and remaining cheese. Return to oven and bake for an additional 20 minutes or until chicken is tender.
Meanwhile, cook the pasta according to the package directions. Drain well and set aside.
Remove the chicken from the oven.  Remove the chicken pieces from the pan to a plate leaving most of the sauce in the pan. Skim off excess fat if it seems excessive. Add the drained pasta to the sauce in the baking pan and toss to coat. Serve the chicken over the pasta and garnish with fresh minced parsley.
Enjoy!

Baked Parmesan Chicken
Yield: 4

Prep Time: 10 minutes

Cook Time: 1 hour

Total Time: 1 hour 10 minutes

Chicken baked with a creamy mushroom and Parmesan sauce, served over angel hair pasta.
Ingredients
1/2 cup fine dry bread crumbs
6 tblsp. grated Parmesan cheese (divided)
1/4 tsp. garlic powder
1/2 tsp. salt
1/4 tsp. black pepper
1/2 tsp. Italian seasoning
2 1/2 to 3 lbs. chicken pieces
Cooking spray
1 can cream of mushroom soup
1/2 cup milk
Paprika
8 oz. angel hair pasta
Minced fresh Italian parsley
Instructions
Preheat the oven to 400 degrees.
In a large resealable bag, combine the bread crumbs, 4 tablespoons Parmesan cheese, garlic powder, salt, pepper, and Italian seasoning.
Add the chicken pieces and shake until well coated with the bread crumb mixture.
Place the chicken pieces in a single layer in a baking dish that has been well coated with cooking spray.
Bake for 20 minutes. Turn chicken and bake for another 20 minutes.
In a small mixing bowl, whisk together the soup and milk Spoon evenly over the top of the chicken.
Sprinkle lightly with paprika and remaining cheese.
Return to oven and bake for an additional 20 minutes or until chicken is tender.
Meanwhile, cook the pasta according to the package directions. Drain well and set aside.
Remove the chicken from the oven. Remove the chicken pieces from the pan to a plate leaving most of the sauce in the pan. Skim off excess fat if it seems excessive.
Add the drained pasta to the sauce in the baking pan and toss to coat. Serve the chicken over the pasta and garnish with fresh minced parsle
Notes
All text and photographs on Never Enough Thyme are copyright protected. Please do not use any material from this site without obtaining prior permission. If you'd like to post this recipe on your site, please create your own original photographs and either re-write the recipe in your own words or link to this post.


More baked chicken recipes you might enjoy from around the internet: