Who remembers this recipe for Broiled Grapefruit straight out of 1960's home economics class? Maybe even 1950's or 40's. I'm not sure, but I do remember Mama making it for us a few times years and years ago.
I just adore all kinds of citrus. Oranges, lemons, limes, mandarins, tangerines, kumquats…you name it, I like it. But especially grapefruit. I love its tart, bitter tang when combined with a little sweetness.
When broiling grapefruit, I don't like mine cooked until it's brown. I know most broiled grapefruit recipes take the cooking further, but I prefer it just barely golden and heated through. And I like a bit of the maraschino cherry juice drizzled over also. Just for good measure.
If you're tired of the same old, same old for breakfast, try broiled grapefruit to shake things up a bit. I think you'll like it!
Broiled Grapefruit for breakfast? Yes, please! Click To Tweet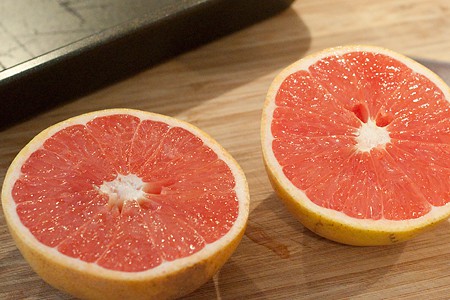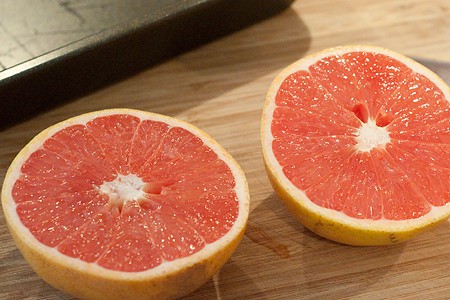 To make broiled grapefruit for yourself, just start by cutting a grapefruit in half crosswise. Through the waist so to speak. Not up and down. If you want, you can cut a tiny bit off the bottom of each half so that it sits more securely in the pan, but be sure not to cut so deep that you expose the flesh. It's also nice to go ahead and remove the seeds.
Preheat your broiler to its highest setting. Place the grapefruit halves in a pan, drizzle them with a little maraschino cherry juice and sprinkle each with a bit of brown sugar. Some people add a tiny pat of butter and you can if you want. I don't.
Pop the pan under the broiler for 8 to 10 minutes (longer if you want more golden brown fruit). Remove from the oven and top each with a maraschino cherry.
Enjoy!

Yields 2
Broiled Grapefruit
A vintage recipe still great for breakfast or brunch. We enjoy broiled grapefruit with buttered toast and hard boiled eggs.
5 minPrep Time
10 minCook Time
15 minTotal Time
Ingredients
1 red or white grapefruit
2 tsp. maraschino cherry juice
2 tblsp. brown sugar
1 tsp. butter (optional)
2 maraschino cherries
Instructions
Preheat your broiler on its highest setting.
Cut the grapefruit in half crosswise.
Drizzle each half with 1 teaspoon of cherry juice.
Sprinkle with one tablespoon of brown sugar.
Dot with a half teaspoon of butter, if using.
Place in a shallow pan and cook under the broiler for 8-10 minutes. If you want your grapefruit to be more golden brown, increase the cooking time.
Remove from the oven. Top with a maraschino cherry and serve.
Notes
All text and photographs on Never Enough Thyme are copyright protected. Please do not use any material from this site without obtaining prior permission. If you'd like to post this recipe on your site, please create your own original photographs and either re-write the recipe in your own words or link to this post.
7.8.1.1
470
https://www.lanascooking.com/broiled-grapefruit/
Lana Stuart | Never Enough Thyme
More grapefruit recipes you might enjoy:
What I was up to: