I'm sharing the very best Caprese Grilled Cheese Sandwich recipe and all of my tips and secrets for the perfect grilled cheese sandwich, every time!
I have a very easy recipe for you today. And a really tasty one, too! Every summer when tomatoes are at their height, I see post after post touting the classic Caprese salad on the blogs.
They always look beautiful with their perfectly sliced red tomatoes, gleaming white mozzarella cheese, and richly colored green basil leaves. Just gorgeous!
But, do you know what? I've never had a Caprese salad that wasn't, well to be honest…a little bit bland. Really.
So, I decided to take those classic ingredients and work them into a nice, warm, melty grilled cheese. And I can tell you with confidence, that this Caprese Grilled Cheese is not the least bit bland.
It's the pesto that really perks it up and enriches the flavor. Plus, who doesn't like melty cheese?
And I'll tell you a little secret – I bake all my "grilled" cheese sandwiches. I started doing it out of frustration, actually.
Every single time I'd do them on the stovetop, I'd set off the smoke alarm and I hate that blaring thing! By baking them, you can do as many as you want all at once and no smoke alarm taunting you :-)
Everything you want from a classic Caprese Salad in a warm, toasty, grilled cheese sandwich. Click To Tweet
How to Make Caprese Grilled Cheese:
Preheat the oven to 375 degrees.
Spread one slice of bread with half the pesto. Top with half the shredded mozzarella and sliced tomatoes. Sprinkle with salt and pepper. Top with remaining mozzarella. Spread remaining bread slice with remaining pesto. Place on top of sandwich.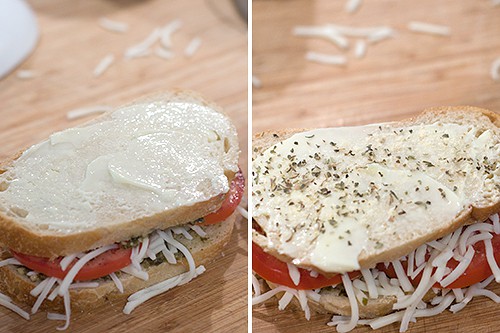 Spread one side of sandwich liberally with softened butter and sprinkle lightly with dried Italian herbs. Place buttered side down on a baking sheet. Repeat butter and seasoning on second side.
Bake for 10-12 minutes or until golden brown, turning once halfway through cooking.
Enjoy!


Caprese Grilled Cheese

Ingredients from a classic caprese salad in a grilled cheese!

IngredientsFor each sandwich:

2 slices bread (I used a sliced sourdough)
3-4 tblsp. prepared pesto
4 tblsp. shredded mozzarella
2 slices tomato
Salt and pepper
1 tblsp. softened butter
1/4 tsp. dried Italian seasoning (optional)

Instructions

Preheat the oven to 375 degrees.
Spread one slice of bread with half the pesto. Top with half the shredded mozzarella and sliced tomatoes. Sprinkle with salt and pepper. Top with remaining mozzarella. Spread remaining bread slice with remaining pesto. Place on top of sandwich.
Spread one side of sandwich liberally with softened butter and sprinkle lightly with dried Italian herbs. Place buttered side down on a baking sheet. Repeat butter and seasoning on second side.
Bake for 10-12 minutes or until golden brown, turning once halfway through cooking.

Notes

All text and photographs on Never Enough Thyme are copyright protected. Please do not use any material from this site without obtaining prior permission. If you'd like to post this recipe on your site, please create your own original photographs and either re-write the recipe in your own words or link to this post.

Nutrition Information:

Serving Size:

1 Amount Per Serving:

Calories:

4395

Total Fat:

355g

Saturated Fat:

96g

Cholesterol:

261mg

Sodium:

12017mg

Carbohydrates:

146g

Sugar:

25g

Protein:

174g

Nutrition information is calculated by Nutritonix and may not always be perfectly accurate. Use your own judgment.


More grilled cheese recipes you might enjoy: