Old Fashioned Cornbread, made with finely ground white cornmeal and buttermilk, is the perfect accompaniment for everything from fried chicken to chili.
My best and most basic recipe for Old Fashioned Cornbread. Made with finely ground white cornmeal and buttermilk, it's the perfect accompaniment for everything from fried chicken to chili.
There are probably as many recipes for cornbread as there are southern cooks. Although it's not strictly a "southern thing," cornbread is very widely served throughout the south. It's so good with a plate of Southern-style vegetables like peas, fried okra, and greens.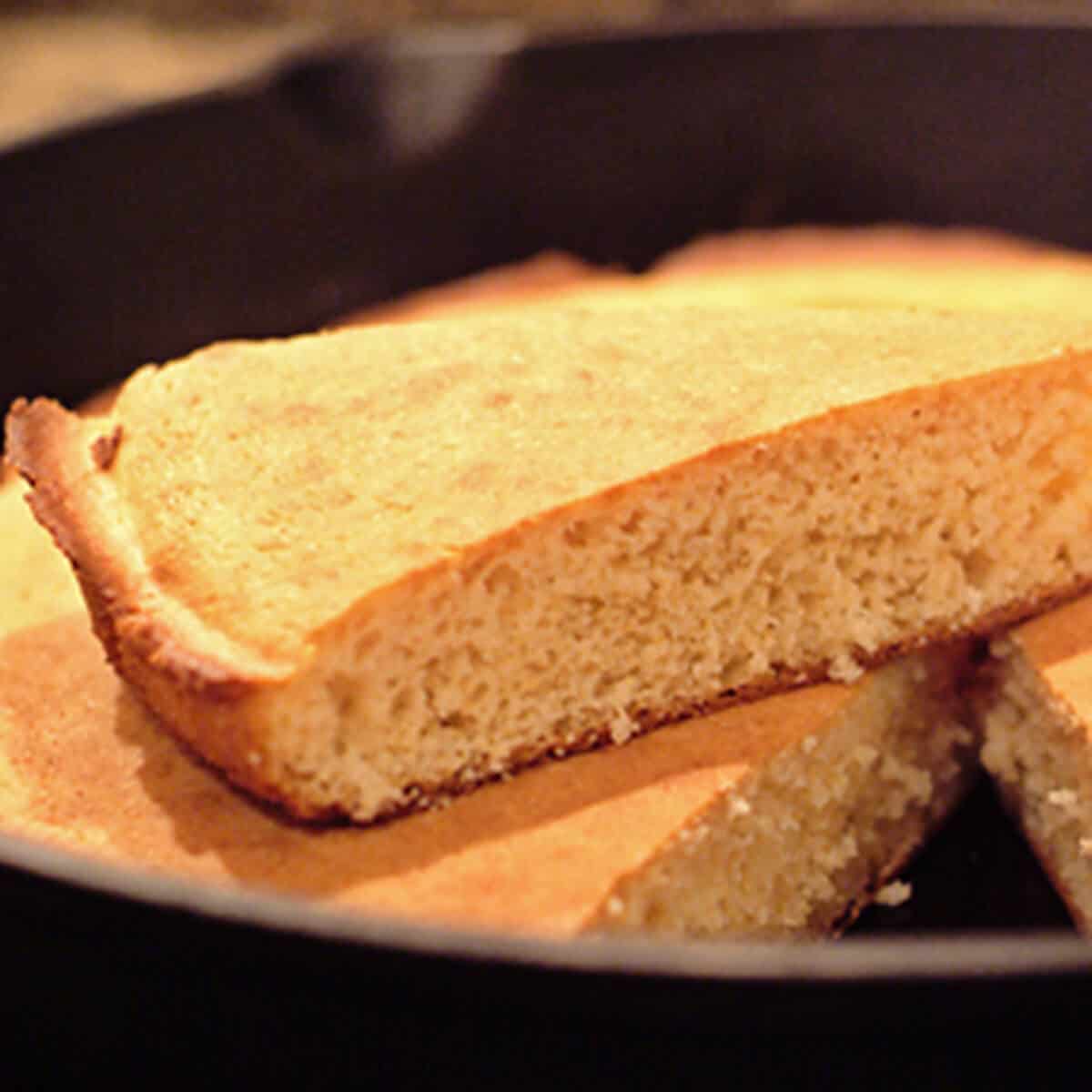 So Many Kinds of Cornbread!
There are many different kinds of cornbread. There's the old fashioned cornbread like I'm going to show you here. Then there's corn pone which is nothing more than plain cornmeal, water and salt formed into "pones" like thick little pancakes and cooked in the oven. There are also hot water cornbread, corn sticks, and corn muffins as well.
And don't forget about hush puppies! They are essentially cornbread, too.
My favorite of all the different types is what we call lacy cornbread. Lacy cornbread is cooked in a skillet on the stovetop. It's a very thin, light batter that is poured into hot oil and fried quickly to a golden brown. It takes some skill and a little practice to make lacy cornbread.
I have lots of cornbread recipes and I've put links to them just below for your reference. But this one is my standard and a great one to add to your recipe collection.
Jump to:
The Secret's in the Cornmeal
Besides all the different types of cornbread, there is also the matter of the cornmeal itself. Grocery stores throughout the south have lots of different cornmeal products on the shelves. But the most important for making good cornbread is fine ground, white cornmeal.
My favorite brand? Well, it's Arnett's hands down.
Now, I have no association whatsoever with Arnett's. They have absolutely no idea who I am. I just happen to like their cornmeal.
A couple of other good brands are Hoover's and Sholar's. It's easy to find those brands in the rural areas, but here in North Georgia near Atlanta, I can't get them anywhere! That's okay, I just stock up when I make a trip down to the southern part of the state.
One further note: You will notice that there is no sugar in this recipe. In my opinion, there is no place for sugar in cornbread. Cornbread is a rustic, savory bread and sugar just doesn't belong in there. If I wanted something sweet, I'd make a cake. Cornbread is not cake. Sorry if you're a sugary cornbread lovin' kind of person.
How to Make Old Fashioned Cornbread
I always like to show you the photos and step-by-step instructions for my recipes to help you picture how to make them in your own kitchen. If you just want to print out a copy, you can skip to the bottom of the post where you'll find the recipe card.
Prepare the Skillet
Add 3 tablespoons canola oil to a 12-inch iron skillet (or for a lighter recipe, coat generously with cooking spray). Place the skillet in the oven, set the oven to 400 degrees and preheat both the skillet and the oven while you mix up the cornbread.
Cook's Tip
A cast iron skillet makes the very best cornbread. If you don't have one, I encourage you to purchase one. They're not very expensive and will last you a lifetime.
Mix the Dry Ingredients
Combine the dry ingredients of cornmeal, flour, salt, and baking powder in a medium mixing bowl.
Mix and Add the Wet Ingredients
Combine the wet ingredients of oil, eggs, and buttermilk. Pour the wet ingredients into the dry ingredients. Mix well. I use a whisk just to make sure I get all the lumps out.
Cook's Tip
For a lighter recipe, use ½ cup eggbeaters or similar egg substitute and skim or lowfat milk in place of the buttermilk.
Add the Batter to the Skillet
Carefully remove the hot skillet and quickly pour in the batter. Immediately reutrn the pan to the oven.
Cook's Tip
Can you see in the picture on the right how the cornbread has already started to cook around the edges just seconds after being poured into the pan? That's exactly what you want it to do.
Bake the Cornbread
Bake for approximately 25 minutes or until the top and edges are light golden brown.
Remove from the skillet from the oven and let it cool slightly before serving.
Cook's Tip
If you don't have a silicone pot handle cover, please treat yourself to one! They make it so much easier to handle hot pans. A hot, heavy skillet is much easier to hold onto with one of these than with a pot holder.
Have you tried this recipe? I'd love for you to give it a star ⭐️⭐️⭐️⭐️⭐️ rating in the recipe card and/or in the comments section further down.
You can always stay in touch on social media by following me on Facebook, Instagram, or Pinterest and Sign Up to Get my Newsletter, too!
📖 Recipe
Old Fashioned Cornbread
Old Fashioned Cornbread, made with finely ground white cornmeal and buttermilk, is the perfect accompaniment for everything from fried chicken to chili.
Print It
Rate It
Ingredients
1 ½

cups

fine ground

white cornmeal

½

cup

flour

3

teaspoons

baking powder

1 ½

teaspoons

salt

¼

cup

plus 3 tablespoons canola oil (or substitute cooking spray for the 3 additional tablespoons oil)

2

large eggs

or substitute ½ cup Eggbeaters

1 ½

cups

buttermilk

or substitute skim or lowfat milk
Instructions
Add 3 tablespoons oil to a 12-inch iron skillet (or generously coat with cooking spray)

Place the skillet in the oven and set to 400 degrees to preheat both skillet and oven

Combine the cornmeal, flour, baking powder, and salt in a medium bowl

Combine the remaining ¼ cup oil, eggs, and buttermilk

Pour the wet mixture into the dry mixture and whisk to combine and remove any lumps

Pour into hot skillet

Bake approximately 25-30 minutes or until golden brown
Notes
Nutrition Information
Serving:
1
|
Calories:
208
kcal
|
Carbohydrates:
28
g
|
Protein:
7
g
|
Fat:
8
g
|
Saturated Fat:
1
g
|
Polyunsaturated Fat:
6
g
|
Cholesterol:
59
mg
|
Sodium:
749
mg
|
Fiber:
2
g
|
Sugar:
4
g
Nutrition information is calculated by software based on the ingredients in each recipe. It is an estimate only and is provided for informational purposes. You should consult your health care provider or a registered dietitian if precise nutrition calculations are needed for health reasons.
Share on Facebook
Pin Recipe
More Cornbread Recipes ...