Polly's Pink Stuff - A retro recipe for a festive raspberry jello mold. My grandmother's holiday specialty served for every Christmas and Easter dinner.
Another Thanksgiving has come and gone and we're well on our way to Christmas now. So much planning to do! So much shopping to take care of and so many menus to plan. Actually the menu planning part is my favorite. I know you're shocked to hear that.
If your family is like ours, there's at least one and maybe more, special recipes that are always a part of your holiday menus. Maybe it's your Aunt Mabel's famous mashed potatoes, or Gramma Smith's perfect pumpkin pie. For our family, one constant on our holiday menu is "Polly's Pink Stuff."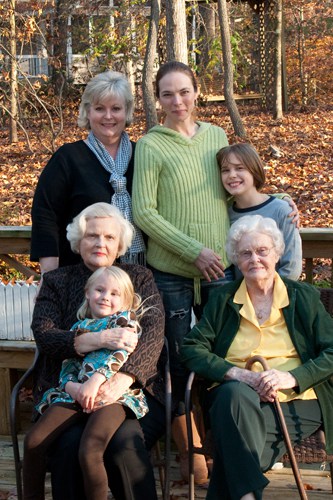 Who Is "Polly?"
Polly is my grandmother. My Mama's mama. And, I'm here to tell you, she is one more sport. Polly is 96 years old and has a mind like a steel trap. She is a voracious reader and remembers things from 80-90 years ago in detail that you wouldn't believe.
She's the oldest of seven siblings and all but one of them are living. I come from hardy stock, y'all. The photo of our five generations up above was taken last Thanksgiving and we all agreed that Polly looked better than any of the rest of us.
I remember growing up thinking what a glamorous life Polly led. She and her husband, my Gran Robert, lived in the big city - Atlanta - but they came to visit us often down in south Georgia. They both grew up there, but my grandfather worked for the CDC in Atlanta for years. After he retired they moved right on back to south Georgia. I always loved going to Atlanta to see them around Christmas time. We'd go downtown where we'd see Elsie the Cow (does anyone remember Elsie besides me?) and to Rich's and ride the "Pink Pig." And to Stone Mountain to ride the train. It was pretty exciting for a little country girl.
Polly Loves to Travel
One of the things that Polly has enjoyed most in her life is travel. She and her sister-in-law, Ione, along with a couple of other close friends traveled every summer for years. My Aunt Ione was the postmaster in her little town and always went to a convention every summer bringing the whole group along with her and turning the occasion into a couple of weeks of travel time. Those were some really enjoyable times for Polly and her friends. Lots of memories and funny stories to be told about all those travels.
Polly never has been"the little wife" type. She doesn't care much for the domestic arts, preferring to read and travel and work outside her home. She was a constant presence in the local courthouse for years and years working in the Clerk of Court's office. And even though keeping house isn't her "thing," she's always been a really good cook. She can make a pot roast that will nearly bring tears to your eyes and her Chicken Jallop recipe is famous all around our area.
One of Her Signature Recipes
This "pink stuff" is one of her signature recipes. We've never had a proper name for this recipe, just preferring to call it Polly's Pink Stuff. In actuality, it's just a raspberry jello mold. It's something that is nearly always on our holiday table and was on my Thanksgiving menu last week. And even though many of you are looking at it askance because it has jello and Cool Whip in the recipe, I'm still honored to share this dish with you. It's as much a part of our family's holiday tradition as the Christmas tree and the wreath on the front door. And, I'd bet my next paycheck, that if you gave it a try you'd like it.
Polly's Pink Stuff - A retro recipe for a festive raspberry jello mold. My grandmother's holiday specialty served for every Christmas and Easter dinner. Click To Tweet
How to Make Polly's Pink Stuff (Raspberry Jello Mold)
Start by combining a large can of crushed pineapple with its juice and a large package of raspberry jello in a medium saucepan. Or any red colored jello you like (cherry, strawberry, cranberry). Or you can make this into Polly's Orange Stuff with orange jello. Whatever. Just bring the pineapple and jello to a boil stirring occasionally. Set that aside to cool to room temperature.
When the mixture has cooled, stir in the buttermilk. Mix it together well.
Then fold in a small container of Cool Whip which has been thawed. Keep folding and stirring until it is thoroughly incorporated and no streaks of white remain.
Turn the mixture into a decorative mold. Or do like Polly usually does and pour it into a 9x13 pan so that you can cut it into little squares when you're ready to serve.
Refrigerate until set. Unmold and serve.
Enjoy!
More Jello Mold Recipes on Never Enough Thyme:
jello mold recipes from Other Bloggers:
Like This Recipe? Pin It!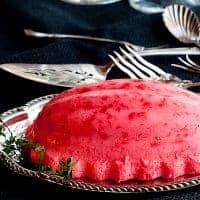 Polly's Pink Stuff (Raspberry Jello Mold)
Polly's Pink Stuff - A retro recipe for a festive raspberry jello mold. My grandmother's holiday specialty served for every Christmas and Easter dinner.
Print
Pin
Rate
Ingredients
1 16

oz.

can crushed pineapple

1

large box Jello raspberry gelatin

2

cups

buttermilk

1

small container Cool Whip

thawed
Instructions
Place the crushed pineapple with its juice in a medium saucepan.

Add the jello and stir together.

Bring to a boil over medium-high heat.

Remove pan from the heat and set it aside to cool.

When the pineapple and jello mixture has cooled to room temperature, add the buttermilk and stir together until well combined.

Fold in the Cool Whip.

Pour into decorative molds and refrigerate until set.
Notes
All text and photographs on Never Enough Thyme are copyright protected. Please do not use any material from this site without obtaining prior permission. If you'd like to post this recipe on your site, please create your own original photographs and either re-write the recipe in your own words or link to this post.
If you like this recipe, be sure to follow me on social media so you never miss a post:
| facebook | instagram | pinterest | twitter |
Lana Stuart is the cook and occasional traveler here at Never Enough Thyme. Lana has been cooking since she was tall enough to reach the stove and started this blog in 2009 to share her delicious home cooking recipes. You'll find about 700 recipes here so there's sure to be something your family will like!
More About Lana →