All day yesterday and this morning the skies have been grey, overcast and rainy. Call me crazy, but I love this kind of weather. I think it comes from growing up as a farmer's daughter. For families who farmed before the days of irrigation, everything… everything… depended on rain. Too little rain and the crops didn't grow. Too much rain at the wrong time and the harvest was ruined.
I have vivid memories of watching the nightly 6:00 p.m. local newscast through a child's eyes. Before there was 24/7 cable news and the Weather Channel, you got your news, weather and sports twice a day from local folks. Once in the morning and once in the evening. The weather was provided by a local weather man who was, more often than not, spot on with his forecast. And whenever that part of the newscast came on, our household became hushed while Daddy listened intently and studied the weather maps on television. It seemed that during my growing up years Daddy was always hoping for a good rain. A good rain at just the right time could make or break your crop. Rain was a good thing. Rain made everything right. Rain made everybody happy. I think that's why I still love rainy days even now.
This Sausage and Kale Soup is going to be a perfect lunch for my rainy day. Its lovely smoky flavor makes it great for a cool, overcast day like today. Hope you'll try it and like it as much as we did.
I used a nice, hickory smoked sausage for this soup. There are many good choices, but lately we've been enjoying this Conecuh brand sausage. They're based in Alabama and make many mighty fine products. Whatever sausage you choose, you'll need to dice it into about half-inch pieces.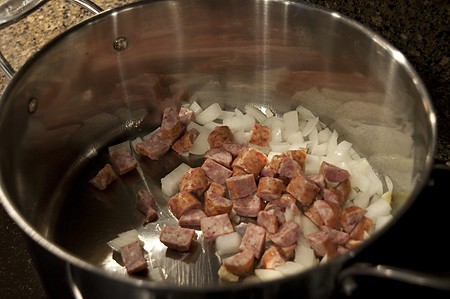 Heat the olive oil in a large saucepan. Add the sausage, onions and garlic and cook for a few minutes until the onion has wilted.
Add the chicken broth, diced tomatoes, beans and kale. Bring the pot to a boil. Then reduce the heat to a simmer, cover the pot and cook for about 15-20 minutes, stirring occasionally, or until the kale is tender and the beans are heated through.
I served this with some old-fashioned "lacy" cornbread and that recipe is coming up soon. Any type of cornbread that your family enjoys will be great with this soup.
Enjoy!
Yields 4 servings
Sausage and Kale Soup
Great fall and winter soup featuring smoky sausage and kale.
5 minPrep Time
25 minCook Time
30 minTotal Time
Ingredients
1 tblsp olive oil
1 small onion, chopped
2 garlic cloves, minced
4 oz. smoked sausage, chopped
3 cups chicken broth
1 14.5-oz. can diced tomatoes with juice
8 oz. coarsely chopped kale
1 16-oz. can Great Northern beans, drained and rinsed
Salt and pepper, to taste
Instructions
Heat the olive oil in a large saucepan over medium-high heat.
Add the onion, garlic and sausage and cook for about 5 minutes or until the onion has wilted.
Add the chicken broth, diced tomatoes, beans and kale.
Bring to a boil over high heat.
Reduce the heat to a simmer and cook until the kale is tender - approximately 15-20 minutes.
7.6.7
178
https://www.lanascooking.com/sausage-and-kale-soup/
Lana Stuart | Never Enough Thyme
Other kale soup recipes you might enjoy from around the internet:
What I was cooking…