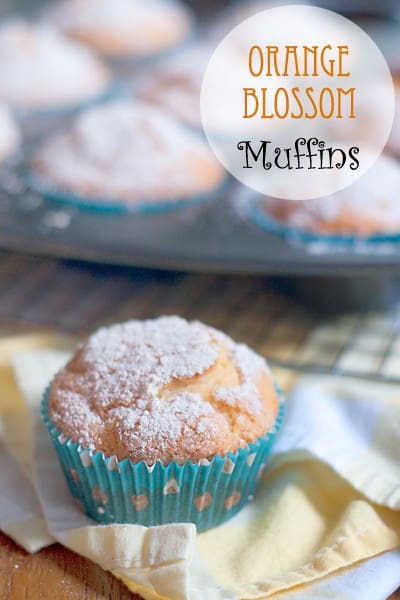 Do you ever have days when the morning starts out at a run and by noon has turned into a full blown marathon? Yep, that's what today has been so far.
On busy mornings like today, one of the best things to reach for with your cup of coffee or tea is a muffin. This Orange Blossom Muffin is an old recipe from Southern Living Magzine and is one of my favorites because it's easy to prepare and it's just lightly sweet. The orange marmalade gives a nice citrus note and the pecans lend some substance to the muffin as well.
And before you get started on me for using a packaged biscuit mix in this recipe – just don't. Give a girl a break for taking a shortcut once in a while :-).
Next time you have a busy morning, take a breath, pour a cup of coffee, and mix up a batch of these muffins. That to-do list will still be there when you get back to it.
Orange Blossom Muffins
Yield: 1

Prep Time: 10 minutes

Cook Time: 18 minutes

Total Time: 28 minutes

A slightly sweet muffin with orange marmalade and pecans in the batter.
Ingredients
2 cups biscuit mix (recommend: Bisquick)
1/4 cup sugar
1 large egg, lightly beaten
1/2 cup orange juice
2 tblsp. canola oil
1/2 cup orange marmalade
1/2 cup chopped pecans
3 tblsp. sugar
1 tblsp. all-purpose flour
1/2 tsp. ground cinnamon
1/4 tsp. ground nutmeg
Instructions
Preheat the oven to 400 degrees. Prepare a 12-cup muffin baking pan by lining with paper baking cups.
In a large bowl, combine the biscuit mix and 1/4 cup sugar. Make a well in the center. Combine the egg, juice, and oil and add to dry mixture. Stir just until moistened. Add the marmalade and pecans; stir in well.
Spoon batter into prepared baking tin, filling each cup 2/3 full.
Combine remaining sugar, flour, cinnamon, and nutmeg. Sprinkle over batter.
Bake for 18 minutes or until done.
Notes
Recipe source: Southern Living Magazine

All text and photographs on Never Enough Thyme are copyright protected. Please do not use any material from this site without obtaining prior permission. If you'd like to post this recipe on your site, please create your own original photographs and either re-write the recipe in your own words or link to this post.


Other muffin recipes you might enjoy from around the internet:
What I was up to…