You'll love this easy recipe for Tomatoes Provencal, a classic French recipe. Fresh tomatoes, topped with a garlic and herb breadcrumb mixture and good olive oil, are oven roasted for an easy side dish everyone will enjoy!
This easy, tasty, and beautiful recipe for Tomatoes Provencal is one of my favorite things to serve during the winter when I'm really missing good, fresh tomatoes. The oven baked tomatoes are topped with a savory combination of fresh breadcrumbs, garlic, herbs, and olive oil. The topping crisps up beautifully while the tomatoes roast and slump into lovely deliciousness.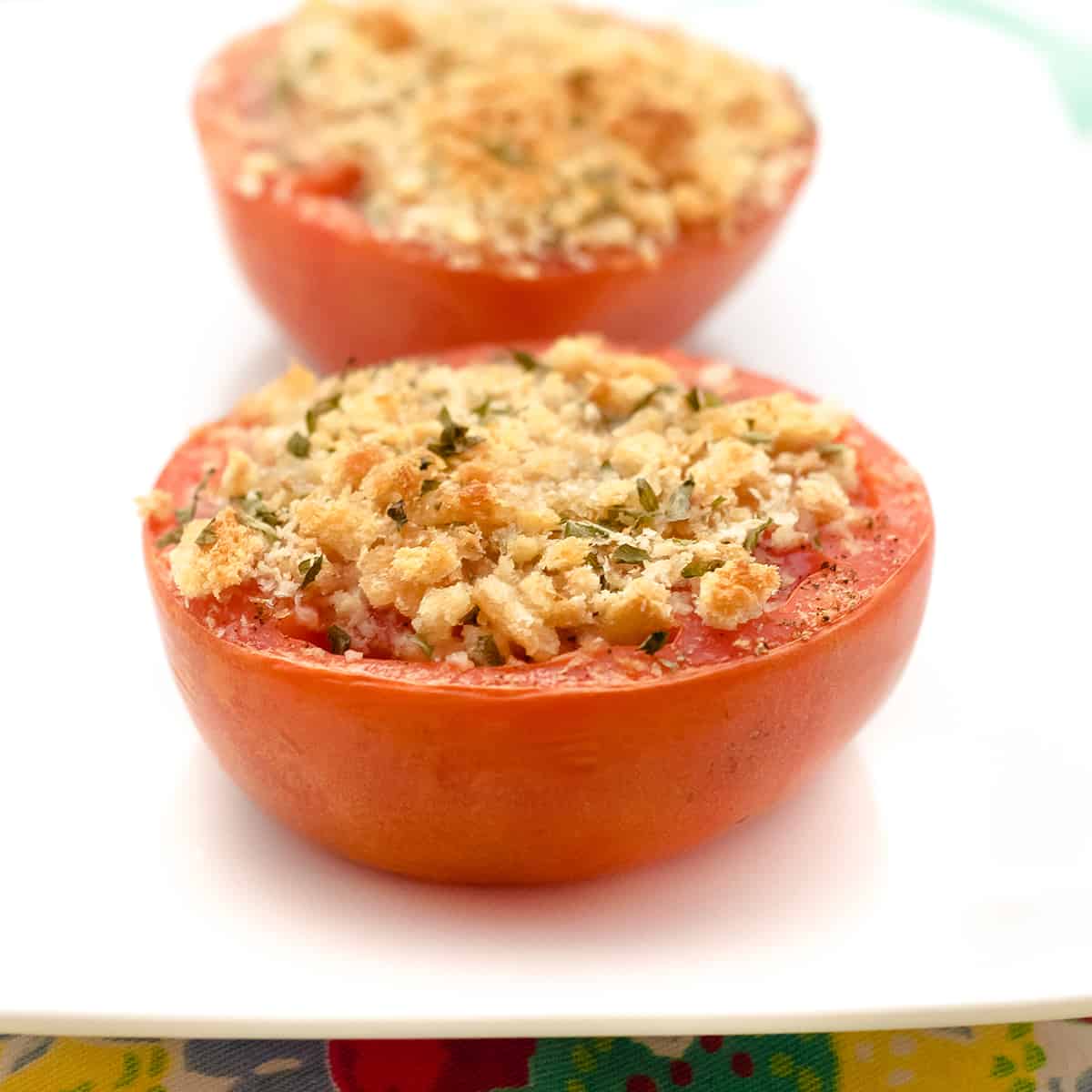 This recipe, which originates from the Provencal region of France, is a fantastic way to bring out the delicious flavors of fresh tomatoes any time of year. Provencal cuisine focuses on using fresh ingredients that are treated simply and elegantly to elevate the natural flavors.
It typically includes tomatoes, garlic, peppers, anchovies, olives, and fresh herbs marking its contrast to the rich cuisine for which other French regions are known.
I was inspired to make this recipe after meeting Chef Jacques Pépin in person a few years ago.
BeeBop and I were in Amelia Island, Florida, for a book festival where he was one of the authors invited to present and sign their work. Chef Pépin was also there with his beautiful granddaughter, Shorey, to do a short book signing for the crowd. And I was lucky enough to get to sit with them and talk for a few minutes!
Shorey is a beautiful, articulate, poised young lady and Chef Pépin was so very gracious and down to earth. He has a way of making you feel comfortable immediately - almost like you'd just had a conversation earlier and were continuing to talk.
He signed three books for me (Shorey also signed one!) and pointed out things in each that he thought might be of interest. We talked for a few minutes about our mutual interests of watercolor and cooking. It was an honor and a pleasure to meet them both.
Jump to:
Why You'll Love This Recipe
It's a great accompaniment for almost any protein; chicken, fish, and lamb all work well.
A great way to use tomatoes during any season.
Simple, budget-friendly ingredients that you can find at any grocery store.
You can scale the recipe to make it for just your family or a large crowd.
Roasting tomatoes brings out the flavors and acidity which is great for the winter months when tomatoes are usually out of season.
Ingredients You'll Need
Tomatoes (you can use any tomatoes that are available in this recipe, just make sure they're ripe but still firm for the best results; I particularly like making this with heirloom tomatoes when they're in season)
Salt and pepper (the classic seasoning duo heightens all the flavors in the dish)
Day old bread (fresh breadcrumbs from day old bread are always best)
Fresh parsley (adds some color and freshness to the dish; parsley is classic for Tomatoes Provencal but you can also use thyme, rosemary, or chives)
Garlic clove (pairs beautifully with the acidity and sweetness of the tomatoes)
Olive oil (helps bind the mixture together and form a crunchy crust)
You'll find detailed measurements, ingredients, and instructions in the printable version of the recipe at the bottom of this post.
How to Make Tomatoes Provencal
I always like to show you the photos and step-by-step instructions for my recipes to help you picture how to make them in your own kitchen. If you just want to print out a copy, you can skip to the bottom of the post where you'll find the recipe card.
Preheat the oven to 400 degrees.
Prepare the Tomatoes
Cut the tomatoes in half through the middle and place them cut side up in a baking dish. Salt and pepper each tomato half.
Make the Breadcrumb Topping
In a food processor, add the bread, parsley, and garlic. Process until you have coarse bread crumbs.
Top the Tomatoes
Divide the bread crumb mixture evenly over the tomatoes.
Add Olive Oil and Bake
Drizzle the olive oil evenly over the tops of the tomatoes.
Bake for 20-30 minutes or until the breadcrumb mixture has browned and the tomatoes have softened.
Recipe Success Tips
Choose tomatoes that are ripe but still feel firm (neither over nor under ripe) for the best flavor. You can judge a good tomato by how plump and heavy it is for its size. This means there is high water content. They should also be free of bruises and mold.
If you don't have stale bread on hand to make homemade fresh breadcrumbs, you can quickly dry a few slices of bread on a sheet pan in the oven at 350 degrees for a few minutes. When the bread feels dry, it's ready to be crumbled. If you use breadcrumbs often in your cooking, keep a few slices of stale bread in your freezer. I freeze the end pieces from loaves and defrost them in the microwave as needed. Bake them for a few minutes and process them for crumbs.
If you don't have fresh garlic and parsley for this recipe, substitute the dried versions and it will still be delicious! For the garlic, use ¼ teaspoon dried and for the parsley, use 1 teaspoon dried.
Variations
Make a mix of tomatoes and zucchini by thinly slicing each, layering in a baking dish, and adding the breadcrumb mixture on top. Bake for about 15 minutes or until the topping is golden brown.
Add some French herbes de Provence or Italian seasoning blend to the topping mixture for a heightened herb flavor.
Purchased breadcrumbs can be used, but fresh is best!
To make this recipe even more flavorful, add ¼ cup of grated Parmesan cheese to the breadcrumb mixture.
Put any leftovers in a blender with a splash of cream for a delicious creamy tomato soup.
Top with a chiffonade of basil for a burst of herbal freshness.
FAQs
Can I double the recipe?
I've written the recipe below for two servings, but you can easily multiply the ingredients to serve as many as you'd like. You're only limited by the size of your baking dish!
Should the tomatoes be peeled?
For this recipe, the skin stays on to help the tomatoes hold their shape and texture while cooking.
How long should the tomatoes be cooked?
It depends on the size of the tomatoes. Roasting may take anywhere from 15 to 30 minutes. Be sure to check on them frequently to make sure they're soft but still holding their shape.
Can I cook this recipe in an air fryer?
Yes, you can. Set the heat at 375 degrees and cook for 10-15 minutes or until the breadcrumb topping is golden and the tomatoes have softened.
How long will these last?
If you have leftovers, you can store them in an airtight container in your fridge for up to 4 days. When reheating, they will be mushier in texture but still flavorful. Reheat in the oven or air fryer for best results. However, this really is one of those recipes that is best eaten while warm from the oven.
Can I freeze Tomatoes Provencal?
Because tomatoes have a unique fiber structure, they won't hold up well in the freezer. This recipe is best enjoyed immediately.
You May Also Like ...
Have you tried this recipe? I'd love for you to give it a star ⭐️⭐️⭐️⭐️⭐️ rating in the recipe card and/or in the comments section further down.
You can always stay in touch on social media by following me on Facebook, Instagram, or Pinterest and Sign Up to Get my Newsletter, too!
📖 Recipe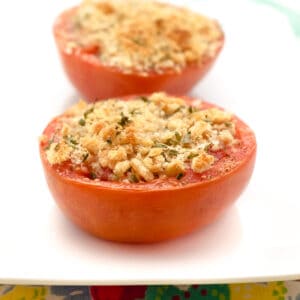 Classic French Tomatoes Provencal
Classic French Tomatoes Provencal is an easy and beautiful side dish of oven roasted tomatoes topped with crispy breadcrumbs and herbs.
Print
Pin
Rate
Ingredients
2

medium tomatoes

ripe and firm

salt

freshly ground black pepper

2

slices

day-old bread

1

tablespoon

chopped parsley

1

garlic clove

2

teaspoon

olive oil
Instructions
Preheat the oven to 400 degrees.

Cut the tomatoes in half through the middle and place them cut side up in a baking dish. Salt and pepper each tomato half.

In a food processor, add the bread, parsley and garlic. Process until you have coarse bread crumbs.

Divide the breadcrumb mixture evenly over the tomatoes.

Drizzle the top of each tomato with olive oil.

Bake for 20-30 minutes or until the breadcrumb topping is golden brown and the tomatoes have softened.
Notes
Tips:
Choose firm, ripe tomatoes that feel heavy for their size.
To make breadcrumbs from fresh bread, dry a few slices in the oven set to 350 degrees for a few minutes. Then process the dried bread for crumbs.
Substitute dried garlic and parsley if necessary. Use ¼ tsp dried garlic powder and 1 teaspoon dried parsley in place of fresh.
Don't peel the tomatoes, the skin is necessary to help the tomatoes hold their shape while cooking
Cooking time is variable depending on the size of your tomatoes. Check frequently to ensure that the tomatoes are holding their shape.
This recipe easily multiplies to serve any size crowd.
Can be cooked in an air fryer set to 375 degrees; cooking time will be 10-15 minutes.
This recipe is best served hot and fresh from the oven. However, leftovers may be stored, covered, in the refrigerator for up to 4 days. Reheat in the oven or air fryer for best results.
Tomatoes Provencal isn't mean for long term storage in the freezer. Because of the unique cellular structure of tomatoes, they'll break down to a mush when frozen.
Nutrition Information
Serving:
1
g
|
Calories:
136
kcal
|
Carbohydrates:
19
g
|
Protein:
4
g
|
Fat:
5
g
|
Saturated Fat:
1
g
|
Trans Fat:
1
g
|
Sodium:
153
mg
|
Potassium:
360
mg
|
Fiber:
3
g
|
Sugar:
5
g
|
Vitamin A:
1194
IU
|
Vitamin C:
20
mg
|
Calcium:
56
mg
|
Iron:
1
mg
Nutrition information is calculated by software based on the ingredients in each recipe. It is an estimate only and is provided for informational purposes. You should consult your health care provider or a registered dietitian if precise nutrition calculations are needed for health reasons.
Share on Facebook
Share by Text
Pin Recipe
-- This post was originally published on February 25, 2011.
More Roasted Tomato Recipes ...