I reached way back in my archives for the recipe I'm posting today. This dish made the rounds way back in the 1980′s. You remember. Back when we all wore our hair as big as possible and didn't worry about the consequences of eating a half pound of bacon at one meal. You remember those days, don't you?
I haven't made this recipe in at least twenty years but for some reason I recently started thinking about it again. Of course that meant I had to give it one more try! Know what? It's still as good as it was twenty years ago.
Now, before I start the recipe, let me just clear up one thing about "barbecue." In some parts of the world, cooking outdoors over a flame is called a "barbecue." In the South, that is called "grilling" or "grilling out." Around here folks getting together to cook outdoors isn't referred to as having a barbecue…it's a cook-out. In the South, barbecue is any food that has had a barbecue sauce applied to it. It does not mean that the food has been cooked outdoors on a grill although it may well have been. A steak cooked outdoors on a grill is a grilled steak, but not barbecued unless you have put some barbecue sauce on said steak. That all cleared up for you? Good.
2 cans whole green beans, drained
9-10 slices bacon cut crosswise
1/2-3/4 cup barbecue sauce 
Preheat oven to 350 degrees. 
All you need for this recipe is three simple ingredients. Some whole green beans, some bacon and some barbecue sauce. This is the only recipe I've ever made that I used a purchased barbecue sauce for. For any other barbecue recipe I use my family's super-secret sauce recipe. That recipe, however, is very vinegary and tangy and this dish really needs something more mellow and a little sweet. Just use whatever you think your family would like best.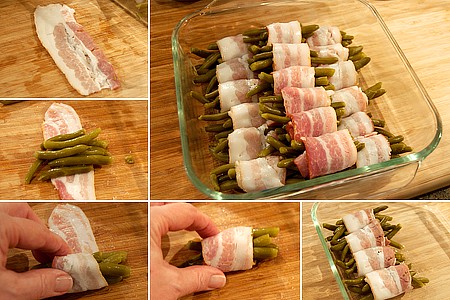 Make bundles of 6 or 7 green beans. Wrap each bundle in bacon and place seam side down in a baking dish.
Drizzle barbecue sauce over beans and bacon.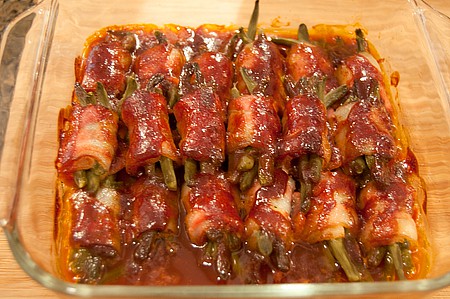 Bake for 45 minutes or until bacon is nicely browned. 
Enjoy!
Download a printable copy of Barbecued Green Beans.
Other green bean recipes you might enjoy from around the internet: